RELEASE DATE:  MARCH 13, 2015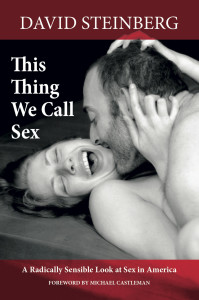 I'm thrilled to announce that the collection of my writings on sex and gender that I've been working on for two years, This Thing We Call Sex: A Radically Sensible Look at Sex in America, was published by Booktrope on March 13.
As many of you know, for 15 years I wrote "Comes Naturally," a monthly column on sex and gender, for Spectator magazine, and for an online audience after Spectator folded in 2004. I also was a City Brights blogger for the San Francisco Chronicle from 2009 to 2010, and wrote for such  journals as Salon, Playboy, SF Weekly, Boston Phoenix, The Realist, Cupido, The Gay and Lesbian Review, and Transgender Tapestry.
For This Thing We Call Sex, I have re-edited the best and most relevant of my earlier writing, and added several new pieces, 40 of my fine art couples photographs, and several poems. The essays and stories span a variety of subjects, including the nature of sex and desire, female sexual empowerment, sex in and out of marriage, sexual deviance, transsexuality, sex education for teens, homosexuality, prostitution, sexual art, sex and spirituality, sadomasochism, bisexuality, group sex, sex trafficking, pornography, homophobia, the sexuality of children, and abortion. The writings range from whimsical to philosophical, from journalism to advocacy, from the personal to the sociological, from storytelling to analysis.
This Thing We Call Sex is the first book of my writings about sex and I'm excited that it has finally made its way into the world.
You can order (signed) copies of the book from me by clicking on the link at the top of this page, or here. The book is also available from Amazon, both in print, here,and in Kindle format, here.
To see the table of contents for the book, click here.
For information about book signings and other book-related events, click here.
What people are saying about This Thing We Call Sex:
David Steinberg's magnum opus helps shift the conversation away from fear and shame, toward a radical embrace of sexual complexity and diversity. David brings thoughtful and wise dispatches from sexual arenas many of us will never visit. This Thing We Call Sex takes you on a journey that will bring you home to your sexual self with new comfort and a deeper sense of who you are. Some of my best conversations about sex have been with David. Open this book and you'll see why!—Carol Queen, PhD, Founding Director, Center for Sex and Culture; author of Real Live Nude Girl and Exhibitionism for the Shy
These beautiful, sensitive essays, photos, poems, and stories portray some of the most honest and frank representations of human sex in all its wide range, with joy, ecstasy, and even pain. Inspiring.—Susie Bright, author of The Sexual State of the Union; editor of the Best American Erotica series
Steinberg's witty, candid, and deeply intelligent essays leave no doubt that his heart is as open as his mind. The shameless sensibility of Steinberg's work is to be treasured, shared, and emulated.—Christopher Ryan, co-author of Sex at Dawn: How We Mate, Why We Stray, and What It Means for Modern Relationships
This Thing We Call Sex is a fascinating exploration of sexuality, and a profoundly honest, open look at one man's life experience. This is a highly readable, provocative, and eloquent book for anyone exploring their sexuality.—Eli Coleman, Director, Program in Human Sexuality, University of Minnesota Medical School
David's core message is important for everyone: that sex is a treasure to be celebrated, and a path to self-knowledge. David has been advocating intelligently and passionately for sex-positivity since before that term was coined. It's exciting to have the best of his writings collected in this long-overdue volume.—Joani Blank, founder of Good Vibrations; author of Femalia and A Kid's First Book About Sex
David Steinberg is a writer of consummate intelligence and compassion. I am consistently touched by what he reveals about the changing nature of being a man. His prose is deceptively simple, drawing you into the story he is telling until you find yourself agreeing with much more than a simple anecdote. This is a great book.—Patrick Califia, author of Public Sex: The Culture of Radical Sex and Speaking Sex to Power: The Politics of Queer Sex
David Steinberg's writing and photographs are surprising, truthful, courageous, humane, and loving. Investigating what can be understood about sex, and reveling in what cannot, David's work reveals us to ourselves and deepens our connections with each other.—Judith Levine, author of Harmful to Minors: The Perils of Protecting Children from Sex
David Steinberg explores the nuances of modern sexuality with an expert and empathetic eye, humanizing aspects of eroticism that our culture often dismisses. These powerful, persuasive essays challenge the conventional wisdom about sex, and force readers to reckon with their own preconceived ideas.—Rachel Kramer Bussel, author of Sex & Cupcakes: A Juicy Collection of Essays
Steinberg understands what works for women and how we have our orgasms. His voice is a calm, reasoned call to rise above the standard porn nonsense about what it means to be a fully alive sexual man.—Betty Dodson, PhD, artist, author of Sex for One: The Joy of Selfloving and Orgasms for Two: The Joy of Partnersex
This is a fantastic book, written from David's big heart, brilliant mind, and experienced sex organs. David takes on a variety of touchy subjects with honesty, integrity, and courage. Bring on the literary awards!—Annie Sprinkle, PhD, performance artist, author of Post-Porn Modernist and Dr. Sprinkle's Spectacular Sex
David Steinberg is simultaneously a thoughtful observer and a participant—an explorer with empathy, a writer with honesty. This Thing We Call Sex is on the right side of history.—Paul Krassner, editor, The Realist; author of Who's to Say What's Obscene?
David Steinberg's ability to write clearly and honestly about what he feels and observes is a gift. He gives us stark, naked truth, rational philosophy, cultural history, and erotic wisdom. Look, feel, be exposed, get real. Sex is life. Think about it. David has.—Jamison Green, president, World Professional Association for Transgender Health, author ofBecoming a Visible Man
Since sex became a legitimate beat for journalists, David Steinberg has been the right man in the right place at the right time. Moving beyond the role of witness, consumer, or critic, he participates—fascinated with the emotional power of what's happening before his eyes. His prose is honest—sometimes funny, sometimes angry, but always just. If you've ever wondered about the incredible, ongoing whirlwind of sex, read this book.—James R. Petersen, former Playboy Advisor; author of The Century of Sex
Steinberg's writing is thought-provoking and compelling. This important collection asks us to grapple with the complexities of real sex—to face our sexual angels and demons instead of turning off the lights and hiding under the covers.—Katherine Frank, author of G-Strings and Sympathy: Strip Club Regulars and Male Desire
David Steinberg is a living, breathing sexual oxymoron. He dares to push, probe, poke, and prod, asking questions related to the mystery of sex. This Thing We Call Sex should be required reading for everyone who thinks they have sex figured out.—Jack Hafferkamp, cofounder, Libido: The Journal of Sex and Sensibility
David Steinberg has been a calm, measured voice of reason for the sex worker in an era of scandalous journalism on the subject—the sort of sensible journalism on the culture wars you rarely see.—James Ridgeway, journalist; author of Red Light: Inside the Sex Industry
Few writers about sex are as thoughtful, thought-provoking, and insightful as David Steinberg. He shows what sex-positivity really means and gives you new ways to think about sex and relationships. If you're interested in sex or sex-positivity, This Thing We Call Sex is for you.—Charlie Glickman, PhD, author of The Ultimate Guide to Prostate Pleasure
This Thing We Call Sex pushes us to increase our understanding and acceptance of sexual controversies and practices, and thus grow in our sexual lives.—Dr. Tuppy Owens, author of Supporting Disabled People with Their Sexual Lives
Steinberg has developed a unique style of depicting the diverse spectrum of sexual attitudes and lifestyles. Exploring this hauntingly beautiful, thoughtful book is a mind-opening experience I heartily recommend.—Cheryl Cohen Greene, author of An Intimate Life: Sex, Love, and My Journey as a Surrogate Partner
I loved reading This Thing We Call Sex. David is a true sex-positive pioneer.—Allena Gabosch, Executive Director, Center for Sex Positive Culture
Steinberg's insightful essays and reports on sexuality stand above anything available in mainstream media. His perspectives remain fresh, far ahead of the curve, and brashly counter to conventional thinking about sex. This book is a cutting edge treat.—Layne Winklebleck, former editor, Spectator magazine; author of Moral Turpitude
David Steinberg's edgy, educational, compassionate, and fascinating book is for searchers—people who want to know the full range of sexuality and emotion.—Pepper Schwartz, PhD, Professor of Sociology, coauthor of 50 Great Myths of Human Sexuality
Beautifully illustrated with intimate photographs of couples, This Thing We Call Sex brings together two decades of insightful prose and poetry on the subjects of sex, sexual expression, and freedom. A thought-provoking and timely collection.—Catherine Johnson-Roehr, Curator, The Kinsey Institute for Research in Sex, Gender, and Reproduction
Steinberg passionately proves he's on the right side of history, examining our progress toward sexual freedom while providing frank, intimate details from his own sexual explorations. This Thing We Call Sex is a philosophical journey that calls you to consider the meaning of sex in your life.—Susan Wright, spokesperson, National Coalition for Sexual Freedom
Wherever Steinberg ventures, his explorations take us closer to the heart of this thing we call sex. In Steinberg's view, sex is who we are, how we live, how we experience desire, yearning, joy, and life.—Michael Castleman, author of Great Sex and Sexual Solutions
This Thing We Call Sex is a fascinating read for people who want intelligence with their sex. Steinberg is unafraid to expose his personal sexual truths while challenging us to face and accept our own. I've already started my list of lucky friends who will be receiving a copy!—Candida Royalle, founder, Femme Productions; director of Femme, Urban Heat, Revelations
In the early 90s, when I was a budding sex worker rights activist, Steinberg's rants on sexual liberation fueled my passion for speaking out in favor of sexual self-determination. Some of my best arguments were shaped and refined by David's fearless, feminist, human rights approach to sexuality. Thank you David!—Veronica Monet, ACS, author ofSex Secrets of Escorts; host of The Shame Free Zone
Here you'll find everything from the tale of a famous, wealthy 1800s prostitute stockbroker to a description of Kink.com in 2009. This Thing We Call Sex is a clear, well-researched, and highly entertaining exegesis of sexual politics.—Clarisse Thorn, author of The S&M Feminist
David Steinberg steps outside cultural straightjackets to present us with an honest, breadth-and-depth vision of our human sexual nature. This Thing We Call Sex will bring you to understand someone who is dancing to the beat of a very different sexual drum. It has definitely done that for me.—Kenneth Ray Stubbs, PhD, author of Erotic Massage: The Touch of Love
Steinberg never fails to be both thought-provoking and entertaining. This Thing We Call Sex is a fine tapestry featuring boldness, sensitivity, and wit, in service to the crown jewel of human sexuality. This is the real stuff.—Howie Gordon, aka Richard Pacheco, author of Hindsight: True Love and Mischief in the Golden Age of Porn
David Steinberg is a rare artist, a revolutionary, a visionary, and a practical man who's not afraid to get his hands (and other body parts) dirty. This is a book for anyone who's ever contemplated having sex.—David Henry Sterry, author of Chicken: Self-Portrait of a Young Man for Rent
David Steinberg's way of thinking about sex is inspiring. In place of moralism, cynicism, shame, and guilt, it's about honesty and the search for nuances. Steinberg is not afraid to be wrong because, as this book helps us remember, sex is not a matter of being right.—Phil Jourdan, author of Praise of Motherhood and What Precision, Such Restraint
David's clear, passionate intent has been steady over the decades. This Thing We Call Sex brings inspiration mixed with urgency: We must get the word out. We must heal the intractable hurts our still half-puritan society inflicts.—Bill Noble, former editor Clean Sheets
David is a courageous explorer, artist, and cultural critic—a rare, informed voice in the mélange of discourse on sexuality. This insightful, engrossing, and well-researched compendium from someone who has spent decades on the sexual frontiers offers an essential history lesson in American sexuality.—Carol Leigh, aka Scarlot Harlot, author ofUnrepentent Whore
David Steinberg is one of our foremost commentators on human sexuality. In a culture capable of astonishing levels of hysteria and illogic over these matters, he stands among our sanest voices.—A. D. Coleman, photocritic, author ofDepth of Field: Essays on Photography, Mass Media, and Lens Culture
To order this book, click here.