From Hong Kong "The Silent Strength of Liu Xia," the touring exhibition of 26 photos by the dissident Chinese photographer, artist, and poet, went to Taiwan, for inclusion in a group show titled "Witness to Silence," which opened in Taipei on July 14 (Bastille Day, by coincidence).

Sponsored by Taiwan's Ministry of the Interior, the exhibition was organized by the group The Memorial Foundation of 228 in cooperation with the National 228 Memorial Museum. This show, curated by Wen Hsiang Tsai in collaboration with Wei Wei Yin and Gloria Tao, is taking place at that museum. Dedicated to the causes of peace, justice, and human rights, the museum is a fitting site for this group exhibition.
(The number "228" refers to the day an infamous massacre began: February 28, or 02-28. The slaughter in Taiwan began with an anti-government uprising on February 27, 1947, ruthlessly suppressed by the right-wing Kuomintang (KMT) government under Chiang Kai-Shek. Death toll estimates range from 10,000 to 30,000 or more. This incident marked the start of what became known as the Kuomintang's "White Terror" period in Taiwan, during which thousands more died, went to jail, or simply disappeared.)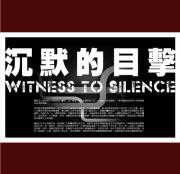 The show contains work by 17 independent photographers from 8 countries, including Taiwan. Other participants in the show include:
Guy Sorman, who instigated this project, attended and spoke at the opening. The exhibition will continue at this venue through October 28, 2012.
Related programming at the museum included a curator's talk by Wen Hsiang Tsai on opening day, and, on July 28, a lecture by political commentator Tieh chih Chang and a panel discussion with former legislator, political commentator Cho Shui Lin; Jen To Yao, Associate Professor of Sociology at National Tsing-Hua University; and Ming Sho Ho, Professor of sociology at National Taiwan University. A film series relevant to the exhibition's theme was also presented over the summer.
•
Materials available from this exhibition:
•
Press response to the Taipei showing has proved substantial and favorable. Here are links to some of those reports and reviews, arranged chronologically: