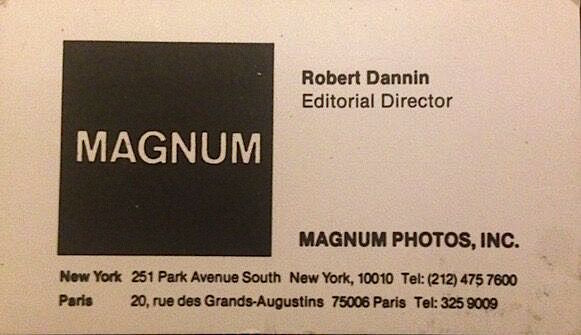 [Editor's Note: Here we inaugurate a series of Guest Posts by Robert Dannin, who served as Editorial Director of Magnum Photos from 1985-90.
The idea for this series sprang from Dannin's pithy, provocative response to my June 1 post about the then-current brouhaha over McCurry's use of Photoshop to revise some of his images, which I encouraged him to expand on for publication here as a Guest Post. Dannin's commentary on that subject raised more questions than it answers — about Magnum Photos and its members, about National Geographic, and about the picture-agency business and its relationship to periodicals, book publishers, and other licensees.
It struck me as the prelude to a much larger, longer narrative. Clearly, I had come across someone after my own heart, willing to take no prisoners, rattle the skeletons in the closet, and show where the bodies are buried — exactly the opposite of Russell Miller, whose "unauthorized" but highly sanitized account (Magnum: Fifty Years at the Front Line of History: The Story of the Legendary Photo Agency, 1998) made no waves. So I invited Dannin to fill in the blanks and expand further on these issues (basically taking him up on his "don't ever get me started" dare). I have dubbed this open-ended series "The Dannin Papers." This first piece, describing his experiences at Magnum Photos, will appear in six installments. Here we go. — A. D. C.]
Welcome to the Party
"Magnum is a kind of party in the political, not the fun, sense, a bankrupt Communist party riddled with conspiracy, lack of resolve, cut-throat egotism, secrecy, character assassinations and rumor-mongering, teetering on the edge of collapse from inefficiency."
So I told Russ Miller when asked to summarize Magnum during our interview at my New York University office circa 1995, when he was working on his history of that picture agency. (See Russell Miller, Magnum: 50 Years at the Front Line of History, Grove Press, 1997, p. 272.) At that time I was teaching anthropology and working on my own book about Islam in America, Black Pilgrimage to Islam (Oxford University Press, 2002), but still missed the daily excitement of the picture-agency business. The insanity of managing a cooperative, however, was something I did not miss. Rainmaking for 25 or 30 photographers meant being constantly skewered and grilled. Write a good contract for one person, suddenly there's grumbling about my time allocation or rumors of kickbacks. Always my bad. No one could admit or ever appreciate another's talent. The rumors were indestructible.
I resigned as the New York editorial director in late 1989, just as the Soviet empire collapsed. Over the next decade I did some freelance work for them — syndicated one of their photographers' books, edited a collective work, and negotiated a magazine contract. We tried several times to reconcile, but differences over compensation or threats by a member to resign usually scuttled negotiations. Once we were very close when Paris resisted. "They're acting like it's the return of Pol Pot," somebody reported. I took a meeting at the Oak Room, which became a point of criticism. The next time I suggested The Mark. Want some respect? Up the ante.
Welcome to the party, comrades. To jump-start this chronicle I've rewritten my original responses to Russell Miller's interview. It's a different text altogether, no longer about Magnum only, rather an introduction to the grim state of contemporary media and the miserable conditions suffered by working photographers that cannot be understood absent historical reckoning. I don't think photojournalism is dead, and there's nothing inherently wrong with the idea of cooperatives, but we never make progress without an accounting of the past.
I am grateful to A. D. Coleman for providing a forum here for that discussion, and likewise for his skillful editing. I would also like to express my appreciation to Laurence Cornet for bringing me the audio file of the original interview.
Robert Dannin
September 8, 2016
•
Robert Dannin Interviewed by Russell Miller, 1995

(revised and expanded, 2016 — part 1)
Russell Miller: When did you first get involved with Magnum?

Robert Dannin: Magnum approached me in 1985 while I was working at Sygma in New York. I was the news editor and had a background in the photo industry. From 1976 to 1981 I was a doctoral student in Paris and to support myself eventually got a job at Sipa Press where I learned the ropes and worked with a couple of photographers who eventually ended up at Magnum too.
In 1981 I left Europe and traveled around for a few months. Returning to the United States I got a job teaching anthropology at Brown University. Unfortunately, it was a one-year appointment.
The next job offer was either another temporary gig at the University of Oklahoma or a three-year research position in Agadez, Niger. In the first instance, I didn't want to live in Norman, OK; in the second, my interview took place in a basement at the State Department. The only thing they seemed to care about was my fluency in French. Something about the job sounded fishy.
I called my friend Kate Mooney, a colleague from Sipa who was working at Sygma in New York. She got Eliane Laffont on the phone, we spoke for about twenty minutes, and voilà. I was there for about three years when the folks at Magnum called.
RM: Did you have any reservations about working for Magnum?
RD: I had no problem going to work for them. I was used to working with photographers and not really mesmerized by their reputation like so many people who ended up there. Magnum was supposed to be the Cadillac or Rolls of the photo industry. I was very flattered that they had come looking for me and offered decent compensation.

Also, I was anxious to leave Sygma by then because of conflict with Eliane. She was a good manager, but I didn't like the way she abused the staff and even some photographers. In fact, we weren't even on speaking terms at the time. I communicated with her by index cards. Before I left she invited me to lunch. Since there was nothing to talk about, I said, Let's go next door to the Hard Rock Café.
[Note: Corbis acquired Sygma in 1999, shutting it down in 2010 as a result of multiple lawsuits from photographers whose work the agency had lost. — A. D. C.]
•
RM: What was your title at Magnum?
RD: I was the editorial director.
RM: Whom did you replace?
RD: I filled an empty seat, previously occupied by Rosemary Wheeler, who had been Sipa's business manager when I was in Paris.
RM: Did anybody warn you about the potential difficulties of the job?
RD: No. I tried to call Rosemary but she had moved to California, and I couldn't find her number. Things went pretty well because I didn't know many of the people. Whatever their reputations were, positive or negative, it didn't make any difference to me, I was there to do a job to the best of my ability.
RM: What sort of state was Magnum in at that time?
RD: The usual, perpetual chaos. Like a failed state where people manage to collect the garbage and even the electricity works sometimes. But the failed states can be easily terrorized, conspiracies abound, somebody's always trying to seize power and that becomes an end in itself.
RM: Did you realize that as soon as you got there?
RD: As soon as I got there I realized it was disorganized. Hillary Raskin had worked with Rosemary and was running editorial. Although she was very competent I suspect they wanted someone more assertive, a genuine bureau chief.
Sadly, no one informed her of my arrival until the last minute. I quickly understood they had been leading her on, allowing her to think the job might be hers. It's a classic office ploy to extract more surplus labor. Her feelings were hurt, I tried to accommodate her but to no avail.
RM: Why was it in a mess?
RD: Well, that was a prime example. Very poor management, a veneer of cooperative management albeit insufficient to conceal all the jockeying for status and power. Also, they couldn't hold onto money. They were a bureaucracy eager to manage everyone but themselves. They played to an idea that they are photographers, artists, journalists, and managers assuming any role the situation required. It never works.
Whenever they hired a senior staff member, it was a collective decision theoretically but really boiled down to the will of a couple of individuals. Then the lobbying and cultivating begins.
RM: Were you interviewed by a certain committee or a board?
RD: Several times. The de facto leadership at the time fell to Philip Jones Griffiths, Gilles Peress, Susan Meiselas, Eugene Richards, and Alex Webb in New York. Richard Kalvar came from Paris.
RM: Was it made clear to you that you would just be running the New York operation?  Did you know the other offices were independent, or was there a shared responsibility?
RD: They made it clear they wanted me to be the editorial director for the entire agency. It was like, you can have the whole thing if you play our game. At the same time, they were cheap and adamant about holding my job definition to this specific title so I couldn't make any extra claims on them. Exploit my sense of professionalism, no different than Sygma. I took on responsibility for managing photographers from around the world in terms of editorial assignments.
RM: Were there big surprises?
RD: It was what I expected. I worked at Sygma for two and a half years and managed their editorial department. It's a big job for a news editor anywhere. You're busy all day and all evening long, and I liked that sort of work so there was nothing unexpected. What was unexpected and also intriguing was the position of managing a cooperative. Managing information just before the advent of digital media, working at the nexus of commercial journalism and a set of alternative social relations, or so I thought.
RM: Sygma clearly didn't work in the same fashion, did it?
RD: Sygma was not a cooperative. It was a spinoff from Gamma that did begin as a cooperative, almost an imitation of Magnum. A few photographers left Gamma to start Sygma, but it was organized by Hubert Henrotte and Monique Kousnetzoff in Paris and Eliane and Jean-Pierre "Papa" Laffont in New York. Of those four, only J.-P. was a photographer. With a few other exceptions like Henri Bureau and Richard Melloul in Paris, photographers did not have a lot of say.
RM: At Magnum clearly every photographer is an owner of the agency and a potential boss. Doesn't that make for an impossible situation to run a business — you know, twenty, thirty people as your bosses?
RD: There were elected officers. Erich Hartmann was the president and Alex Webb the vice-president who hired me. Erich was very smart but terribly conflict-averse. He signed my contract and it was the last I heard from him. There were bosses on paper, there were real bosses, and still others trying to pull the strings. It was complicated.
Text copyright © 2016 by Robert Dannin. All rights reserved.
•
(For an index of links to all posts in this series, click here.)
•
Robert Dannin holds a doctorate in linguistics and anthropology from the School for Advanced Studies in the Social Sciences in Paris. He taught at Brown University, New York University, and Suffolk University in Boston. He is co-founder and director of the Ddora Foundation, and serves as a trustee at Mount Ida College in Newton, Mass. Among his scholarly publications, Black Pilgrimage to Islam (Oxford University Press, 2002) was the first ethnography of Islamic religious conversion in America.
In 2009 Dannin was awarded an inaugural residency at the Norman Mailer Writer's Colony. His most recent work is a biography of Jacob Schiff, the Gilded Age banker and rival to J. P. Morgan.
Dannin paid for his education by working as a cook, translator, ghostwriter, and copywriter/photo editor at Sipa Press in Paris from 1978 to 1981. He was news editor for Sygma New York and later the editorial director of Magnum, where he produced Sebastião Salgado Jr.'s "An Archaeology of the Industrial Age," eventually published as Workers (Aperture). His other editorial credits include James Nachtwey's Inferno (Phaidon) and the survey Arms Against Fury: Magnum Photographers in Afghanistan (powerHouse).
Dannin is the author of numerous critical essays about photojournalism. From 1995 to 1997 he served as special consultant on photography to the office of the New York Attorney General. To contact Robert Dannin, click here.