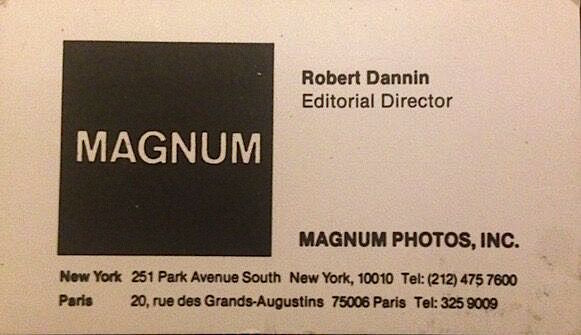 [Editor's Note: Here we continue "The Dannin Papers," a series of Guest Posts by Robert Dannin, who served as Editorial Director of Magnum Photos from 1985-90. This first piece — an account of his years with Magnum, in which he revises and expands on an interview that Russell Miller conducted with him in 1995 — will appear in six installments. For Part 4, click here. — A. D. C.]
•
Robert Dannin Interviewed by Russell Miller, 1995

(revised and expanded, 2016 — part 5)
Robert Dannin: (continued) … Magnum can do an awful lot with very little because they can reinforce the cachet. Themes and motifs are repeated and recycled until even the critics forget who originated them. Pictures and books by Bruce Davidson, Elliott Erwitt, Danny Lyon, Eugene Richards, and Gilles Peress all rehearse these tropes.
Sometimes they're lucky enough to have someone who innovates — like Joseph Koudelka, for example. Others are quick to appropriate them too. Sebastião Salgado's real success begins with "Workers" and suddenly Abbas [Abbas Attar] is shooting his world religions project in black & white.
The esthetics derive from the first generation of founders and are grounded in social realism. Paul Fusco reprised this brilliantly in his coverage of the United Farm Farmworkers for Look magazine; he was a shoo-in before he even dreamed of Magnum. Susan Meiselas, Alex Webb, and Gilles Peress are mannerists whose wide-ranging subject matter leads critics to forget the esthetic origins of their work.
When Adam Weinberg staged his "New Color Photojournalism" exhibition in Minnesota, for example, it was more about promoting himself as a curator than discovering anything truly innovative. [This was a 1986 traveling survey organized by Weinberg for the Walker Art Center in Minneapolis. — A. D. C.] Susan and Alex have been surfing that wave like the "Endless Summer." Weinberg ends up as director at the Whitney. He's been there forever, but has he ever given any of them a show? Who does he pick for the first solo photo show in the new space? Danny Lyon, Mr. Black & White!
Suggest anything different, important journalistically but visually out of the ordinary, and you get flak. One winter there was an important strike at a Hormel meatpacking plant, part of the strategic lock-outs used by the Reagan administration to destroy unions. It was in Minnesota, but, ironically, even with an assignment Alex wouldn't go. Too much snow, all that white to contend with. He was very honest, and it became a running joke between us.
•
In 1986 I was still running up to Hotaling's in Times Square once or twice a week to get out-of-town papers. [This newsstand and kiosk, which opened in 1905, stocked 225 out-of-town newspapers and more than 1,000 foreign publications in 30 languages. In 1999 the advent of the internet forced Hotaling's News to close its 142 W. 42nd St. store, relocate, and downsize. — A. D. C.] The Miami Herald published the first investigative reports about the covert American funding for the counterinsurgency in Nicaragua.
Susan Meiselas was on her way down to Managua, and I knew she had to change planes in Miami. I asked her to stay overnight in Miami and explained that the Miami Herald had published the addresses for warehouses, stores, homes, and the airfield they're using to transport the stuff. Another organization, Civilian Military Assistance, has an address, also the bank facilitating the transactions. It was one of the huge multi-page broadsheet articles. "Susan, all you've got to do is get a cab and drive to ten places, take a picture of the gate, the airfield, the bank."
She refused. The attitude was, I will not compromise my artistic standards. I pleaded but she wouldn't do it, and of course all this information turned two or three months later into the Iran-Contra affair. "I don't do those kinds of shots."
Flash forward almost 30 years later. I'm on the editorial board for Susan's Magnum Foundation Emergency Fund and we're debating a controversial proposal to photograph alleged "extraordinary rendition" locales – empty buildings, abandoned airfields, etc. – part of Bush's global war on terror. I thought the photographer hadn't substantiated his evidence and voted against the grant. The other jurors, both seasoned journalists, agreed with me, but Susan reversed our decision and made the award anyway.
In my subsequent exchange with her on March 25, 2014, I said that the rendition story lacked journalistic rigor, yet judging by the recent fascination for images of empty oceans and unpopulated landscapes, one might conclude that the more abstract the image, the greater the chance to expand an audience. Do you vet a story like this, or just throw it out there and wait for the audience to react? What's really ironic is that in 1986 the Miami Herald article cited businesses, banks, warehouses, and even the home addresses of the principals. I asked you to spend a day in Miami photographing these places. "I don't do that kind of photography," was your response. This was months before the North-MacFarlane revelations.
She didn't remember but now claims to having been focused on the real violence being perpetrated by the Contras in Nicaragua. It was a long way from "I don't do those kinds of shots" to the country is blowing up I can't waste any time getting down there. We were talking the Iran-Contra scoop and a day wasn't going to change anything, certainly not by the standards she practiced in the Philippines.
•
There's more to say about photojournalism and the political economy of Cold War photojournalism. It explains how things worked and didn't work at Magnum back then.
The period I worked there was more or less defined by the low-intensity conflicts of the Carter-Reagan-Bush years, all part of the Second Cold War triggered by the Soviet invasion of Afghanistan in 1979. In Central America, South Asia, Africa, not forgetting East Timor, and eventually the Balkans, the conflicts followed a similar pattern with respect to news coverage. Neocolonial oppression, usually a brutal dictator, provoked the call and response of revolutionary movements and counterinsurgency operations. The Soviets and their proxies supported the former, the U.S. and their NATO partners the latter.
Once sides were chosen, political and ideological compromises, especially in regard to subaltern participants, minority populations, the most vulnerable, etc., forced the antagonists deeper into a quagmire. Local conflicts were quickly regionalized as the surrounding state actors participated in the lucrative arms trade but also suffered the problem of dealing with refugees fleeing the conflict area. In turn this produced more regional political instability and the specter of dominoes falling to the advantage of one of the blocs.
The fighting ranged from civilian terror and extrajudicial murder to protracted confrontation between organized armies, small to medium arms with the possibility of large-scale artillery duels and even air wars. Five or ten years was about the limit before a biologically viable population, weakened to the point of total collapse, accepted an international settlement, an unjust peace by any other name. The exception was Afghanistan where a new generational insurgency came into existence to continue the war on different ideological grounds and with new cash inputs.
If you examine the economics of these conflicts, the cycles were tied to the maturity of bonds floated to purchase weapons. By contrast with the two World Wars, Korea, and perhaps Vietnam, the low-intensity conflicts conformed to the shorter business cycles of Wall Street or the 5- and 10-Year Plans of the Kremlin.
Technological innovation also factored into the production of arms, communications, and security equipment. However, unlike Moore's Law, as weapons became more sophisticated the prices went up, making it harder and harder to defer the original loans. Call me a cynic, but in many cases the peace deals resembled financial reorganizations, with business leaders and technocrats taking over political leadership, then hooking up with the IMF and World Bank.
Conversely, former guerillas like Daniel Ortega converted to neoliberalism after winning power. Without the cooperation of the US-EU financial institutions, Nicaragua went from Banana Republic to Beggar Republic, dependent on aleatory investments from the likes of China and multinationals.
The Americans extracted themselves from low-intensity conflicts by transferring the country's portfolio to the banks; but, lacking this capitalist instrument, the USSR suffocated to death under its own debt. In 2014 China decided to remedy this global imbalance by chartering the New Development Bank to benefit the BRICS nations. Don't throw your cameras away. An era of neo-imperialist conflicts is surely on the horizon.
•
Bringing this back to the photo agencies, low-intensity conflicts generated a continuing demand from the ever-robust print media for high-quality images and ongoing coverage by recognized photojournalists. From an agent's perspective this meant supplying the primary market for five to ten years with reportage and saturating the secondary market with archival materials.
At many agencies, Magnum included, photographers became specialists in particular conflict zones. They learned appropriate languages, earned the camaraderie of local journalists and fixers, purchased vehicles, and in some cases even took apartments in the capital city. To the mainstream media it was a form of branding; Susan Meiselas and then Larry Towell in Central America, Alex Webb in Haiti, Gilles Peress in Northern Ireland, Ian Berry in South Africa, Philip Jones Griffiths in Vietnam and Cambodia, Raymond Depardon, Abbas, Steve McCurry in Afghanistan.
Other agencies had their guys too. Alfred Yaghobzadeh covered Lebanon for Sygma, Yan Morvan was there for Sipa. Reza and Manoocher Deghati worked in Iran for Sipa, so too Shahrokh Hatami until the ayatollahs put him under house arrest.
The photographers for their part often became personally committed and often very possessive of their turf. They fiercely resisted internal competition. For example, if the New York Times Magazine wanted to assign another photographer for a story in someone else's field of expertise, I would go into overdrive to convince them to use, say, Ian for a story in Botswana rather than send Eugene Richards. Otherwise I knew there would be a battle. On the other hand, if a magazine writer or editor demanded a specific photographer, you couldn't argue, only take the assignment and suffer the fallout.
•
The other component of an agency's and a photographer's success lay in the archives, where supply-side economics actually worked. The more quality images we could pump into the system, the greater the potential to saturate the market for any given topic. Taken from assignment "selects" and outtakes, these secondary sales not only guaranteed the photographer's baseline revenues but also expanded the agency's total market share.
Here the Magnum brand came into play. If a photo researcher could fill her shopping list at Magnum, no need to go elsewhere, because publishers and even many subscribers accepted the quality implicit in the brand. Book editors preferred Magnum when it came to finding historical materials; the New York Times Sunday Magazine and Le Monde Diplomatique were important showcases that fed secondary sales worldwide. It was still an analog industry and there could be no better advertisement than something already in print. An iconic photo of Fidel by Burt Glinn or René Burri led to dozens of other fulfillments.
The problem in 1985 was that the flow of new materials into circulation was painfully slow due to technological bottlenecks and a declining assignment base for generating new images. Magnum had surrendered market share to the other agencies. Neither the clients nor the photographers were happy about this, and I believe that explains why they nominated McCurry and James Nachtwey and hired me at the same time. Griffiths and Erich Hartmann, the outgoing and incoming presidents respectively, were very explicit about this challenge. Cornell Capa invited me uptown to the International Center of Photography. He had only one question, "Are you going to save us?"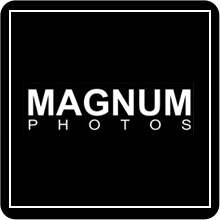 It seemed like a reasonable business proposition, except I was coming in cold and didn't know many of the photographers personally. They wanted the turn-around to happen yesterday. Some job. I looked around the office at 250 Park Avenue South — no computers, no fax machine, even the telex was antique. The copier broke down once a week. No cable for CNN. When the Columbia space shuttle blew up, someone pulled out a portable black & white TV with an aluminum-foil antenna.
•
I spent a couple of hours every Thursday with Paul Gauci, the comptroller, studying the general ledger accounts and sales reports by photographer. I was appalled. Excluding the guys doing corporate work, I knew these highly acclaimed photographers weren't earning a fraction of the money pulled in by their peers.
A working photojournalist, freelance and not under contract, with good to excellent representation could generate about 10-12 assignment days per month plus library sales through international distribution.
Many Sygma photographers were versatile in that they had great archives. Allan Tannebaum came to the agency with his entire collection of underground culture and celebrities from the Soho News. Owen Franken was a genius and carried a dedicated camera for shooting stock images while on assignment. Before traveling to Central America, for instance, he'd interview the librarians about photo requests and figure out how to piggyback a few days in the Costa Rican rainforest on his return from covering the war in El Salvador.
En route to China he called me from Hong Kong one day. "Anything you want me to get?" Deng was orchestrating a purge, so half-jokingly I asked, "How about a public execution?" This was impossible, but ten days later I got a package from Hong Kong, one roll of black & white film. In a small village Owen spotted posters of a recent execution of public officials displayed on a dazibao and very carefully reproduced their images with his camera. Brilliant.
Averaging things out for these two photographers, I figured that counting local assignments, foreign reporting, and archive sales, an average $15-20,000 per month gross revenues was standard. …
Text copyright © 2016 by Robert Dannin. All rights reserved.
•
(For an index of links to all posts in this series, click here.)
•
Robert Dannin holds a doctorate in linguistics and anthropology from the School for Advanced Studies in the Social Sciences in Paris. He taught at Brown University, New York University, and Suffolk University in Boston. He is co-founder and director of the Ddora Foundation, and serves as a trustee at Mount Ida College in Newton, Mass. Among his scholarly publications, Black Pilgrimage to Islam (Oxford University Press, 2002) was the first ethnography of Islamic religious conversion in America.
In 2009 Dannin was awarded an inaugural residency at the Norman Mailer Writer's Colony. His most recent work is a biography of Jacob Schiff, the Gilded Age banker and rival to J. P. Morgan.
Dannin paid for his education by working as a cook, translator, ghostwriter, and copywriter/photo editor at Sipa Press in Paris from 1978 to 1981. He was news editor for Sygma New York and later the editorial director of Magnum, where he produced Sebastião Salgado Jr.'s "An Archaeology of the Industrial Age," eventually published as Workers (Aperture). His other editorial credits include James Nachtwey's Inferno (Phaidon) and the survey Arms Against Fury: Magnum Photographers in Afghanistan (powerHouse).
Dannin is the author of numerous critical essays about photojournalism. From 1995 to 1997 he served as special consultant on photography to the office of the New York Attorney General. To contact Robert Dannin, click here.