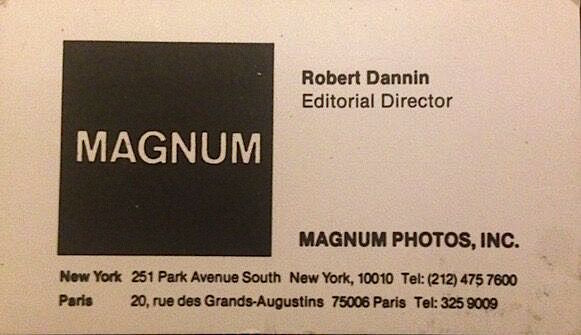 [Editor's Note: Here we continue "The Dannin Papers," a series of Guest Posts by Robert Dannin, who served as Editorial Director of Magnum Photos from 1985-90. This first piece — an account of Dannin's years with Magnum, in which he revises and expands on an interview that Russell Miller conducted with him in 1995 — will appear in six installments. For Part 3, click here. — A. D. C.]
•
Robert Dannin Interviewed by Russell Miller, 1995

(revised and expanded, 2016 — part 4)
Russell Miller: How long did it take you to start raising an eyebrow over this organization?
Robert Dannin: I began to understand better during certain crises — not inside the agency, but political crises I wanted to cover. That was the test. Baby Doc finally fell in February 1986, and I had to beg people to go to Haiti. [Jean-Claude Duvalier, nicknamed "Baby Doc," was the President of Haiti from 1971-86, ousted in a popular uprising. — A. D. C.] We ended up with three photographers, and on top of that I had to literally pay a guy out of my own pocket, sending him down to mind Danny Lyon.
RM: Why?
RD: Danny Lyon drifted in and out of Magnum. The stoned iconoclast: everyone loved his work, but he was as uncooperative as they come. A genius, n'est-ce pas? Now he was thinking about coming back, or maybe it was a ploy get free film and processing. Peress and Meiselas brought him to me: "Look, Danny wants to do a book on Haiti, he's got a lot of stuff, he wants to go down there. Find some money."
I said okay, well, if I sell his stuff, he'll have to cover the revolution and ship film. Danny wasn't listening, kind of disrespectful, but I appreciated his body of work and thought he'd give us an interesting perspective. I made some calls and got an assignment from Newsweek. Great, but they wanted him to shoot color!
I had an enthusiastic intern, an aspiring photographer working for me, Clarence Eli, who was living with Maggie Smith, the owner of Tin Pan Alley, where Nan Goldin used to project "The Ballad of Sexual Dependency." Clarence, want to go to Haiti as Danny's assistant?  He jumped at the chance. Listen, Clarence, I'm going to send you on my own dime. Your job is to mind Danny. Make sure he shoots some color.
Fucking catastrophe right away. The flight to Miami departed at 5 p.m., and I started calling Danny at noon. But from his farm on the North Fork Danny couldn't make it to JFK on time. He didn't even bother. At 4 p.m. his wife said he was asleep. Clarence goes ahead, finds a place to stay, rents a jeep. Forty-eight hours later Danny shows up in Port-au-Prince. Clarence was waiting at the airport, but when Danny sees the jeep, he refuses to get in. Apparently the vehicle was not to his taste. This was only the beginning of the conflict. Clarence would have done almost anything to service Danny. But that wouldn't have been much fun, right? The great civil-rights photographer needed to torture his own voodoo doll, teach him his place in the world.
At one point they argued during a street riot in Port-au-Prince. Clarence tried to put color film in one of his cameras. Danny threw the film away and pushed him. When they went at it, the cops noticed and came over to break up the fight. In the middle of a revolution, the photographer becomes the spectacle. Obviously a safer choice for the cops to pull apart two crazy gringos than expose themselves to an angry mob, but really …
A couple of days later Esquire's David Hershey assigned Gilles Peress to the story. I also called Newsweek to temporize their expectations of getting anything publishable from Danny. They responded by assigning Eli Reed. Eventually Magnum had three photographers plus an assistant in Haiti.
I told Clarence to make himself useful, but by then Danny was complaining about him to Gilles. Eventually the two of them got into a dispute. For some reason no one wanted to be seen with Eli who was paranoid because the locals were looking at him as if he were a Macoute. [The Tonton Macoute were Duvalier's feared secret police. — A. D. C.] Four people working for the same co-op and no one will speak to each other.
They couldn't get a phone line out of Haiti until two or three in the morning, when I would get phone calls in succession from Clarence, from Danny, from Gilles, and from Eli. When one would hang up and my number wasn't busy anymore, as I'm about to fall asleep, the next call would come through. This continued for a week. All complaining about each other! I began to understand that there was something seriously wrong; that they couldn't coordinate things among themselves and refused my direction.
RM: Were they in the same place in Haiti?
RD: They were all in Port-au-Prince at first. Danny and Clarence went up to Gonaïves at some point. He got some wonderful shots of the local insurgent leader, Jean Tatoune. Color too.
RM: I understand the artistic reasons why photographers want to shoot in black & white, but at that time you needed color, didn't you?
RD: Anyone that's proficient can shoot both color and black & white at the same time. It's never been a problem. But I couldn't get any money for it unless he was shooting color.
RM: How did it work out finally?
RD: Funny you should ask. Danny was shooting some large-format b&w with his Hasselblad. Clarence shipped the film. Yetish Nanjundapa processed it and made contacts in our darkroom. He put them on my desk while I was at lunch.
I had another editorial intern, a young woman. She was an Evangelical. When I came back upstairs she was sifting through Danny's contacts and seemed disturbed.  She looked up, "What is this!?" I grabbed the contacts. Page after page showed naked women posing casually in a hotel room. Prostitutes from the DR, the Dominican Republic. Oh yeah, and here's a mirror shot of one with Danny. He's naked too. Not that frame in particular but one or two of those shots made it into his book, Merci Gonaïves. The Haitian revolution according to Danny Lyon.
•
RM: Any other disasters?
RD: Susan Meiselas was on assignment for Newsweek during the 1986 EDSA Revolution in the Philippines. After Cory Aquino won the "snap" presidential election, Marcos refused to step down. People Power was in full force. The streets were occupied, and military support for the dictatorship was wavering.
It was a critical moment in the political coverage. All of a sudden Meiselas calls to announce she's coming back. "You can't leave now!" "Yes I can, I have something important to do." She wouldn't say what, but I finally learned what was so important for her: A $1,000 honorarium to appear on a stage in Florida when Mary Ellen Mark was presenting her stuff. She needed to be there, and sure enough, the palace coup happened the day she split.
It was embarrassing. Steve McCurry was there working for National Geographic, but it would be months before we could syndicate his stuff. A few days later Susan returned to Manila as the donkey for Newsweek, carrying film for the other photographers. I guess she didn't mind the humiliation.
RM: Even though you were the editorial director, I guess you didn't have the authority to say, "I'm sorry, Susan, but you've got to stay."
RD: You can't fire her, we were back and forth on this for several days, and I tried to reason and I pleaded. In the end you don't have that much say.
RM: Newsweek must have been pretty pissed off.
RD: It was Susan's first meaningful assignment after Time dropped her coverage in Central America. Jimmy Colton, chief foreign picture editor, probably expected something like this to happen with Magnum. He didn't like it, but in those days they had four or five other people there on assignment or under guarantee for a big story. Andy Hernandez was shooting for Sygma. Toshi Matsumoto and Charlie Steiner were there too. Both had done lots of work for Jimmy. Newsweek certainly wasn't missing any deadlines by not having Susan's take.
RM: So she wasn't the only one representing them there, she was just one of many?
RD: There was still enough money around to make patronage assignments, and Magnum was the beneficiary of many, simply because it was Magnum. Colton knew it was over between Susan and Time. Maybe he wanted to give her a try. In the end it was my word that got broken. Depressing.
RM: Was most of your work fixing assignments, watching what was happening in the world, making sure the photographers were out there?
RD: That was only part of the job. I ran international syndications in coordination with Jimmy Fox in Paris. I reviewed the accounts with Paul Gauci on a weekly basis. "BBNR" (Billed-But-Not-Received) was our secret passcode, meaning that most of the time the agency was running on fumes. He helped me set monthly targets and from there I had to figure where to wrangle the assignments, not waste time on small stuff, or maybe charge more for it.
There were no established rates, but you had to be consistent about each photographer. I might try to raise his rates or push for longer assignments. There was a lot of counseling too, and at times I felt like a cornerman, an Angelo Dundee pushing his fighter back into the ring, keeping him psyched for one more round.
•
RM: The fortieth-anniversary project happened when you were there. How did that go?
RD: It was typical, let's put it that way. It was a bloody cockfight. The contract was negotiated by a committee, they wouldn't listen to anybody, it was disastrous from A to Z. The selection of photos for the book was a scrum. William Manchester's text was maybe the worst thing he ever wrote. He must have thrown it away because I went through his collected papers and couldn't find it.
RM: Wasn't it a surprise to you? The reputation of Magnum to outsiders is this wonderful band of brothers, working together as a cooperative, lending each other film, staying with each other. I mean clearly that wasn't the case, was that surprising for you?
RD: Magnum's biography is not just a narrative of funny anecdotes, personal heroism, or critical interventions aimed at the cognoscenti. To me there's a real narrative, a true set of values behind the myth. It's a frat-house given to sophomoric antics with members sometimes  capable of making extraordinary pictures.
The aesthetic ethos of the organization is reinforced by the peer selection process. They choose photographers whose style and talent conform to a series of well-exercised standards. A lot of it is self-referential and often becomes mannerist. Renato Poggioli's book Theory of the Avant-Garde identified these principles among the Romantic academies of painting in the 19th century.
Take Sebastião Salgado's seminal work Otras Américas. It was the portfolio he submitted for peer review to get full membership in the early 1980s. Nearly every picture in that book evokes the repertoire of other Magnum masters that preceded him — Capa, Cartier-Bresson, Chim, Werner Bischof — it's all there. His tremendous talent is evident in these exercises. What you don't see is the real narrative of the hazing they gave him to become a member. They tortured him, made him resubmit it again and again until he got it right. (For some reason, René Burri was his chief antagonist. Salgado paid him back a few years later by blocking the membership of Alberto Venzago, one of René's Swiss protégés. Sebastião's criticism was, "He smiles too much, too happy. Why?")
The peer review process reminds one of how an applicant got his "X" from the Nation of Islam as described in the Autobiography of Malcolm X. It didn't matter whether it was Cassius Clay or Malcolm Little or some guy in East Cleveland, everyone had to write a letter to the Honorable Elijah Muhammad. One mistake, even sloppy penmanship, the letter was sent back for a rewrite. And until you got it perfectly the way he wanted, you didn't get your X.
Text copyright © 2016 by Robert Dannin. All rights reserved.
•
(For an index of links to all posts in this series, click here.)
•
Robert Dannin holds a doctorate in linguistics and anthropology from the School for Advanced Studies in the Social Sciences in Paris. He taught at Brown University, New York University, and Suffolk University in Boston. He is co-founder and director of the Ddora Foundation, and serves as a trustee at Mount Ida College in Newton, Mass. Among his scholarly publications, Black Pilgrimage to Islam (Oxford University Press, 2002) was the first ethnography of Islamic religious conversion in America.
In 2009 Dannin was awarded an inaugural residency at the Norman Mailer Writer's Colony. His most recent work is a biography of Jacob Schiff, the Gilded Age banker and rival to J. P. Morgan.
Dannin paid for his education by working as a cook, translator, ghostwriter, and copywriter/photo editor at Sipa Press in Paris from 1978 to 1981. He was news editor for Sygma New York and later the editorial director of Magnum, where he produced Sebastião Salgado Jr.'s "An Archaeology of the Industrial Age," eventually published as Workers (Aperture). His other editorial credits include James Nachtwey's Inferno (Phaidon) and the survey Arms Against Fury: Magnum Photographers in Afghanistan (powerHouse).
Dannin is the author of numerous critical essays about photojournalism. From 1995 to 1997 he served as special consultant on photography to the office of the New York Attorney General. To contact Robert Dannin, click here.