[Editor's Note: Robert Dannin, who as Magnum Editorial Director from 1985-90 knew and worked with Steve McCurry, emailed to me a private but substantial response to my June 1 post about the current brouhaha over McCurry's use of Photoshop to revise some of his images. (In that post I mostly synopsized the situation and the responses thereto.)

Dannin's email contained so much compressed information, provocative insider insight, and tart critique that I encouraged him to expand on it for publication here as a Guest Post. He did so, and the results appear below, as written. As always, the opinions of Guest Post invitees do not necessarily agree with mine, and often diverge radically from them.

As you'll see, Dannin's commentary raises more questions than it answers — about Magnum Photos and its members, about National Geographic, and about the picture-agency business and its relationship to periodicals, book publishers, and other licensees. So I invited him to fill in the blanks and expand further on these issues (basically taking him up on his "don't ever get me started" dare). Dannin agreed, on condition that he first had to fulfill an outstanding editorial obligation. So we will begin that open-ended series in the fall. Consider this a foretaste of things to come at summer's end. — A. D. C.]
•
June 4, 2016
Dear Allan,
I was very impressed by your timely and very important exposé of Capa's D-Day photos. Deflating that myth was not only an exemplary piece of art historianship but also a public service that ought to resonate for years to come. Have you considered expanding it into a book? [Yes; it's in the works. — A. D. C.] Publishers should be very interested, especially given Magnum's new direction as a TV saga. (But how are they going persuade millennials to distinguish the brand from guns, ice cream, or condoms?)
Steve McCurry is another story altogether. Low-hanging fruit in the scheme of things. Not that calling him out is trivial, but his presence in Magnum was always highly contested. Members never considered him a peer, a true photojournalist, yet Bruno Barbey made a convincing argument circa 1985 about the value of retaining an in-house National Geographic connection. In exchange for the legitimacy conferred by the Magnum stamp on his work, Steve paid his dues without protest or any of the vulgar deceptions used by many others to shield their earnings while stealing precious services from the agency.
There were no illusions. It was a strategic bailout and smart response to the dramatic collapse of the magazine business. Steve was not only affable but accepted his liminal status cheerfully and very generously guided me through the labyrinth of National Geographic bureaucracy straight to the vault. Just ask Gilles Peress, who enjoyed a year's vacation in South America and the Caribbean at the unprecedented rate of $500/day plus expenses without ever producing or even showing a single roll of exposed film. Or Bruce Davidson, who bragged about swindling the Geographic out of the price of an automobile on an assignment to illustrate the New York City coastline, a story that he later recycled into b&w prints for an unsuspecting editor at the New York Times Magazine.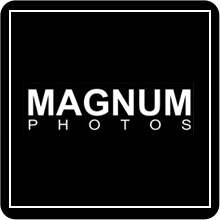 The amazing thing is that over the next couple of decades McCurry, Elliott Erwitt, and Martin Parr experienced such tremendous commercial success that they could afford to keep the agency afloat and still live comfortably. I don't think anyone would mistake their work during that period for photojournalism.
On the one hand, Steve had his fans at Magnum, the biggest one being Henri Cartier-Bresson, who appreciated his esthetic and once dismissed a McCurry detractor as "color blind."  On the other hand, McCurry did have a legitimate penchant for documentary photography. I featured some of his early work in Arms Against Fury, Magnum Photographers in Afghanistan (powerHouse, 2002). His infatuation with Afghanistan was real (the way it's supposed to be), as were his pictures, in stark contrast to other photographic propaganda deployed in support of "Charlie Wilson's War": fake prisoners dressed in chains and handcuffs from a London sex shop, MSF [Médecins Sans Frontières] volunteer "physicians" demonstrating how to operate small-bore artillery, and any images to make the Russians and Afghan communists look absolutely demonic while our freedom-loving pals were busily organizing al-Qaeda.
Then came the Mona Lisa of refugee camps. Jackpot. For Steve, who says that part of the fortune he makes from this 20th-century La Joconde goes to a nonprofit foundation to educate Afghan refugees; it's definitely something to investigate. For National Geographic especially, who for the measly price of an editorial assignment purchased a new corporate logo that, when ensconced in the publisher's distinctive yellow frame, became an even more ubiquitous symbol than the actual photo. This was a clear misappropriation on moral, political, and financial grounds.
Morally, it was an act of exploitation, if not rape, by an American media giant as much a part of the Beltway establishment as the Smithsonian or Department of State. Politically, she fed the pornographic dreams of the White House neocon criminals prosecuting an illegal, stupid, treasonous, perpetual war. No wonder Steve hesitated over committing to the remake (until the magazine threatened to lasso her without him). Financially, it was theft of a photographer's copyrighted editorial image for universal advertising rights and Cold War propaganda, without ever offering him a fair-market-price commercial buyout.
In this seedy act of expropriation National Geographic was simply following a business model established around the same time by HarperCollins. (See the Day in the Life series contracts for a true narrative of how authorial rights were nullified and photographers sentenced to become mere "content providers," with the avid complicity of the world's leading agents and magazine editors.) No longer even working in the industry but still a friend, I was outraged at this rip-off and pointed out that the magazine had trampled Steve's usage rights — and even violated his subject's human rights, by making her into a worldwide pinup girl. Given the imbalance of power, not to mention the difficulty in contractual renegotiations, I thought the state might have an interest in recuperating some lost tax revenues, and suggested Steve consult a seasoned litigator in the New York Attorney General's office.
Imagine what mayhem ensued down on the Plantation (my term for the Geographic) when they got word that Steve had a lawyer with you-know "New York values." His career would certainly have survived any threats to cut his assignments at the magazine, but whatever else transpired to force him to drop the issue could only have been in the vein of a career-ending exposé of what Steve had done for the Geographic — or, rather, what the Geographic habitually did to his images. Supremely ironic, therefore, to hear Steve's former editors chirping innocently and tsk-tsking about the primitive Atari-level masking and dodging that was and is still commonplace. Always heartwarming, those displays of loyalty by editors and art directors whose greatest challenge is juggling deadlines and drinks.
While I might agree with some of Teju Cole's remarks about the colonizer's gaze, his shilling for the NY Times hardly makes a credible photography critic, more likely the very epitome of a corporate sellout. He knows nothing of McCurry, less about Magnum. He lacks basic knowledge on the industry's division of labor, and seriously confounds possession of a camera with ownership of the means of production. It just shows how far an ingénue can go in a field that's already crashed and burned. (In this case, I am the black box, the flight-data recorder.)
If McCurry or anyone else in the Geographic's employ did something unethical from the perspective of the unwritten code of photojournalism, then the responsibility lies at the top with Gilbert Grosvenor and his gang – Wilbur Garrett, Tom Kennedy, Kent Kobersteen, and their flaks, who assented regularly to far more important transgressions, like sabotaging James Nachtwey's coverage of the anti-apartheid struggle in South Africa (substituting in its place David Turnley's soporific images), or the racial profiling of Eli Reed on the only assignment he ever shot by sending him to the most brutal dictatorship in the poorest nation on the "dark continent" (Malawi) and then criticizing his lack of access.
For me, anyway, the manipulation originates in the corporate boardroom — and damn the photographer who refuses to comply, because he or she is just replaceable. Why is Time "Lightbox" stoking gossip about McCurry while ignoring the biggest photography scandal in the history of their own magazine? Manipulation by Photoshop is nothing compared to the unacknowledged theft and destruction of Stuart Franklin's slide of the "tank man" of Tiananmen Square from 1989. They should interview Michele Stephenson about that cover-up.
There's much worse. I could go on to cite "dual-use photography" in the print media's collaboration with the Contras to identify and target victims on the Honduras/Nicaragua border. How about the utter pandering to Chinese censorship across the whole industry? And don't ever get me started on the agents and agencies who sank the profession for their own personal gain.
I am uncomfortable watching an interrogation that is misguided if related to some elusive standard of photojournalism. The supposed ethos at Magnum was cooperative effort: from each according to his ability, to each according to her needs. Even if no one really believed in the crackpot socialism of "Chim" [David Seymour, one of the four Magnum founders — A. D. C.] or Henri C-B, they stumbled through the motions anyway. When it was Steve's turn, he picked the agency up and carried it on his back. He made my job a lot easier, and if the late Paul Gaucci, comptroller extraordinaire, could speak he'd attest to how those contributions helped slake the creditors and sustain the work of journalists like Leonard Freed and Larry Towell.
Philip Jones Griffiths, purest of the pure when it came to integrity of the image, never once ridiculed Steve's work. Unlike the sniggering bloviators, famished for attention to the point of wasting money on a SoHo office we could ill afford, who would now eagerly strike a Faustian bargain to trade their lecture-circuit mediocrity for a chance at McCurry's shuttling from the Hermitage to Pinacoteca di Brera to the Prado. Unlike Sebastião Salgado, who would fly to New York quarterly, march Gaucci to the bank, stuff the cash into his boots, then rush back to JFK. Heaven forbid the money should sit in our account long enough to balance our budget.
Pressing McCurry for explanations when one already knows the reasons he used Photoshop — to create a more saleable, viewable image — evades more serious issues about who controls photography, and when and how to liberate it.
— Robert Dannin
•
[Author's note: As this op-ed suggests, I worked closely with McCurry during my tenure at Magnum from 1985 to 1990, and consider him both a colleague and a friend. Steve can be goofy at times, but he most certainly is not the enemy of committed photography. I am grateful to A. D. Coleman for publishing my views, and realize that I've opened up a can of worms in the process. Accordingly, I'll have more to say about a number of these matters, about Magnum, and about the photo business as a whole in a series of Guest Posts that will start here this coming September. — R. D.]
•
Text copyright © 2016 by Robert Dannin. All rights reserved.
•
Robert Dannin holds a doctorate in linguistics and anthropology from the School for Advanced Studies in the Social Sciences in Paris. He taught at Brown University, New York University, and Suffolk University in Boston. He is co-founder and director of the Ddora Foundation, and serves as a trustee at Mount Ida College in Newton, Mass. Among his scholarly publications, Black Pilgrimage to Islam (Oxford University Press, 2002) was the first ethnography of Islamic religious conversion in America.
In 2009 Dannin was awarded an inaugural residency at the Norman Mailer Writer's Colony. His most recent work is a biography of Jacob Schiff, the Gilded Age banker and rival to J. P. Morgan.
Dannin paid for his education by working as a cook, translator, ghostwriter, and copywriter/photo editor at Sipa Press in Paris from 1978 to 1981. He was news editor for Sygma New York and later the editorial director of Magnum, where he produced Sebastião Salgado Jr.'s "An Archaeology of the Industrial Age," eventually published as Workers (Aperture). His other editorial credits include James Nachtwey's Inferno (Phaidon) and the survey Arms Against Fury: Magnum Photographers in Afghanistan (powerHouse).
Dannin is the author of numerous critical essays about photojournalism. From 1995 to 1997 he served as special consultant on photography to the office of the New York Attorney General. To contact Robert Dannin, click here.