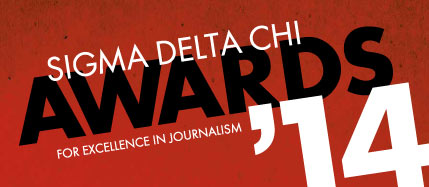 The Robert Capa D-Day Project has received the 2014 Society of Professional Journalists Sigma Delta Chi (SDX) Award for Research About Journalism. (Click here for the announcement.) The 2014 Society of Professional Journalists (SPJ), with 8,000 members, is the country's largest journalist organization.
A. D. Coleman has received The Photo Review Award 2015 "for outstanding contributions to photography, including the investigation of Robert Capa's D-Day photographs." (Click here for a report.)
The Robert Capa D-Day Project was also nominated for:
• The 2015 Anthony Shadid Award for Journalism Ethics.
• The 2015 Newhouse School Mirror Awards.
• The 2016 duPont-Columbia University Awards.
•
This series of posts began in June 2014 when the distinguished photojournalist J. Ross Baughman, who had contributed an earlier Guest Post on painters using photographs as source material, emailed to ask if I would consider publishing his analyses of Robert Capa's D-Day negatives and the legend of their subsequent fate.
After reading Baughman's draft, exchanging some emails with him, and doing some online fact-checking, I happily accepted his offer. What I found online indicated the availability of a goodly amount of relevant material that expanded on his version of the story and substantiated his conclusions. Rather than ask Ross to rewrite and extend his draft, already polished and resolved, I decided to undertake that task, in order to make the case for an alternate narrative as thoroughly as possible.
The links below, in reverse chronological order, will take you to Baughman's challenge to the myth, then to my responses and those of others (plus more from Baughman), the most recent first. Think of this as the journal of an investigation. I suggest starting with the earliest post and working your way forward from there.
•
"The whole series by Coleman and his other guests are convincing, in part because of the experience and obvious expertise of those concerned, but also because of the careful and precise building of their case and the presentation of evidence for it." — Peter Marshall, >Re: PHOTO
•
Special offer: If you want me to either continue pursuing a particular subject or write on a topic other than the current main story, make a donation of $50 via the PayPal widget below, indicating your preference in a note accompanying your donation. I'll credit you as that new post's sponsor, and link to a website of your choosing. Include  a note with your snail-mail address (or email it to me separately) for a free signed copy of my 1995 book Critical Focus!