What's Wrong with This Picture?

Want "the final word on Robert Capa's D-Day negatives and the mystery of 11 images"? Donald R. Winslow, the editor of the National Press Photographers Association's house organ News Photographer, promises in his March 13 Facebook announcement of the January-February 2015 issue that a feature story therein, "The Fog of War: D-Day and Robert Capa," provides exactly such resolution.
Some might consider this claim just a tad arrogant. After all, neither Winslow nor Bruce Young, the writer he assigned to this story, have ever laid eyes on any of the primary materials, nor done any independent research into the relevant issues, nor even familiarized themselves thoroughly with the literature on this subject. Certainly, in over 9 full printed pages and 7200 words of text, they've added almost nothing of substance to the investigation. (See my next post for the lone exception.) All of which hardly qualifies Winslow to issue a "case closed" proclamation on behalf of the NPPA, as he did in a Facebook post at the NPPA's FB page. Wishful thinking at best.
Instead, they give us a demonstration of how a pair of Robert Capa and John Morris fanboys, in their roles as spokespersons for an organization of Capa and Morris fanboys and fangirls, engage with hard evidence that their idols have feet of clay. The result proves neither surprising nor particularly instructive. (It's available online to NPPA members only, alas; you can try to access it here.)
An NPPA member disturbed by Winslow's refusal to allow me post-publication access to any digital version of the story emailed me a set of screenshots a few days after it went online, so I've had time to consider its content while waiting for my token complimentary print copy to arrive. Predictably, they've turned out an equivocating puff piece, so awash in willful ignorance that, rather than take offense, I choose — paraphrasing a classic James Thurber cartoon — to be "amused by its presumption." On that note, I'll proceed to an analysis.
Cards on the Table
However, as a preface, I do recommend that Winslow and Young familiarize themselves with the journalistic concept of "full disclosure." Notable by its absence from the NPPA's Code of Ethics (which only urges its members to "Recognize and work to avoid presenting one's own biases in the work"), this obligation to put one's cards on the table applies no less to journalists who make photographs than it does to journalists who write or speak. According to this hardly obscure requirement, Winslow and Young should have stated their personal and institutional reverence for Capa and devoted allegiance to Morris at the very outset of their story.
In an earlier post I spelled out the NPPA's long-term, complex entanglement with Capa as a symbolic figure and Morris as a colleague. And in another prior post I indicated Winslow's connection to Morris, and Young's self-description as both a "Capa-phile" and a "Capa defender" who is "inclined to give Capa a break" — attitudes that must have been known to Winslow, who shared them and had published a previous piece by Young (on the controvery over Capa's image of "The Falling Soldier") that similarly "gives Capa a break."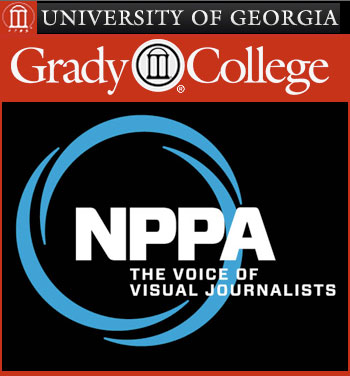 Yet Winslow purportedly commissioned from Young "a neutral piece accounting for everyone's stories and claims," as Young put it to me in a January 2015 email soliciting my responses to a series of questions about the project. Surely they jest. Given their self-evident partisanship, this qualifies as either delusional or disingenuous to the point of deceitful.
In any case, the ethics of professional journalism mandate forthright statement of such personal/professional involvements and patent biases at the outset of an article such as this, which presents itself as neutral and objective but demonstrably has an entirely different, covert agenda. (Which I suspected from the outset, and enunciated to Young during our email exchange in January.)
Furthermore, their publication of a feature story that fails to mention my filing of a formal complaint with the NPPA's Ethics Committee nine months ago, and said committee's refusal to even acknowledge receipt thereof, suggests that, as professional journalists, they lack both ethics and honor. That situation too required disclosure, as a notable aspect of the context in which this article has now appeared.
Same Old Same Old

To start with, let me sum up. Young and Winslow haven't made it necessary for me to eat my hat, I regret to say; instead, they've confirmed the worst of my expectations, as sketched in an earlier post. Young pays no heed to the glaring discrepancies in both Morris's original account and his hastily concocted new one. I've deconstructed those in detail in a cluster of previous posts; no need to repeat any of that. Young challenges no single component of that revised, incoherent narrative; to the contrary, he eagerly buys into it.
Young begins with a boilerplate preamble about how debate and disagreement have accrued to other of Capa's images. He follows this with the apparently mandatory recap of Capa's own narrative of his D-Day experiences and the fate of his film (synopsized from his 1947 book Slightly Out of Focus, which the International Center of Photography now refers to as "his autobiographical novel"), after which he does the same with John Morris's well-rehearsed original tale of what happened to Capa's D-Day negatives in LIFE's London darkroom (from his 1998 memoir Get the Picture). That summary takes up 800 words.
(A bit further on, Young declares how impressive he finds it that Morris stuck with his story for 70 years. But why wouldn't he? Obedient to the rules of successful lying — keep it simple, don't vary the specifics — this set piece not only worked, going unchallenged for seven decades, but served Morris dependably as a meal ticket. That is, until what Young describes as a few pesky "problems with some exacting details" resulting from our investigation reared their ugly heads and forced Morris to attempt his recent quick patchwork on an increasingly leaky vessel.)
The Rustle of My Wings

Young then turns his attention to me and my role in this investigation. His attitude toward me appears to have been deprecatory and dismissive from the outset. For example, on December 6, 2014 he wrote the following to my colleague J. Ross Baughman (whose questioning of the standard accounts of Capa's D-Day actions and the fate of his negatives sparked this investigation):
"I ask about Coleman as I think his tone is accusatory and his judgements both overly harsh and in some cases ill informed. (For example, he seems to think Cynthia Young and Morris, as interview subjects for a video, would have some impact on the final edit; I have made documentaries, and this rarely if ever happens.)"
My "tone" is of course "accusatory" and "harsh." From the outset I've made no bones about the fact that I'm charging Capa, Morris, and assorted others with the promulgation of self-serving fabrications that have insinuated themselves into both photo history and cultural history, as well as with participation in a long-term, concerted cover-up of the true story. That my less than adulatory "tone" in this endeavor concerns Young surprises me.
More importantly, Young made this statement in full awareness that, though I have no institutional affiliation and thus no clout at all save my name and reputation (plus the rhetorical device of my "accusatory tone"), when I made public Magnum in Motion's inclusion of faked negatives in the video that TIME had commissioned, said video got revised and corrected literally overnight. Rare or not, therefore, it not only can happen but did, and swiftly.
Furthermore, Morris and Cynthia Young (no relation to Bruce) hardly qualify as mere "interview subjects" in relation to that video; defining them as such certainly misleads the reader in regard to their power in that situation. If I could have such "impact on the final edit" as I did after publication of that video, does Young seriously propose that an objection to that fraud from either John Morris, celebrated by the NPPA as "the undisputed dean of photojournalism," or Cynthia Young of the International Center of Photography, which approved the licensing of those images to Magnum Photos' media division, would not have had the same effect? That's either mendacious or painfully naïve.
•
That passage didn't make its way into the published article, but the attitude toward me underlying it did. For example, Young determined that News Photographer readers needed to know that I'm not a professional photographer, and that circa 1970 some of the amateur photographers who form the circulation base of Popular Photography, an occasional platform for my work at the time, challenged the legitimacy of my writing about the medium on the grounds that only photographers should write about photography. (He pulled that from an interview with me at Photowings done circa 2000, though I've spoken and written about that experience elsewhere.)

Clearly he views that as more relevant to my credibility on these issues than the hundreds of articles on aspects of photojournalism that I've published over the past 47 years, or the invitation I received and accepted to deliver the keynote address to World Press Photo in 2000, or other such matters about which I'd informed him.
•
This comes in a section titled "Who Is A. D. Coleman?" An appropriate question, surely, since Young confessed to Baughman that he'd never read anything I'd written, nor even heard of me, prior to getting this assignment from Winslow. ("I'm afraid I was unaware of him and his work before this.") But he's a quick study. To get himself up to speed in preparing for this article, he bought — or borrowed — and browsed a copy of my 1979 collection of essays, Light Readings.
Though Young's lead-in to this section reads, "[N]ow Coleman has gone down the Capa rabbit hole," the only complete sentence of mine quoted in the entire 7200-word article comes in that passage about my Pop Photo readers almost half a century ago, and thus does not concern the Capa D-Day investigation. The following section — "What Does Coleman Say?" — runs roughly 720 words in length, yet contains only two sentence fragments quoted from my posts: a total of 31 words, 25 of them comprising my year-end mention of the fact that a dozen readers unsubscribed from the blog in 2014 during the period of this investigation. (A crucial point from Young's perspective, I gather, though for some reason Young omits this sentence, which ends that paragraph in the post: "Yet at least as many subscribers signed on during that period, so I'd say we broke even.")
An additional 44 words of mine appear further on in Young's piece, all of them snippets dotted throughout the story. Thus a 7200-word article premised on a research project largely conducted by me incorporates a total of 75 words — slightly over one percent of its content — drawn from my portion of that research and my emails responding to Young's questions about that project.
Instead, Young prioritized J. Ross Baughman's contribution to the investigation (though ultimately giving it the same short shrift). I'm certainly happy to see Baughman get credit from his colleagues for courageously opening this can of worms, as he did in a two-part Guest Post at this blog, and for adding his expertise to the project in a two-part follow-up analysis of Capa's Omaha Beach exposures. It's understandable that an organization of professional press photographers would highlight the perspective of one of their own (Baughman is a working photojournalist, an experienced combat photographer, and a former NPPA member; he had considerable input into the organization's Code of Ethics.) Nonetheless, some may find that imbalance odd.
I'll conclude this evaluation of the NPPA article in my next post.
•
(For an index of links to all posts in this series, click here.)