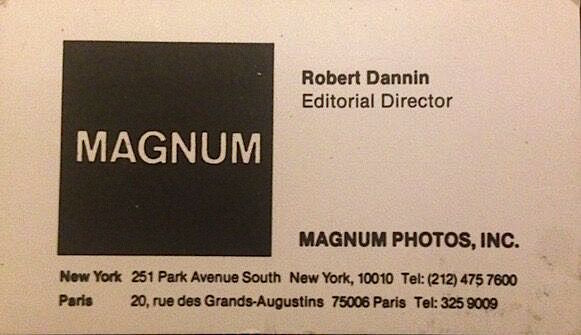 [Editor's Note: Here we resume "The Dannin Papers," a series of Guest Posts by Robert Dannin, who served as Editorial Director of Magnum Photos from 1985-90. This second chapter — Dannin's first-hand observations of the evolution and impact on the profession of the "A Day in the Life of …" book series (DITLO) as conceived and masterminded by Rick Smolan — appears in seven installments, of which this is the first. Click here for Part 2. — A. D. C.]
•
The Assassination of Photography:
The Plot to Hack Reality (a)
by Robert Dannin
The Collins Day in the Life of … series of books was the first spectacular disruption aimed at transforming professional photographers into undervalued content providers, the unfortunate state of affairs that today confronts those wishing to make a career of making images.
The series eventually covered eleven countries and two US states, beginning with Australia (1982), Hawaii (1984), Canada (1985), Japan (1985), America (1986), Soviet Union (1987), Spain (1988), California (1988), China (1989), Italy (1990), Ireland (1991), Israel (1994), and Thailand (1995). Along the way it mustered corporate support from the emerging tech sector, transportation giants, and analog dinosaurs like Nikon and Kodak, among other sponsors.
Its winning formula — to engage "the world's leading photographers" in marathon 24-hour stunts — anticipated the initial excitement of reality television and led, almost predictably, to the publisher's 1990 acquisition by Rupert Murdoch's News Corp International. The Day in Life series can also be described as a conspiracy in which agents and editors collaborated, if unwittingly, to obliterate a generation of photojournalists' hard-won copyright victories, ruin their business, and muddy photojournalism's esthetics.
•
In the pre-smartphone era, all it took was the allure of a spring-break party, free travel and hotel accommodations, and a few shiny trinkets. No apps were required to plunge photography into the chaos of the gig economy that hit rock bottom in 2009 when Time magazine, subsidiary of another predatory media conglomerate, paid photographer Robert Lam $31.50 to use his stock picture on its cover.
"To get a sense of just how bad things are for professional photographers right now, the story of Robert Lam is instructive. When Time needed a photo to illustrate its 'New Frugality' cover story in late 2009, it purchased Lam's image of a jar of change from stock-photo agency iStockphoto. The going rate for a Time cover had typically been $3,000 to $10,000. Lam was paid $31.50. Nevertheless, Lam declared, 'I am happy' — the payment was more than he'd expected the photo to generate, and he was delighted to have a Time cover in his portfolio. Veteran professional photographers were livid, calling Lam an 'IDIOT,' among other unkind words." (Michael Zhang, "The Going Rate for a Time Cover Photo," Petapixel, April 21, 2011.)

The resulting pauperization of photographers through the cheapening of their work has contributed in no small way to the public's mistrust of the media. If the measure of respect for a craft is its practitioners' ability to make a decent living, then the precarious financial conditions of today's photographers indicate the low esteem in which the public holds their pictures.
Compare this disparaged cohort to other media celebrities — some breathing fire, others preening in $10,000 designer suits — earning seven- and eight-figure salaries while real journalists dodge IEDs and the laser sights of warring snipers from Aleppo to Kandahar. Is it any coincidence when the orange-faced emperor of bad taste questions the veracity of the photos — for instance, images of the National Mall on January 20, 2017 — that we once relied upon as reliable indicators of truth?
Ironically, the people who wrecked photography still haunt this zombie industry. These agents of destruction continue to infest the hollowed-out professional circuit of festivals, awards ceremonies, exhibitions, and workshops. Absent the mere hint of self-reflection, they goose each other, cocktails in hand, while lording it over struggling mid-career professionals who have never enjoyed the luxury of real wages. As the aggregate value of photographers' archives sinks below subsistence level, one can easily liken their images to Balzac's Peau de Chagrin, the mysteriously shrinking goatskin parchment symbolic of truth and reason.
In the following paragraphs, I will endeavor to sketch the history of this process from the perspective of my perch in the photo-agency world.
•

The old Sygma Photo News office was located at the northeast corner of West 57th Street and Broadway, now the site of Central Park Tower (a/k/a Nordstrom Tower), one of the huge megaliths currently under construction by Manhattan's greedy real-estate developers. When completed in 2019 this 95-story, 1,550-foot tower will become the tallest residential building in North America, second only in height to One World Trade Center a few miles downtown.
The original architectural plan envisioned a spire that would rise to challenge the new WTC's 1,776-foot height, but was modified for "patriotic" reasons. Consistent with that theme, Extell Corporation's prospectus is printed in Mandarin to attract buyers from among the Middle Kingdom's bumper crop of Communist Party oligarchs, who will presumably obtain some form of U.S. citizenship in exchange for parking their wealth in the clouds hovering above Central Park.
•
But back in 1983 the block along West 57th Street between Broadway and Seventh Avenue still bore traces of the old 1950s art world, now gone south to SoHo and Chelsea (except for the Art Students League, and the incomparable Lee's Art Store). The modest office building at 225 West 57th Street, home to Sygma, still ran a manually operated elevator.
In an old bank next door, the Hard Rock Café attracted long lines of souvenir-hunting tourists wandering up from Times Square towards Central Park. A business lunch of spicy ropa vieja with an onion-and-avocado salad and a Tsingtao cost $10.50 at Asia #1, one of a handful of now vanished Chinese-Cuban restaurants on Eighth Avenue. Carnegie Hall ran foreign-film matinées in its basement theater.
When I returned one day from my noontime browsing at Coliseum Books, a nearby remainder outlet, Eliane Laffont, the boss, invited me into her office. Gathered around the desk were her husband Jean-Pierre Laffont and Rick Smolan, a freelance photographer and co-producer of the recently published Day in the Life of Australia.
All eyes were focused on a Radio Shack TRS-100, erstwhile prototype of the laptop computer, that was plugged into a phone jack for dial-up service. In the days before commercial internet there were no servers, only switches to connect one terminal to another. Lacking true network architecture and high-capacity RAM, all you could do was exchange a text conversation or access a few bytes of stored data in your correspondent's terminal. It was no more sophisticated than a couple of phones communicating with each other.
Like many photographers, J.-P. was a geek, known around the office as "Monsieur Gadget." A few weeks previously he'd given me a digital speed dialer, a palm-sized device that, when cupped over a telephone's mouthpiece, would recite the digital-audible for a stored phone number into the ambient dial tone. It. This was going to save your fingers from punching buttons and spare your memory for better tasks. I spent a weekend keying in my address book, but the damn thing rarely worked and I threw it away.
•
Smolan was presenting something very different, however. It was going to revolutionize photography, he boasted as we were introduced. He was demonstrating his online bulletin board service, called Photo-One Network. Photographers could post their locations, editors their assignment offers.
He explained the technology and demonstrated it by communicating with a colleague at another location. He typed a brief message into the TRS-100's tiny four-line display and hit return to save the message in a cache. Then he dialed up the other machine to post it on the users' bulletin board of stored messages.
Scrolling through the posts, we could read a list of photographers, their locations, dates, and phone numbers. All an editor had to do was dial up the Photo-One Network bulletin board, look for someone in the right place, and voilà, an automatic assignment. Photographers joining Photo-One (for a fee, naturally) would get direct access and periodic updates to its services.
"Maybe in few years there will be enough memory and bandwidth to hold pictures," I suggested. "It will create new competition for the wire services. Meanwhile, if the editor isn't familiar with a photographer, then why would she make the assignment without viewing his work or knowing anything about his reliability?" It was like a blind date, or Tinder without pictures.
My comment passed in silence — an annoying detail from someone who obviously didn't get it. Clearly the Laffonts were impressed. "Eliane," I was more direct this time, "this is bad for business. Photographers will pay a fee to join Photo-One and will cut Sygma out of the equation. It will reduce us to secondary sales and stock images and eventually steal them too. It's even worse for photographers, because there's no one to negotiate fees. Once the board gets crammed with takers, publishers will force prices down. I'm not a Luddite, but this is a terrible way to use technology."
At Sygma you were either a friend or an employee. The former were always perceived as contributing something to the company, the latter were nothing more than takers. If Smolan was their definition of a friend, then I flunked the audition. Yet I got a glimpse of where things were heading, and had a ringside seat as the future played out over the next few years. …
(Part 1 I 2)
•
Text copyright © 2018 by Robert Dannin. All rights reserved.
•
(For an index of links to all posts in this series, click here.)
•
Robert Dannin holds a doctorate in linguistics and anthropology from the School for Advanced Studies in the Social Sciences in Paris. He taught at Brown University, New York University, and Suffolk University in Boston. He is co-founder and director of the Ddora Foundation, and serves as a trustee at Mount Ida College in Newton, Mass. Among his scholarly publications, Black Pilgrimage to Islam (Oxford University Press, 2002) was the first ethnography of Islamic religious conversion in America.
In 2009 Dannin was awarded an inaugural residency at the Norman Mailer Writer's Colony. His most recent work is a biography of Jacob Schiff, the Gilded Age banker and rival to J. P. Morgan.
Dannin paid for his education by working as a cook, translator, ghostwriter, and copywriter/photo editor at Sipa Press in Paris from 1978 to 1981. He was news editor for Sygma New York and later the editorial director of Magnum, where he produced Sebastião Salgado Jr.'s "An Archaeology of the Industrial Age," eventually published as Workers (Aperture). His other editorial credits include James Nachtwey's Inferno (Phaidon) and the survey Arms Against Fury: Magnum Photographers in Afghanistan (powerHouse).
Dannin is the author of numerous critical essays about photojournalism. From 1995 to 1997 he served as special consultant on photography to the office of the New York Attorney General. To contact Robert Dannin, click here.