Going Vertical
From what I gather about journalism's new parlance, a newspaper's online presence (or a given print journalist's weblog) now gets called said paper's or journalist's "vertical," with the print counterpart known correspondingly as the "horizontal." (See "Explanatory 'Verticals' Give Big-Name Journalists More Power" by Audie Cornish and David Folkenflik, NPR, January 3, 2014.) So a newspaper or magazine's "political vertical" would consist of its online coverage of politics — not just its politically oriented print stories and op-ed columns posted at its website but its politically oriented web-specific content: blogs, video features, podcasts, etc.
According to another, related measure, we have both "vertical" blogs and "horizontal" blogs. In "Vertical Blogs vs. Horizontal Blogs," Mark Goodacre writes,
I have always thought of the blogs [in my field] as being "horizontal," sharing with one another, interacting with one another, critically engaging with one another in a kind of global conversation. I love it. I think of it as a community in which I participate, often unevenly, often passively, usually quietly, listening rather than contributing, but still part of the community.
But there is a new trend too over the last year or two towards a different kind of blog, what I call the "vertical" blog. … [T]he vertical blog conceives of the blogging phenomenon a little differently. It sees blogging less as a conversation among like-minded colleagues and more as a kind of educational service, a means of disseminating the results of scholarship to a broader audience than can be reached through books alone.
The vertical blog is usually written by a senior, well respected professor in the discipline who is taking time to set out the issues for the broader public. As such, the vertical blog performs a hugely important service, touching many who might well be turned off by the wordy, technical, in-house nature of some of the horizontal blogs.
Extrapolating from that to us small-name cultural journalists and critics, I assume that this blog of mine constitutes my "critical vertical," which has supplanted my all but vanished "critical horizontal" — i.e., my presence in print media.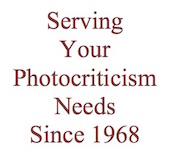 And, by Goodacre's standard, it's a "vertical" blog. Not by choice, I hasten to add. It would delight me to find myself also engaged in what Goodacre calls a "global conversation," or even part of a smaller-scale dialogic community. By temperament, I incline to simultaneous vertical and horizontal outreach.
But I've long since abandoned the fantasy that a "photography community" exists. I play the hand I'm dealt. Reluctantly, I accept the evaporation of the horizontal platform for what I do and settle for this vertical substitute. So let's call this blog aspirationally horizontal/vertical but effectively vertical.
Better vertical than nothing, surely. I feel the same way about entering 2018 above the grass, considering the alternative.
Bucking the Odds
I found Henri Neuendorf's December 18, 2017 Artnet report, "Judge Rules German Master Printer Gerhard Steidl Must Repay Photographer for Lost Prints," of considerable interest, though not for the reasons you might expect.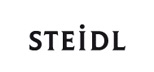 The short version: In September 2014 Lawrence Schwartzwald sent Steidl a book proposal, along with a portfolio of signed prints of the images. According to the photographer, Steidl eventually turned the project down, after nine months' deliberation. Schwartzwald asked for the return of his prints, which it turned out Steidl had either misplaced, lost, or destroyed. After waiting for a year and getting stonewalled, in April 2016 Schwartzwald sued Steidl (in a German court) for USD $1200 per print, which the court has now awarded him (plus legal fees).
Of course the David-Goliath dynamic at work here has its appeal as a storyline, and I tend to root for underdogs, among whom independent photographers number all too frequently. But I don't write this to celebrate Lawrence Schwartzwald's legal victory over this publisher.
While I'm glad for Schwartzwald, this seems fairly straightforward — a legal slam-dunk. I find myself instead pondering Steidl's editorial system, as disclosed in the lawsuit and then in Neuendorf's recounting thereof. According to Neuendorf's story, "the publisher maintains that the photographer didn't fully understand his unique process." He continues,
Speaking to artnet News, Gerhard Steidl contradicted Schwartzwald's version of events. He insisted that he never dropped the photographer's book — in fact, he said, the project had made it through a very competitive selection process. (The court documents do not specify whether or not Steidl accepted the book or intended to publish it.)
The publisher said he receives around 2,000 submissions every year and shortlists around five every six months for publishing — that's why each book can take multiple years to complete. Schwartzwald simply ran out of patience, the publisher said.
Just consider that number: 2000 book proposals annually, out of which Steidl picks 10 — an acceptance rate of 0.5. And what of the rejects?
Steidl's lawyer Urs Verweyen told artnet News: "It's difficult to understand why a lawsuit was filed for the return of prints that could not be found. What exactly happened cannot be determined with 100 percent certainty, but it was most likely shredded according to the usual office procedures, as senders do not typically ask for the return of portfolio proofs. Seeing as we can't find them we can only assume that this happened in this case too. Of course this is a very regrettable situation." (Emphasis added.)

This publisher's current submission policy, posted at the website (click for PDF download), reads:
For a photobook proposal, please send a short outline and a PDF with sample images plus your CV via e-mail. Unfortunately, because of the high volume of submissions that we receive, we cannot give feedback on proposals. We try to reply to every request but it might take some time till you hear back from us. Also be advised that in no event will we be liable for any loss or damage of any material you submit to us, so please don't send any prints or maquettes of great value. (Note: According to the Wayback Machine, this statement did not appear at the Steidl website until sometime after September 2015, a year after Schwartzwald sent his portfolio to Steidl. — A. D. C.)

Because Steidl prides himself on the extraordinarily high quality of reproduction he achieves in his books, I assume that once a proposal comes under serious consideration — as Steidl suggests Schwartzwald's did — he needs to see original prints and requests same, as most publishers would at that stage, in order to make his final selections. So, if I understand Steidl and his legal counsel correctly, he asks some number of short-listed photographers to each send him a book's worth of original prints suitable for high-quality reproduction, and shreds those he doesn't choose to publish.
The prestige of his imprint notwithstanding, having your rejected work "shredded according to the usual office procedures" strikes me as an extremely high price to pay for entering the lottery that his selection system constitutes.
O Vanitas!
I watched all of Vanity Fair's series of "Six New Year's Resolutions" for various political figures: "Six New Year's Resolutions for Hillary Clinton," "Six New Year's Resolutions for President Trump," "Six New Year's Resolutions for Sarah Huckabee Sanders," and "Six New Year's Resolutions for Gary Cohn." So you don't have to. You're welcome.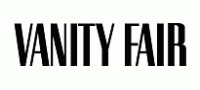 These appeared at The Hive, referred to as Vanity Fair's "politics and business vertical" — in other words, the politics and business section of its website, "where Wall Street, Washington & Silicon Valley meet," as their rubric has it. In these clips, a gaggle of what struck me as pretentious little twits offer glib, patronizing advice to the above four political figures — the sort of stuff that people that age come up with over beer and wings after work.
One of these videos, the one about Clinton, raised some ruckus, not because its six VF staffers displayed any capacity for political wit or insight but because one of the writers, Maya Kosoff, had the unmitigated gall to advise Clinton to stay out of politics and stick to her knitting. Yes, she urged Clinton to "Take up a new hobby in the new year: volunteer work, knitting, improv comedy, literally anything that'll keep you from running again." This to an internationally recognized figure who has worked as a public servant for 40 years and won the popular vote for president of the United States in 2016. (If you want to sample the series, start with this one.)
Blowback ensued (though not from Clinton herself, who stayed out of it). According to a BBC report, "In response, the Vanity Fair writer behind the 'knitting' suggestion, Maya Kosoff, reportedly tweeted that she did not 'appreciate being taken out of context to make me seem super sexist.'" (She's right; her comment isn't just super sexist, it's also super ageist.) And Vanity Fair spokeswoman Beth Kseniak issued a non-apology for this juvenile nonsense: "It was an attempt at humor and we regret that it missed the mark."
This has led me to drafting "Six New Year's Resolutions for The Millennials at Vanity Fair":
Lose the air of smug superiority. Hillary Clinton has accomplished more in her life so far than you six have collectively in yours, and likely more than you ever will collectively. Show some respect, asshats.
Do what you can to damp down the dork factor in your appearance and speaking manner. Hipster metrosexual has a very narrow demographic appeal; cute and clever have a very short shelf life.
Pursue diversity in your workplace. Check your privilege. Your collective whiteness is blinding.
Admit that, from a political standpoint, you millennials are pathetic. The fact that approximately half of your cohort couldn't take the trouble to cast their ballots for any candidate — in an election where, arguably, you had more at stake than anyone — surely did as much to put Donald Trump in office as did anything troublesome about the personality and positions of Hillary Clinton.
Spend your energies persuading people your age to exercise their precious right to vote, instead of smirking at the outcome of an election in which half of them didn't bother to get involved.
You are not nearly as funny as you think you are. Schedule a meeting with VF editor-in-chief Graydon Carter to apologize and ensure that you don't embarrass yourself, him, or Vanity Fair this way during the 2018 holiday season. (And ask him to teach you how to put some teeth in your snark; he's a master.)

•
Sloppy Thinking Dep't
Here's my candidate for dumbest headline of December 2017:
"Do only a fraction of California's Latino and black students go to four-year colleges?"
That's from a December 29th, 2017 story by Chris Nichols, at Politifact.

What's wrong with it? Simple: Unless all of California's Latino and black students go to four-year colleges, then the answer to the headline's question must be affirmative. If three-quarters of that population goes to such colleges, that's still a fraction.
So the question is meaningless, demonstrating a deep ignorance of basic mathematics. That's a less than encouraging characteristic in a fact-checking project that requires credibility above all else. Responsibility for this elementary error may lie with the headline writer, if that's not the article's author himself. Still, one expects accuracy and careful use of language at such a site; blatant innumeracy is not an option.
•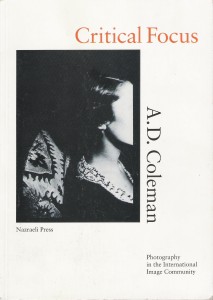 Special offer: If you want me to either continue pursuing a particular subject or give you a break and (for one post) write on a topic — my choice — other than the current main story, make a donation of $50 via the PayPal widget below, indicating your preference in a note accompanying your donation. I'll credit you as that new post's sponsor, and link to a website of your choosing. Include  a note with your snail-mail address (or email it to me separately) for a free signed copy of my 1995 book Critical Focus!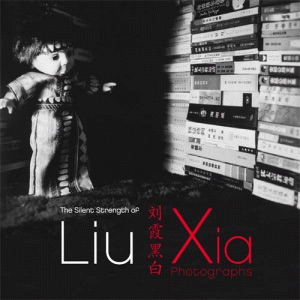 But wait! There's more! Donate now and I'll include a copy of The Silent Strength of Liu Xia, the catalog of the 2012-13 touring exhibition of photos by the dissident Chinese photographer, artist, and poet, currently in her sixth year of extralegal house arrest in Beijing. The only publication of her photographic work, it includes all 26 images in the exhibition, plus another 14 from the same series, along with essays by Guy Sorman, Andrew Nathan, and Cui Weiping, professor at the Beijing Film Academy.