Will you still need me, will you still feed me, when I'm 74? The answer from his field, resoundingly: No.
Nevertheless, he persisted.
•
In January 2018 I will begin celebrating my 50th year as a working photography critic, a fact hard enough to wrap my head around that the continuing occupation of the Oval Office by Donald Trump — even though his presidency has begun its inevitable implosion — pales by comparison.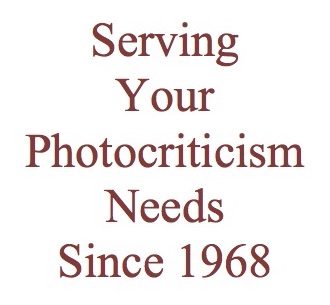 I published my first article on photography in the June 20, 1968 issue of the Village Voice. So, technically, my anniversary year begins on June 20, 2018, and stretches to June 19, 2019. However, I'm indulging myself with an early start on January 1, the beginning of that first year, giving myself an 18-month window. Anything falling within those parameters will become part of the festivities.
•
Whenever time allows and I have nothing more urgent on my plate, I add to the Filemaker Pro database that I created as an ongoing, searchable bibliography of my published writings. This FMPro "solution" includes all my writings on photography from 1968-95, as  annotated in the Center for Creative Photography bibliography issued in 2000 (available here as a free PDF download).
Having converted those listings from a text file to database format sometime in the early oughts, I have maintained it since, adding further published articles on photography and related matters and essays on other subjects, along with published responses to my work, as well as published examples of my creative writing and other relevant materials — work that has appeared in print, online, and, in a few cases, in DVDs or other media formats.
It's not comprehensive (yet), but it has that as its goal; presently it has over 2600 entries. Eventually I hope to post it online for use by researchers, if possible in some form that would enable users to add items it doesn't already include that I have overlooked.
Making some recent entries, I couldn't help but note the number of defunct publications to which I have contributed over the past five decades. Dozens of "little" photo magazines that served as platforms for my writing — some of them on a one-off basis, some for years — have gone under. Most recently I appeared in the final issue (spring 2017) of Études Photographiques, an estimable French journal.
The large(r)-circulation photo magazines for which I have written, such as Camera 35 and Darkroom Photography/Camera & Darkroom, have succumbed to the shrinking economics of the analog photo industry (their ad base), exacerbated by the internet's impact. The latest casualty in that category: Popular Photography, for which I wrote book and exhibition reviews, and a few features, in the early '70s. Pop Photo published its last issue in March/April 2017, simultaneously terminating their online outlet, PopPhoto.com. (See Phil Mistry's obit, "Popular Photography is Dead After 80 Years as a Top Photo Magazine," at PetaPixel, March 7, 2017. The site will likely remain online, though inactive, for a spell.)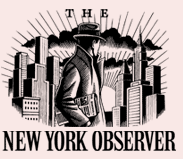 The New York Observer, where my column ran from 1988-97, went online-only in November 2016, presumably so its publisher, the repellent Jared Kushner, could concentrate on helping his malevolent father-in-law fuck up the world. But also because it never managed to find a sufficient ad base for its print edition. Full disclosure: Kushner had not exited his teens at the end of my stint there. I was long gone from its pages by the time his daddy bought it for him. Its steady decline since he took over has rendered it so irrelevant that you never see it quoted anywhere.
And now the print edition of the Village Voice, where I started my professional life in 1967 as a third-string theater critic and first hung out my shingle as a photography critic in June 1968, has gone the way of all ink. The Voice published its last print edition on September 20; henceforth it will appear online only. I haven't paid attention to the Voice in years — decades, to be honest — but I'm old enough to consider print form as close to sacred as anything gets in my cosmology. So I mourn this development as well. (The Voice was the original alt-weekly, inspiring hundreds of variants worldwide. For Jack Shafer's "Eulogy for the Alt-Weekly" at Politico, click here.)
At my age, I'm reminded regularly of the mortality of my peers and colleagues. The death toll among my past platforms proves equally high. Yet I'm still here, even after going down with all those sinking ships. Call me Ishmael.
About that 6-year-old boy who reviews toys on YouTube and makes $11M a year: let's not go there.
•
Boiling the Frog

In the political realm, this year has proved just as dreadful as anticipated in my birthday post last year, with serious and possibly irreparable harm done daily to our democracy by Donald Trump and the malign forces for which he serves as the nexus. Thus, like many of my fellow citizens, I take my comfort where I find it.
Atop my list of consolations in these bleak times sit the stunning ass-whupping handed out earlier this month to evangelical-Christian racist pedophile Republican Roy Moore and his deplorable enablers by Democrat Doug Jones and the good people of Alabama. Which, according to one senior administration official, "is a big black eye for the president," as Politico reports. And the unprecedented assessment of POTUS — "Will Trump's lows ever hit rock bottom?" — issued by the Editorial Board of USA TODAY on December 12, 2017, which includes this astonishing passage:
"A president who'd all but call a senator a whore is unfit to clean toilets in Obama's presidential library or to shine George W. Bush's shoes. … Donald Trump, the man, … is uniquely awful. His sickening behavior is corrosive to the enterprise of a shared governance based on common values and the consent of the governed."
And White House African-American Omarosa Manigault Newman, kicking and screaming and cursing, got herself frog-marched off the grounds of 1600 Pennsylvania Avenue by the Secret Service, and permanently banned from returning by John Kelly.
Not to mention the national rallying around Sen. Kirsten Gillibrand consequent to Trump's scurrilous attack on her; U.N. Ambassador Nikki Haley's support for the women who has accused The Donald of sexual misconduct; the mounting calls for both a Congressional investigation of those charges and for Trump's resignation; and the first vote for his impeachment in the House. All this has left Trump bleeding badly from a loss of face.

On a daily basis, I start my mornings with Bill Palmer's Palmer Report, whose publisher and main content provider proves himself consistently adroit at winkling out the nuances and implications of every twist and turn in the unfolding Trump-Russia scandal. Buzzfeed, Alternet, American Oversight, and Polipace steadily provide credible related reportage and commentary. Though she posts new material much less frequently, Louise Mensch at Patribotics has sources deep in the international intelligence community; as a result, she is often months ahead of the MSM in reporting on upcoming developments. (No one has yet disproven even her seemingly most extreme postings; to the contrary, a number of those have since seen confirmation, without MSM credit to her for breaking the stories.)
Speaking of which, the MSM, having in many ways handed the election to Trump by giving him endless online time and column inches in print and glossing over his countless lies and blatant sociopathology while focusing on the Hillary Clinton email red herring and her supposed "unlikability," apparently rediscovered its collective vertebrae. So, in addition to breaking news on these matters from the New York Times and other mainstream outlets, I check in regularly at "Tracking the Russia investigations," by Marshall Cohen, Tal Yellin, Liz Stark, at CNN Politics, and "Interactive Timeline: Everything We Know About Russia and President Trump." Both sites, regularly updated, provide background on all the players and trace the evolution of this convoluted tale of treason, which stretches back decades.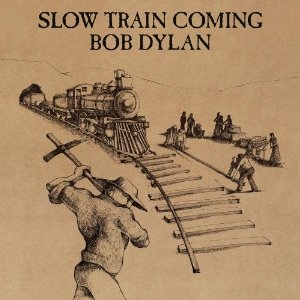 All of which leads me to the conclusion that, in Nobel laureate Bob Dylan's phrase, there's a "slow train coming up around the bend," this one with Robert Mueller's hand on the throttle, headed straight at Donald Trump and his treasonous, conspiratorial gang. And as the cover of the 1979 album for which that serves as the title song shows, it's not actually the train that's slow. The train is ready and waiting. It's just taking time to lay the track.
To switch metaphors, the heat increases steadily, the frog doesn't sense it yet, the boiling awaits. Cue Dr. John's "Croaker Courtbouillon." I believe that Donald Trump will either resign, get removed under the 25th Amendment, or get impeached before I turn 75.
The Hardware
I'm working on the same equipment I used at this time last year — the same Mac Mini (still running Apple's Yosemite OS), the same monitors and speakers. The system works; as a creature of habit, I find that gladdening. I operate according to the old adage: "Use it up, wear it out, make it do or do without." (Or, at least, only replace when absolutely necessary and financially feasible.)
I'm still using the same basic apps: Word, Excel, Filemaker Pro, Keynote, Photoshop, Dreamweaver, InDesign, Celtx. I added that last to my toolkit in 2016 in order to work on a screenplay that's now about three-quarters finished.
I anticipate more frequent travel over the next several years, as several projects in the works — including an installation based on the Capa D-Day project — come to fruition. If so, I may need to rethink my commitment to my mid-2007 MacBook Pro. Meanwhile, I'm happy to use it up, wear it out, and make it do. (Or let it sit on the shelf, as it does most of the time.)
The selfies with which I adorn these posts nowadays get made on the iPod Touch with which I gifted myself two years ago. A fun gadget, to be sure, but the addictive aspect of the smartphone format continues to elude me.
The Year in Print and Pixels

Insofar as my writing goes, over the past 12 months I've published "Conflict of Interest, Cubed: Robert Capa's D-Day Photos, John Morris, and the NPPA," at the watchdog website iMediaEthics, and, as mentioned above, "Une autre histoire: Les photos du Débarquement de Robert Capa," in Études Photographiques. (Click here for an abstract in English and the French translation.)
I also have an introductory essay in Carlos Diaz's monograph, Invented Landscapes of Coney Island and Carnival Workers (Obscura Land, 2017); you'll find information about the book here, and you can watch a video of someone paging through it here.
•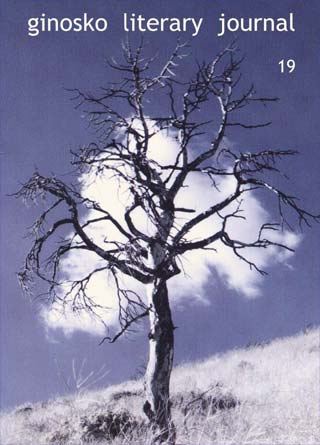 In 2016, after a hiatus of several years, I returned to the practice of sending out my creative writing — short fiction, creative nonfiction, and poetry — for consideration by assorted literary journals, both print and online. Many of them now facilitate the process with online systems like Submittable, which any type of publication can use to solicit and process submissions.
I do this under my full name, Allan Douglass Coleman. Here's a sample, from the 2016 issue of Switched-On Gutenberg: "Electra poem 2: picture eternity." This year saw the publication of a short story, "Coming Up Roses," in Ginosko Literary Journal (you can download a pdf of the story here, or download a pdf of the complete issue here), and a poem forthcoming later this month in The Manhattanville Review.
•
That's in addition to the roughly 51 essays posted here at Photocritic International over this same stretch. Those included the inquiry into and dismantling of the myth of Robert Capa's actions on Omaha Beach on D-Day, June 6, 1944, and the subsequent fate of his images.
That investigation, which stretched much longer than expected, wrapped up in June 2017. In the works as follow-up: a touring multimedia installation exploring the project, and a book as well. A separate website devoted to these offshoots will debut in early January.
Holding the Fort
From the standpoint of wetware, my eyes continue to work fine, reassuring to me and, I hope, my readers. This year's glaucoma tests revealed that nothing had changed significantly over the past three years.
According to my ophthalmologist I continue to show faint traces of incipient cataracts, plus a few floaters, common at my age and nothing to worry about. So the equipment remains in good working order, which should reassure those who advise critics to get their eyes checked.
My eye doctor's software had a hiccup this uears that prevented printing out the images of the backs of my retinae. Below you'll find last year's images of the backs of my two eyeballs, made via state-of-the-art digital tech. The fact that it has actually become possible to photograph the interiors of my eyeballs doesn't just amaze me — it embodies a curiously self-referential connection between photography and human vision.
•
As for matters of general health and health maintenance: I have now finished my second full year's membership at the local YMCA (closest facility with the options I wanted). In the fitness center I do a 90-minute cardio routine involving two miles on the treadmill (1 mile speed walking), 25 flights on the stair-climb machine, and 5 miles of exercycling. Also a full 60-minute muscle-strength sequence on a set of calibrated machines (I now lift about 9,500 pounds each time). Ending with half an hour of sauna and steam.
I continue to do this once weekly, and definitely feel the difference. I've lost at least an inch around the waist, am back to my fighting weight (125 pounds dripping wet), and have developed at least a hint of what my wife Anna refers to as my "six-piece."
The digital fitness program to which my gym connects, FitLinxx, sends me a monthly statement summarizing my workouts, the outcome of which they distill into two graphics: ice-cream sundaes representing the calories I've burned off in the cardio sequence, and elephants to symbolize the weight I've lifted in the strength circuit.
According to the stats provided by my gym, over these past two years I have lifted more than 600,000 pounds, which equates to 76 elephants. This year I'm taking those pachyderms as symbolic of the Republic Party's crushing weight on democracy; so, to quote Allen Ginsberg, "America, I'm putting my queer shoulder to the wheel."
In any case, physically and mentally I'm ready for the next year, so bring it on.
Happy Birthday to Me
My thanks to those readers who have emailed or called or posted on LinkedIn to offer birthday salutations.
•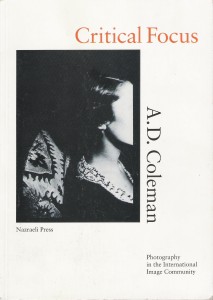 Special offer: If you want me to either continue pursuing a particular subject or give you a break and (for one post) write on a topic — my choice — other than the current main story, make a donation of $50 via the PayPal widget below, indicating your preference in a note accompanying your donation. I'll credit you as that new post's sponsor, and link to a website of your choosing. Include a note with your snail-mail address (or email it to me separately) for a free signed copy of my 1995 book Critical Focus!