[In 2015 I posted here an article I'd first published in early 2007 in the Shenzhen Economic Daily, a mainland Chinese counterpart to the Wall Street Journal. This article concerned the auction record then recently set by an Edward Steichen print. (See "What Makes One Photo Worth $2.9 Million?")
To accompany that article, the SED conducted an interview with me, providing their readers with some necessary background. Coming across it recently, I thought it might interest this blog's readers. Part 1 appears below; Part 2 will follow shortly. Anyone wishing to read these articles as published in Chinese on January 29, 2007 can download a PDF file of them here. — A. D. C.]
•
A. D. Coleman: Shenzhen Economic Daily Interview 2007
Q: I know you can't read Chinese yet, so how did you find out about Liu Yu Yang's article, "How much should one photograph be worth?" that appeared in the SED not long ago? What prompted you to write the article "What makes one photographic print worth USD $2.9 million?"?
A: My wife, Anna Lung, is a Hong Kong citizen, but lives in Shenzhen. As my partner in many of my projects, she keeps an eye out for articles about photography and contemporary art in the various Chinese periodicals that she reads.
Anna found Liu Yu Yang's article in the SED in December and brought it to my attention while I was in Shenzhen. This sparked my interest in writing something for the SED, because the article, while raising many important questions, left some of them unanswered.
I realized that this was not the fault of the author, or the editor, but simply a reflection of the state of awareness of these issues in the PRC at this point. I considered it a healthy sign that someone had opened up the discussion on the question of the collecting of photographs and the state of the market for them in China.
On that basis, I started to work on a response that filled in some of those gaps. Since the SED had initiated this discussion, your publication seemed a logical space in which to continue it.
Q: I know you have been based in NY, and now have established a second base in Shenzhen, and will live in Shenzhen, where you plan to spend most of your time every year from now on. This seems to exemplify the concept of the "global village." Could you describe your life in Shenzhen? What is the attraction for you in Shenzhen?
A: I was born and raised in New York City, and have lived there almost all my life. But my family spent several years in France and England during my childhood; I'm bilingual in French as a result. I went to graduate school in San Francisco in the 1960s. My professional life has taken me all across the U.S. and Canada, into Latin America, throughout Europe (east, west, and north), even to Finland, Israel, and Australia. So I think of myself as a world citizen, though I hold a U.S. passport.
I hope it will not offend anyone from Shenzhen if I say that the primary reason I'm in Shenzhen is because that's where my new family — Anna and her son Jacky, my new stepson — live. My first devotion and loyalty is to them, and if they lived somewhere else in China I'd make that my new home without thinking twice about it.
With that said, I find Shenzhen a very exciting city, for all the reasons that everyone — Chinese and foreigners alike — find it fascinating. It's the spearhead of China's advance into the 21st century, and a world-class international metropolis. The energy of this place, its present condition and its potential, are thrilling to observe and take part in. From my perspective, the possibilities in this city for cultural development seem extraordinary, and I hope to play some role in that.
As far as my daily life goes when I'm home here with Anna and Jacky in Shenzhen, it's not much different than my life back in New York. We read the papers, we shop, we cook our meals, we go to some of the cultural institutions — the museums and galleries, the new library. I write, I work on my websites and pursue my other professional projects (the internet lets me do much of my work from anyplace in the world). And I meet with Chinese professionals in my field who live here or visit here; we exchange ideas and look for ways to collaborate. Now I'm starting to travel out into other parts of the country — Liuzhou (where Anna's family lives), Guangzhou, Lianzhou. I hope to get to know much more about the country over time.
[Note: Things have changed since then. While I traveled to China a number of times between 2005 and 2012, and Anna came to the U.S. several times as well, she and Jacky eventually got green cards and emigrated here in 2010.]
Q: Since you started in 1967, you've been in the field of photography as a critic, scholar, teacher, and curator for 40 years. You have written 8 books on the subject, and published over 2000 essays on photography. What is the magic of photography that has led you to spend all your life involved in it?
A: One of the attractions of photography as a subject is that this medium has integrated itself into all areas of cultural life — certainly in the industrial and urban regions of the world, but also in many if not all of the rural areas as well. That's especially true if you consider film and TV as offshoots of photography. Unlike painting, or sculpture, which have a comparatively restricted presence and function in everyday life, photography is pervasive. We find it everywhere, and it is pertinent to many, many areas of study: not just its own history, and the history of art, but visual communication, mass media, sociology, history, quite a few more.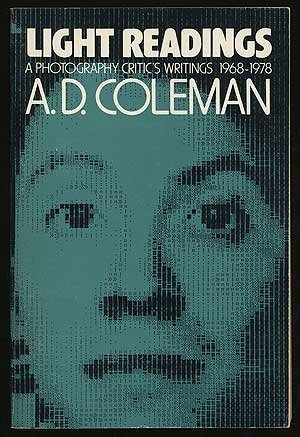 For a writer like myself, with a broad range of interests, this makes photography a particularly rich territory to explore. The medium's integration into world culture has actually expanded over the course of my professional life — so, in that sense, it's proving itself inexhaustible as a source of ideas and provocations and opportunities for discussion.
Also, photography is a popular medium — quite literally a medium of the people. Individuals who have never learned to draw, or paint, or sculpt have probably made photographs. They've probably been the subjects of photographs. Almost undoubtedly, even if they don't own a single painting or sculpture, they have photographs in their home, as part of their living environment.
So when you write about photographs, and photography, you're addressing a kind of object and a process with which most people feel fairly comfortable, and with which they have some level of familiarity. One one level, an Ansel Adams print has many things in common with a family snapshot. On another level, they're two very different kinds of artifact. That's a very exciting cultural situation for a medium of art and communication to exist in; it keeps photography linked to its roots in vernacular usage.
I find that condition of photography refreshing, and continually challenging. I have always imagined my own "average reader" as a reasonably educated and literate member of the general public, broadly interested in cultural issues. Of course I sometimes write specifically for, and am read by, people who work professionally in the arts, and for the audience for contemporary art. But I would not want to have my own writing restricted to that segment of the population, and I don't think the public discussion of photography should be limited to its function as an art form.
Q: For a long time, the Chinese photography scene was isolated from the western photography world. Real culture exchange didn't really begin until the 1980s. I know that since the 1970s the western photography world has changed greatly. Could you simply introduce how it happened? And what is the present situation of the western photography world? Now in the west you have photography in many different forms; Chinese photographers want to know which form(s) of photography are most highly valued?
A: This is actually several questions in one. Let me take them in order.

(A) I would trace the changes in the situation of photography in the west to two factors. The first is the photo-education system that emerged in the U.S. in the mid-1960s on the college level. This system, which spread widely and rapidly across the country, attracted many students. As a result, it gave birth to the first large formally educated generation of photographers.
Many of them went on to have careers as photographers, in different branches of the medium. Many of them became teaching artists, helping to expand this educational system. And many of them turned to other tasks in the field, becoming museum curators, gallery owners, conservators, historians, critics, book and magazine publishers and editors, and knowledgeable collectors. So this photo-education system created the first widespread supportive infrastructure that the medium had ever enjoyed. That education system (based, in fact, on a European model) then traveled back to Europe and elsewhere, so its influence made itself felt in many parts of the world.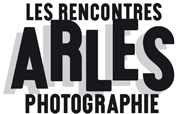 The second factor was the rise of the photography festival as a vehicle for the international dissemination of photography and the increase in size of its audience. Invented in France in 1969 by Lucien Clergue and several others, the photo festival has become an invaluable presentation and distribution system for photographic imagery, and an extremely effective means for networking among people in the field at all levels. I see these festivals — there must now be at least a hundred of them worldwide — as making a major contribution to the medium's growth since 1970.
This is a very short sketch of the situation, and I could cite many other contributing factors. But these two make a good place to start any analysis.
(B) One result of both these forces as work is a condition in the world of photography and what some call "photo-based art" that we can best refer to as pluralism. The current environment for photography in the west accepts all the many different physical forms that photographic work can take, and all the different stylistic and methodological approaches that photographers can take: documentary, staged photography, landscape photography, conceptual photography, and so on.
The photo and art world discriminate among these on the basis of quality, primarily, not on the basis of type. A museum of photography, or a department of photography within a museum of art, will most likely present a show of conceptual photography one month, a show of documentary photography the next, and a show of formally experimental work the month after that, considering these to be all healthy and important aspects of this vital and diverse medium.
(C) This answers, in part, your third question, concerning which forms or approaches are most preferred or valued. I'd say that from the standpoint of curators, critics, historians, editors, and publishers in general there's no notable leaning in one direction or another. (Of course individual critics, curators, etc. may have their personal emphasis in choosing from the spectrum of work, but overall I'd say all forms get represented and considered fairly.)
The market — that is, the collecting market, which involves museums with photo collections, galleries, and private and corporate collections — also seems to accept the full spectrum of work. Of course a particular institution or gallery or collector may have a preference, an emphasis. The highest prices overall in recent years have gone to works from the creative end of the spectrum, as opposed to documentary or photojournalistic works.
But classic and contemporary documentary images — by such figures as Edward Curtis and Dorothea Lange, for example — have set spectacularly high record prices at auction recently. Scarcity, the quality and condition of the specific object, and its importance within the medium's history are the factors driving the informed market for photographs as collectible objects in the west.
(To be continued.)
•
This post sponsored by donations from Robert Dean and David Wunsch.
•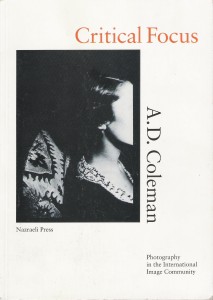 Special offer: If you want me to either continue pursuing a particular subject or give you a break and (for one post) write on a topic — my choice — other than the current main story, make a donation of $50 via the PayPal widget below, indicating your preference in a note accompanying your donation. I'll credit you as that new post's sponsor, and link to a website of your choosing. Include  a note with your snail-mail address (or email it to me separately) for a free signed copy of my 1995 book Critical Focus!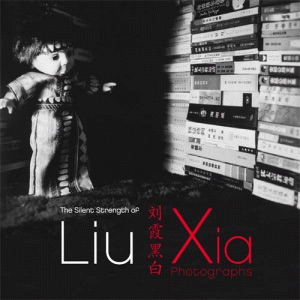 But wait! There's more! Donate now and I'll include a copy of The Silent Strength of Liu Xia, the catalog of the 2012-13 touring exhibition of photos by the dissident Chinese photographer, artist, and poet, currently in her sixth year of extralegal house arrest in Beijing. The only publication of her photographic work, it includes all 26 images in the exhibition, plus another 14 from the same series, along with essays by Guy Sorman, Andrew Nathan, and Cui Weiping, professor at the Beijing Film Academy.