Slightly This Side of the Truth

"Writing the truth being obviously so difficult, I have in the interests of it allowed myself to go sometimes slightly beyond and slightly this side of it." — Robert Capa, Slightly Out of Focus (1947), dustjacket
Sometime in 1981, John Morris received a letter from his old friend, former Life photographer Johanna "Hansel" Mieth.
Morris and his first wife Adèle had become close with the Capas — Robert, his younger brother Cornell, and their mother Julia — in late 1939, almost immediately upon Robert's arrival in New York. (His brother and mother had preceded him there.) He met Mieth and her husband, Life photographer Otto Hagel, shortly thereafter, in 1940. They all became part of a social circle, much of it centered around the West Side apartment of Julia Friedmann, whom Robert nicknamed "Mother Goose" because she welcomed this bohemian entourage and cooked huge meals for them.
At that point in 1981 Morris and Mieth hadn't communicated for several years (Hagel had died in 1973), but in his 1998 memoir Get the Picture Morris described their relationship thus:
"The second family that adopted the Morrises was much smaller. It consisted of Hansel Mieth, the first woman photographer hired by Life after Bourke-White, and Otto Hagel. … Otto and Hansel, my Grimms fairy-tale couple, were to become my closest lifelong friends." (pp. 37-38)
Mieth died the year of that book's publication. Oddly, the Center for Creative Photography in Tucson, AZ, which holds the Mieth archive, does not contain a copy of that 1981 letter to Morris, nor of any reply from him. Perhaps Morris's own papers, at the University of Chicago's Regenstein Library, include the original. Nonetheless, we know the letter exists because Mieth cites it and provides extensive extracts from it in a March 19, 1982 letter responding to a March 11, 1982 query from authorized Capa biographer Richard Whelan.
In that letter to Whelan, quoting from what she had written to Morris "about a year ago," Mieth (then living in Santa Rosa, California) details what her husband Otto Hagel had told her decades before concerning a heated conversation he'd had with Robert Capa. The argument resulted from Capa disclosing to Hagel that he had staged a mock battle for the making of his famous 1936 image "Falling Soldier." Mieth also recounts a subsequent conversation she herself had with Capa about that argument, in which Capa told her that he had staged the scene that led to the death of the "Falling Soldier," of which behavior Hagel had strongly disapproved.
From the letter, we can reconstruct the timeframe of those conversations. Mieth indicates that Capa's dispute with Hagel took place in their East 53rd St. apartment in Manhattan. Mieth and Hagel relocated in 1941, buying a working ranch in Santa Rosa. This suggests that these discussions of the circumstances involved in the making of "Falling Soldier" took place somewhere between Capa's October 1939 arrival in NYC and the 1941 departure of Mieth and Hagel for the west coast — presumably toward the end of that period, after they had become close.
Whenever it happened, it suggests that Capa carried a burden of guilt over that image, requiring confession in the hope of absolution. It also raises interesting questions. Specifically, if Capa told even this sanitized partial truth to Hagel and Mieth back then, would he have withheld it from his brother Cornell and his close friend John Morris? If so, that certainly suggests that they did not enjoy his full confidence, for reasons unknown.
If Capa confessed this much to Hagel and Mieth, are we to believe that he never confessed it to Morris? And if Morris had his "closest lifelong friendship" with Hagel and Mieth, are we to believe that he never heard that story from them until Mieth wrote to him in 1981?
Even if so, by March of 1981 Morris had learned of this deception from Mieth, a source he would have had to consider unimpeachable. Author and editor Jim Hughes has confirmed that, by 1982, he had heard the same account from Mieth and talked with Morris about this bombshell revelation. Unquestionably, Capa biographer Richard Whelan also knew of it by then, from Mieth's letter. Which means that, demonstrably, Cornell Capa also knew, at that point if not much earlier.
Yet Cornell never so much as mentioned it. Not until shortly before his death did Whelan admit that he'd buried that letter from Mieth for 25 years, ignoring it in all his writing and lecturing on Capa until publication of This Is War! Robert Capa at Work in 2007. And though Morris discusses "Falling Soldier" in his memoir, he omits any mention of that 1981 letter from Mieth about the making of that image.
•
Not only has John Morris never publicly acknowledged receiving that 1981 letter from Mieth, he denies to this day that "Falling Soldier" is in any way staged.
In 2003 he collaborated with Cornell Capa in an effort to suppress and/or censor Patrick Jeudy's 2004 film, Robert Capa, l'homme qui voulait croire à sa légende, which concerns the making of "Falling Soldier" and Capa's consequent burden of guilt. Morris went so far as to sue Jeudy in a French court, forcing him to remove from his film a snippet of an interview with Morris that he had conducted for an earlier project.
As recently as 2011, Morris wrote, in that regard, "Those of us who knew Capa know he would never have faked a photo, that would simply have been impossible for him." (In Bernard Lebrun and Michel Lefebvre's 2012 book Robert Capa: The Paris Years 1933-1954, p. 7.)
In issuing that blanket assertion Morris completely disregarded the information to the contrary that he'd received from Mieth, and ignored the fact that Alex Kershaw, the unofficial Capa biographer, had already uncovered and published information about yet another instance of Capa (and Gerda Taro) staging fake battle scenes for their photographs during the Spanish Civil War, just one year after Capa published "Falling Soldier." In his 2003 book Blood and Champagne: The Life and Times of Robert Capa, Kershaw quotes from the Spanish Civil War diary of Alfred Kantorowicz, political commisar of the Chapaev Battalion, who noted the arrival of Capa and Gerda Taro at their command post near Peñarroya, south of Madrid, on June 24, 1937:
"Capa arranged a whole attack scene: an imaginary fascist position was stormed as men, with terrifying roars and passionate battle-lust, leapt and bounded doubletime into victory … [Capa] was very pleased with the result." (Kershaw, pp. 54-55)
Other images of Capa's may also have been staged. So either John Morris didn't know Capa nearly as well as he claims he did or else he's been in on the scam for a long, long time.
•
Thanks to the meticulous research of the Spanish scholar José Manuel Susperregui, we now know that Capa told Hagel a mere partial truth, withholding from him the fact that not only had he staged the situation in which he made "Falling Soldier" but that none of the participants therein had suffered injury or death. (See Susperregui's article, "The location of Robert Capa's 'Falling Soldier,'" published in the April 2016 issue of the Spanish journal Communication & Society. You can download an English-language translation of his article as a pdf file here. And you can download a pdf file of the original Spanish-language version here.)
Meanwhile, on the "Hi! Jinx" radio show broadcast by NBC on October 20, 1947, on the occasion of the publication of his WWII memoir, Slightly Out of Focus, Capa told his interviewers a completely fictitious version of the "Falling Soldier" story, involving a real battle and a real death (indeed, multiple deaths). Clearly, Capa fudged the truth and even lied outright whenever it served his purposes, telling multiple versions of his anecdotes and choosing his sometimes extreme variations according to how he gauged his listeners and the professional consequences of his disclosures.
For reasons of his own, John Morris still chooses — at least publicly — not to see it that way.
•
[Note: Journalist Phillip Knightley, the first to question the authenticity of Capa's "Falling Soldier" — in his 1975 book The First Casualty: The War Correspondent as Hero — died December 7, 2016. Born January 23, 1929, he lived to see his challenge to that myth validated in full. For Ian Jack's thoughtful, affectionate obituary in The Guardian, click here.— A. D. C.]
•
(For an index of links to all posts in this series, click here.)
•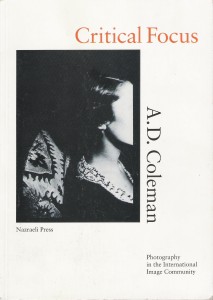 Special offer: If you want me to either continue pursuing a particular subject or give you a break and (for one post) write on a topic — my choice — other than the current main story, make a donation of $50 via the PayPal widget below, indicating your preference in a note accompanying your donation. I'll credit you as that new post's sponsor, and link to a website of your choosing. Include a note with your snail-mail address (or email it to me separately) for a free signed copy of my 1995 book Critical Focus!