Establishing the Myth
According to Richard Whelan, Robert Capa's authorized biographer, the photographer signed his contract with publisher Henry Holt for his memoirs sometime in late 1945 or early 1946. Whelan indicates that as of June 1946 that book, Slightly Out of Focus, "was beginning to come along, although the stipulated delivery date of August 15, 1946 was totally unrealistic. … He sent the last chapter off to Holt just before Christmas 1946."
As early as the fall of 1944, most likely well before he had started writing his memoir but while already planning it, Capa had envisioned it as the treatment for a Hollywood film. As evidence, the Capa Archive at ICP has a letter from Capa dated November 27, 1944 to Ann Watkins, his agent for Slightly Out of Focus, assigning 15 per cent of his proceeds from the anticipated sale of movie rights to Mrs. Charles Romine ("Pinky"), his lover at the time and a central character in what, much later, ICP came to call his "autobiographical novel."
This suggests that Capa had come to see his own life as a film, always a dangerous delusion. The jacket blurb for Slightly Out of Focus — "The blithe story (with pictures) of a top-notch cameraman whose work keeps interrupting a wonderful romance" — captures its tone perfectly, while also explaining its consistent playing fast and loose with inconvenient facts that do not present its protagonist as a lovable, adventurous scamp.
Almost as hastily written as the mysteries of Georges Simenon, whose novels Capa greatly admired, Slightly Out of Focus had no influence on the literature of photography, much less on literature in general. Over the decades it developed no devoted readership, aside from Capa scholars, who must handle it with great care due to its unreliability. Its charms quickly wear thin, so its 2001 reprint in a Modern Library War Series edition, certifying it on some level as "classic," relies more on Capa's name than on the inherent quality of the writing itself or the glib, superficial story it narrates. Thus its republication speaks more to the sales potential of the Capa brand and the persuasive powers of Cornell Capa and Richard Whelan — who contributed a brief tribute and a hagiographic introduction, respectively — than it does to the book's impact when it first came out or its importance since.
Capa died in Vietnam in 1954. By 1960, when the first posthumous retrospective of his work started its tour (as discussed in my previous post), Slightly Out of Focus, which earned a critical response best described as tepid and evoked no consequential interest from Tinseltown, had gone out of print.
(The projected posthumous biopic announced in the press release for that touring show never materialized. "Robert Wise, who directed the Susan Hayward movie 'I Want to Live,' and Nelson Giddings, who wrote it, are currently preparing a movie of Capa's life and work," the release concludes. The planned film apparently went through two working titles — The Robert Capa Story and Battle. Wise hired John Flynn to "do research" on the film, according to a 2005 interview with Flynn, who subsequently became Wise's protégé. How far along the project moved before getting shelved remains unclear. Perhaps the answer lies in the Cornell Capa Archive at ICP, which will become accessible in early 2017.)
Yet the success of the international traveling show, which appeared at well over 100 venues, well-received everywhere, reaching thousands of viewers, proved that, even though the imagery had lost its original news value, it had enduring appeal: a substantial audience for Robert Capa's work existed, along with an interest in his life story. The question, then, became how to capitalize on that.
If, in the early 1960s, Cornell Capa had needed reassurance that the Robert Capa story had staying power, the success of these touring shows surely provided that. In effect, they proved that Robert Capa's name had potential as a brand.
But building on that potential would require playing a long game. It would involve establishing the Capa myth while also creating an institutional platform for its dissemination.
On the Books

By 1960 photographers had learned an important lesson about reaching and building their audiences: Exhibitions — even blockbusters like "The Family of Man" and smaller but still expansive showcases like this Capa retrospective — come and go, soon becoming vague memories in the minds of those who had the opportunity to attend. The same holds true for appearances of images in periodicals, even feature stories in glossy, high-circulation general-audience magazines such as LIFE and Look and the Saturday Evening Post.
But books — books went into people's homes and onto people's shelves and stayed there, they went onto library shelves and circulated, they went into classrooms for poring over by students and teachers. They got sold and bought and re-sold and re-bought. They lasted. The project that had most recently shaken up the medium — Robert Frank's The Americans, first published in France in 1958, then in the U. S. in 1959 — had never appeared as an exhibition, just a small book that didn't even sell well. But photographers had bought copies and passed them around until the pages fell out of their bindings. The Capa myth needed Robert Capa books.
Like Slightly Out of Focus, Capa's first two books — Death in the Making (1938) and The Battle of Waterloo Road (1941) — had by 1960 long since gone out of print. Moreover, like Slightly Out of Focus they were artifacts of World War II and the events leading up thereto — period pieces, tied to specific historical moments, and thus inherently dated. But war itself had not gone — and would never go — out of date.
As mentioned in my previous post, the first posthumous Capa monograph — Robert Capa: Images of War (New York: Grossman, 1964) — was published four years after the 1960 premiere of the first Capa retrospective, halfway through its tour throughout North America (under the auspices of the Smithsonian Institution) and across Europe (via Magnum Photos). Approved by his brother Cornell, Robert's executor, Images of War marks the first estate-endorsed presentation in book form of the formalized fable of Capa's D-Day adventures coupled with the fictional darkroom disaster, as told by Robert in Slightly Out of Focus. Featured on the left-hand side of a two-page spread in this handsome, oversize coffee-table volume, juxtaposed with "The Face in the Surf," the D-Day myth got highlighted in print for the first time.

As a measure of this book's effectiveness in disseminating the myth, consider that, in his 1966 review of the 1965 German-language edition, Das Gesicht des Krieges ("The Face of War"), Heinz Roschewski synopsized the D-Day fable as it appeared in that volume, including the fictional emulsion melt. This appeared in Rote Revue: sozialistische Monatsschrift, organ of the Social Democratic Party of Switzerland. (Click here for a PDF of that review.) If the myth reached even the specialized readership of such an obscure publication, imagine its circulation among the general public.
One Step at a Time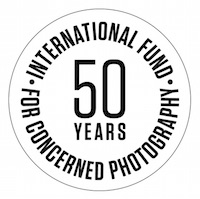 After the launch of those 1960-61 touring Robert Capa retrospective shows, and after the publication of Images of War, but before there was the International Center of Photography (ICP), there came the International Fund for Concerned Photography, a non-profit organization created by Cornell Capa to further the liberal-humanist brand of photojournalism and documentary photography that the Fund's vague title signified, and to perpetuate the Capa myth. Run out of the spacious Fifth Avenue apartment that Cornell and his wife Edith shared, the operation had no office and controlled no exhibition space. Under that rubric Cornell organized exhibitions at hospitable venues, books and magazine articles, lectures and symposia, while doling out cash grants to photographers of a similar bent in support of their projects. (Founded in 1966, the Fund celebrates its 50th anniversary this year.)
The legend of Capa's actions on D-Day and the fate of his negatives made its second formal appearance in the catalog for the exhibition "The Concerned Photographer," which opened at the Riverside Museum on the west side of Manhattan on October 1, 1967 and ran through January 7, 1968. According to Howard Chapnick, long-term director of the Black Star Picture Agency, Capa had proposed the show to the museum's director, Oriole Farb, in 1965.
She in turn challenged Capa to come up with a unifying theme; the nebulous feel-good phrase "concerned photography" — vague to the point of meaninglessness — apparently satisfied that requirement. Sponsored by the International Fund for Concerned Photography, this group show comprised six small solo shows by Werner Bischof, André Kertész, Robert Capa, Leonard Freed, David Seymour ("Chim"), and Dan Weiner. (See Howard Chapnick's account of this in his oddly titled 1994 memoir, Truth Needs No Ally: Inside Photojournalism, pp. 21-22. As this investigation — and, indeed, my entire life's experience — shows, truth always needs all the help it can get.)
As noted earlier, Cornell had organized and/or collaborated on other shows of Robert's work prior to "The Concerned Photographer," but this stands as by far the most synergistic up to that point: a touring show, a substantial accompanying catalogue/monograph, an issue of the "little" magazine Contemporary Photographer devoted to the survey, issues of several other magazines featuring it. If he hadn't done so before that moment, it surely inspired Cornell to turn his eyes toward the prize: a museum devoted to "concerned photography," where his brother's images would have a permanent home and showcase.
•
One year later, the paperback, pocket-sized monograph Robert Capa, by Anna Fárová (New York: Paragraphic, 1969), appeared. So there were then three in-print books, plus numerous magazine feature articles, one recent touring show and one current one, all reiterating the Capa D-Day fable.
Through these presentations — especially the books, familiar both to older photographers and younger ones, including students emerging from the expanding post-secondary photo-education system — the legend of the melted emulsion (curiously unchallenged by people with sufficient hands-on craft experience to know better) entered the lore and literature of photojournalism. To present the D-Day images thenceforth without reiterating the received tale of their dangerous genesis and shocking fate would make little sense, especially as the poignant narrative burnished the aura of the images.
By then Cornell had gathered as many of Robert's negatives as he could find, a process that continued for decades. Licensing usage rights for any of Robert's images required his brother's approval. Cornell also handled licensing rights for Robert's writings, including passages from Slightly Out of Focus. All this enabled Cornell to exercise considerable control over the contextualizing material (captions, narrative passages, etc.) published along with his brother's images. This ensured that the string of subsequent Capa books, and books in which Capa's images appeared — whether or not published directly through Cornell — frequently reiterated the D-Day myth.
Creating the Platform
Founded by Cornell in 1974, ICP has in its 42 years mounted a baker's dozen solo and group shows prominently featuring Robert Capa's work. In reverse chronological order: "The Mexican Suitcase" and "Capa in Color," 2014; "This is War! Robert Capa at Work," 2007; "Inside the Cold War: Robert Capa and John Steinbeck," 2001; "Robert Capa: Photographs," 1998; "Robert Capa," 1995; "Robert Capa: The D-Day Photographs," 1994; "Robert Capa: Children of War, Children of Peace," 1991; "Magnum Founders," 1989; "Spanish Civil War," 1987; "Robert Capa: A Retrospective," 1985; "Robert Capa: D-Day, Normandy Invasion," 1984; and "Spain, 1936-39," 1981.
Additional ICP thematic group shows — based around Magnum, LIFE, and other topics — have included images by Capa without making his participation the central component. Many of these exhibitions traveled, some world-wide. Many had accompanying monographs and/or catalogs, and accompanying videos as well. And in the wall labels for those shows, texts for those books, and soundtracks for those multimedia materials, the Capa D-Day story has regularly appeared.
[Correction: The original version of this post listed Howard Chapnick as "founder of the Black Star Picture Agency." My bad; I know better. — A. D. C.]
•
(For an index of links to all posts in this series, click here.)
•
This post support by a donation from photographer and photo-historian Martin Magid.
•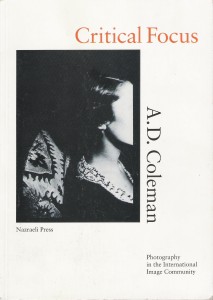 Special offer: If you want me to either continue pursuing a particular subject or give you a break and (for one post) write on a topic — my choice — other than the current main story, make a donation of $50 via the PayPal widget below, indicating your preference in a note accompanying your donation. I'll credit you as that new post's sponsor, and link to a website of your choosing. Include a note with your snail-mail address (or email it to me separately) for a free signed copy of my 1995 book Critical Focus!