Planet of the Gizmos
The coming of fall brings with it once again the scent of burning leaves mixed with the ineffable exudations of trade shows (PepCom, Consumer Electronics, PhotoPlus Expo), revealing the technological wonders up for imminent release. These devices, many of them with their debuts timed for the holiday season, get previewed by the consumer-electronics press, of which, as previously reported, I've become a frequently bemused member.
And while you might think I'd stick out at these events due to my age, I can't help but note a surprisingly strong geezer component — dare I say it, even a geriatric component — of the CE press corps. No walkers in evidence so far, but more than a few graybeards. Happy to see other members of my cohort keeping up with the times, but I'd expect swarms of youngsters at these showcases, so this is … odd. More on that age issue anon.
•
As a human servant of two cats, I get drawn to cat-related tech, though we have managed to keep our two feline companions healthy and relatively gadget-free. (We do have ID chips in each of them, but no electronic toys, feeding systems, or other tech.)
I don't know that Necomimi Brainwave Cat Ears actually qualify as feline tech — they're meant for humans, not cats. Even though TIME Magazine selected them as one of the "50 Best Inventions of the Year" in 2011, I can't imagine wearing them by myself, and find it hard to envision two or more people sitting around reading each other's transient feelings by watching them twitch. But hey, I'm old-school; I actually consider it my husbandly job to pay attention to my wife's facial expressions and body language so as to sense her moods without digital assistance, and wouldn't consider asking her to wear even a mood ring to make that easier.
At that expo an observant Jew (meaning one wearing a yarmulke) with whom I rode down in the elevator as we departed opined, upon my inquiry, that these couldn't serve as a substitute yarmulke, even though they'd detect who was truly attending to the Torah at schul and whose mind was really elsewhere.
Perhaps they'll find a market among people who like to dress up as cats during sex play. Or you might wear them while breakfasting at home with your significant other, drinking a cup of cappuccino fresh from your Ripple Maker — with your choice of image right there on its foam. You can choose from their growing library of caffeine artwork (for some reason they include Frida Kahlo). But with this machine in tandem with its smartphone app you have the ability to upload and input the image of your choice — your own cat, for example, or your mom, or Sasha Grey — personalizing it as you see fit.
All while chewing some seven-grain bread hot from your Selfie Toaster, which can burn your likeness and/or that of your sweetie onto the sliced bread of your choice. At the moment the company has to make the plate that adds the image to your toast, but the option of uploading your own, varying them, and achieving that effect digitally surely lies not far ahead.
I forecast a brand-new platform for creative imaging here: pictures on food. Let's see how this plays out.
Is It Hackable?
The recent incident in which a disgruntled self-described "stoner high school student" accessed the personal email account of the director of the U.S. Central Intelligence Agency — some clown named John Brennan, self-evidently incompetent — provides sufficient proof that it takes nothing more than a teenage degree of cleverness and determination to access just about anything put into digital form.
Given that fact, you will perhaps appreciate my standard question to the "internet everywhere" advocates I meet during this fall's round of new-tech expos: Is it hackable?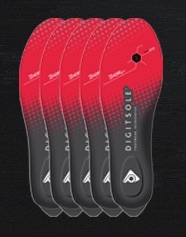 That certainly stopped the rep for Digitsole in his tracks at Pepcom's Holiday Spectacular! East at the Metropolitan Pavilion in New York City on September 30th. Via the dedicated Digitsole Bluetooth 4.0 app (Android and iOS), these innersoles enable the wearer to adjust the temperature of the soles on cold days. So I wanted to know whether a practical joker, or someone with more malicious intent, could commandeer the controls and give me an electronic hotfoot.
After laughing and recouping his composure, the rep explained that even if someone did hack my soles, they would have a very hard time overriding the built-in upper limit to the temperature control. So they might manage to make my feet sweat, but probably couldn't carry out a threat to burn them.
I consider this the elephant in the room for the emerging "wearable" industry, in which entrepreneurs fall all over themselves and trip over each other in their mad rush to colonize every square inch of your body with Bluetooth-connected rings, watches, eyeglasses, clothing, and other accoutrements. This already runs from cradle to grave, with Bluetooth-enabled onesies at the starting gate and devices at the finish line to measure your rate of decomp in your coffin and even stream video thereof. (Okay, I made the last one up, but just you wait and see.)
You will not find hackability mentioned in the product reviews at Wareable, nor does it ever come up in commentary on either wearable tech or the "smart" appliances celebrated mindlessly in the IoT (Internet of Things) sector. I'll venture a guess as to the reason for that: Security takes a back seat to the glitz and glam of making something perfectly functional in its analog state into a "smart" and/or "wearable" iteration of itself. Yet if I had a newborn I'd certainly want some guarantee that your Bluetooth-enabled Mimo baby-monitoring onesie can't get hijacked by someone threatening to terrorize my child through its speaker before slipping it onto our little prince or princess and tucking him or her in for the night.
According to Charles Ornstein's November  17, 2015 report, ProPublica, "Privacy Not Included: Federal Law Lags Behind New Tech," the federal privacy law known as HIPAA doesn't cover home paternity tests, fitness trackers, or health apps, among other exceptions. The Health Insurance Portability and Accountability Act (a landmark 1996 patient-privacy law) "only covers patient information kept by health providers, insurers and data clearinghouses, as well as their business partners." As a result, providers of a wide variety of health- and wellness-related products and services who publish websites that store such information for access by their clients have no governmental oversight of their security measures and lapses thereof. DNA information stored at a genealogy website, paternity-test result stored online by the maker of that test, sexual activity info stored at the site of Fitbit — all have been compromised in recent years. And that's likely just the tip of the iceberg.
So I don't see this as an idle question, nor do I use it as a way of teasing harried reps at tech expos. I consider it a way of testing the awareness of and attention to security issues in the brave new world of IoT and wearables. And the answers I get I don't find in the least reassuring.
Dulling the Cutting Edge


Where are the PhotoPlus Expos of yesteryear? The ones I've attended for most of the past decade strike me as a mere shadow of their former robust self. I suppose the big guns — Nikon, Canon, Leica, Contax, Samsung — need a U.S. showcase for their latest high-end equipment, as do the makers of all the related accessories, from tripods to camera bags. Not to mention the vendors of tchotchkes for the studio-photography trade: backdrops, customized wedding albums, and the like.
Yet the energy in photography has moved elsewhere, so much so that I no longer find PhotoPlus instructive, as I once did. I learn more about the current state of the medium and its immediate future from the digital-tech expos, even though they don't center themselves around digital imaging. Here's what I took away from PhotoPlus this October:
Drones are trending. I saw at least six variants that will fly your camera around. (This will get really annoying really fast, creating all kinds of crises, evoking legislation, and sparking lawsuits.)
There was a "China pavilion" for the first time, with mainland manufacturers of lenses and other equipment in a single cluster, looking to break into the U.S. market. (My suggestion: You all need catchier brand names. Guangzhou Wewow Electronic Co. Ltd. doesn't have the pizzazz over here that it does back home.)

The photo booth continues its persistence and evolution in the digital era, represented this time out by MediaBooth Pro, which provides everything you need for the photo-booth experience except the booth, which is DIY.

Three of the four schools represented came from the for-profit art-school sector: Savannah College of Art & Design, Academy of Art University, New York Institute of Photography. The exception: Maine Media Workshops + College. (Note: In the original version of this post I included MMP among the for-profits, since it once was, but my colleague Jim Hughes tells me that it went non-profit awhile back. My apologies for the error.)
The only nods to creative photography seemed like outliers, poor relations, scholarship kids at the prep school: a table on the sidelines for the International Center of Photography, a booth for the Josephine Herrick Project (they offer photo workshops for underprivileged youth). That's the skimpiest presence of the creative sector I can recall on the main floor.
Expo of My Dreams
As I wrote in 2011, "[T]here's a niche analog-photo industry, and a niche digital-imaging industry serving the creative/fine-art corner of the same niche market. They need a full-fledged dedicated expo of their own, and someone will get smart and create such an event for that constituency sometime soon."
The imaging expo I'd like to attend would bring together makers of analog tools such as large-format film cameras, pinhole cameras, Lomography, and Lensbaby; makers of archival printing equipment and materials and providers of those services; makers of consumer-friendly digital cameras like Polaroid, Kodak, GoPro; the creators of digital-imaging apps; notable photo websites; publishers of serious photo books, along with services that enable print-on-demand and ebook publication; the medium's "little" magazines — older ones like Aperture, Afterimage, and The Photo Review, newer ones like ZEKE; a range of photo schools and alternative workshops; alternative photo spaces such as the Houston Center for Photography and San Francisco Camerawork; museums of photography and notable photo collections; photo festivals … in some friendlier space that the Javits Center.
I won't hold my breath waiting for that, but can't you just feel the rush, and the synergy?
Internet of Stuff (IoS)
At CES Unveiled New York on November 10 (also at the Metropolitan Pavilion), I learned a few things:

• The former Consumer Electronics Association (CEA), host of this and other such events, has rebranded itself as the Consumer Technology Association (CTA). Confusingly, they plan to retain the CES acronym for all their expos, including the gonzo Consumer Electronics Show (International CES) held annually in Las Vegas in January.
• The upcoming Vegas extravaganza will showcase more than 3,600 exhibiting companies displaying some 20,000 new products — numbers so terrifying that it thrills me to the core that, as ever, I won't attend.
• CTA honcho Dr. Shawn Dubravac, about whom I've written before, remains relentlessly gung-ho about the IoT, connectivity, and all those trendy buzzwords, as evidenced by his presentation of the 2016 expo at the Unveiled press preview.
• The CTA has established a "Disruptive Innovation Council" specifically geared to support new tech that perturbs or obsolesces established business models. It proclaims its purpose as supporting the disrupters, disregarding the consequences of their innovations on the industries they disrupt and those who work within them.
• The adjective "curated," its usage rapidly infiltrating any and all areas involving conscious choice, from personal wardrobes to menu options, has now migrated into the CTA's selection of startups slated for CES 2016's "Eureka Park" area.
Intended as an amuse-guele, just whetting the appetites of the tech press in anticipation of the Vegas feast to come, CES Unveiled New York remained manageable. The most interesting photo-related product I saw? The FLIR ONE, a thermal-imaging add-on for your smartphone, with an MSRP of $249.99. (If you have iPhone 5/5s, you can still get their FLIR ONE Thermal Imaging Case for $139.99.) Their promo emphasizes utility, but I can envision all sorts of creative uses for both still and video. The FLIR ONE actually combines the visible image and the raw thermal image, adding some detail. (See example at right.)
As for the saddest (and creepiest) product I saw, the prize has to go to the iPal, billed as "a companion robot for your child." The rep told me that this simulacrum — manufactured in Shenzhen, China, a city with which I'm familiar — will get rolled out first in mainland China: "iPal's first market focus is the 100 million single-child families in Chinese cities." The company sees that as a logical target, given the disastrous consequences of Mao's one-child policy, which endured long after his passing and whose revocation has just begun.
But it has left many children without siblings as playmates. The iPal presumes to fill that gap. It runs Android apps, and "an SDK enables developers to create new applications specific to iPal. A Content Editor enables parents, teachers, and children to easily create new stories, songs, dances, and other content."
Shades of the 2001 Kubrick-Spielberg film A.I. Artificial Intelligence. Certainly this will prepare young Chinese boys for life with the android female partners of their later life, when the shortage of human females in their cohort, consequent to the one-child policy and the Chinese preference for male offspring, determines their options for personal relationships with flesh-and-blood girls and women. Perhaps that will turn out for the best.
(The press release quoted above notes that "Future versions will target [sic] companion robots for children with special needs." A few days later, thinking once again of the iPal, I found myself wondering if this simulacrum might prove useful as a companion for autistic children. Clearly I'm not the first to envision the pairing of autism and robotics. In which case there would be an upside to the iPal.)
Visions of Sugarplums

Finally, to round out the tech season, I attended yet another Pepcom event, "Wine, Dine & Demo!" on November 19, once more at the Metropolitan Pavilion. Electronic collars for your dogs, electronic bobbers for helping you catch fish … not much there relevant to photography and digital imaging. (Well — another drone.)
But I did get a look at the RIF6 CUBE, a 2″-square high-res mobile projector that you can run off your smartphone. A thing of beauty, with a remarkable image quality. At the MSRP of $299.99 it hardly qualifies as a stocking stuffer, though it would fit into an Xmas stocking. But good things do come in small (albeit often pricey) packages nowadays. I can think of ways to use this, as I'm sure many of my readers can — from pop-up exhibitions to small-group f2f lectures.
Having finally purchased an iPod Touch 6, so that I can experiment with various apps that my less-than-smart Dubyaphone can't handle, I feel the inevitable urge to accessorize, and I have my eye on this dingus.
•
This post supported by a donation from photographer Harry Wilks.