Choosing Sides
As word of this research project spreads, respondents thereto fall into two distinct camps: those who want to know the truth, and those who agree with LIFE historian John Loengard: "Why bother? People like the story. And it's a better story than that Capa bugged out after snapping only 11 frames, if that's what happened."
Which brings us to a cluster of radically divergent takes on this project, from across the pond.
Clearly we have gored the ox of Yasmine Youssi, Arts Editor of Télérama. According to Wikipedia, Télérama is "a weekly French cultural and TV magazine published in Paris, France. The name is a contraction of its earlier title: Télévision-Radio-Cinéma." Its print edition has a circulation of approximately 650,000.
Vibrant in its high dudgeon, "Robert Capa a-t-il paniqué durant le D-Day?" first appeared in the print edition on July 29; Youssi's article then went online on August 3. (Click here for a crude Google Translate version in English.)

Given that this entertainment-focused publication had featured Morris's book of Normandy snapshots on the front cover of its May 31, 2014 issue (accompanied by a short unsigned interview presumably conducted by Youssi), followed by a long, reverent interview under Youssi's byline in the June 6 issue, I wisely kept my expectations low.
Youssi spends most of the first half of her article about our project on yet another reprise of the standard Capa-Morris account of the photographer's experiences on Omaha Beach and the subsequent fate of his negatives. Which is in fact the second reprise thereof under her byline, since for the 70th anniversary of D-Day last year she interviewed Morris in Paris, lobbing all the usual softball questions at him and, not surprisingly, getting his well-rehearsed answers in return — as adept a job of French polishing as I can imagine. (Click here for "'Le mardi 6 juin 1944 au matin, le temps était particulièrement mauvais', John G. Morris, directeur photo de 'Life,'" and here for a crude Google Translate version in English.)
The remainder of Youssi's piece constitutes a diatribe in which she denounces this project — or, at least, my contribution thereto (she names none of my worthy collaborators) — in no uncertain terms. You'll find a crude Google Translate English version of her article here, from which you can glean the gist. Her reaction suggests that she has not absorbed Patrick Peccatte's synopsis in French of our project, nor done more than browse a handful of our posts.
•
Télérama's print edition runs no letters from readers, while the online version's comments area allows anonymous trolling, which I bypass as a matter of policy. So I sent the following response as a ritual letter to the editor, assuming it will go unpublished (and indeed unanswered), while posting it here, for the record.
August 3, 2015
Mme. Fabienne Pascaud
Managing Editor, Télérama
Dear Mme. Pascaud: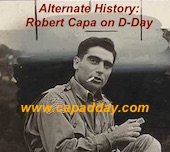 Thank you for your attention to "Alternate History: Robert Capa on D-Day," our project deconstructing the myth of Capa's experiences on Omaha Beach and the subsequent fate of his negatives. (Yasmine Youssi, "Robert Capa a-t-il paniqué durant le D-Day?"). We leave it to readers to determine whether our research "oozes hatred and feeds on insult," concocts imaginary lies and collusion, etc. They can find it here.
We do appreciate Mme. Youssi's grudging admission that our research proves convincingly that Capa arrived at Omaha Beach with the second wave and not the first, stayed only 30 minutes at most, and made only the ten exposures we have, and also that film emulsion doesn't melt in "just a few minutes" even under high heat — thus no disaster in LIFE's London darkroom destroyed any of Capa's D-Day negatives, and John Morris never "saved" any of Capa's images. Plus her acknowledgment that, as we proved, to reiterate the myth and celebrate it, TIME magazine created forged digital versions of Capa's supposedly "ruined" negatives, inserting them without appropriate notice into a May 29, 2014 video whose production also included Morris, Magnum Photos, and the International Center of Photography — the major players in what I call "the Capa Consortium."
All that certainly came as news to Télérama's readers, who have been told otherwise for 71 years — including by John Morris yet again, under your imprint, in Mme. Youssi's hagiographic June 6, 2014 interview with him. (Perhaps next time you could assign someone who has not already developed such a friendship.) Given the gross unprofessionalism of which she accuses us, it will also surprise your readers to learn that this project of ours received the 2014 Society of Professional Journalists Research Award.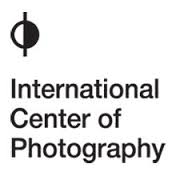 Those readers might ask themselves this: If no conspiracy of silence exists among LIFE picture editor John Morris, the members and directors of Magnum Photos (which Capa co-founded in 1947), and those in charge of Capa's archive at the International Center of Photography (founding director Cornell Capa, official biographer and curator Richard Whelan, curator Cynthia Young), then how is it possible that our team has corrected all the above errors in 16 months of part-time research when these influential figures have had all the same evidence available to them for decades, and ample time (salaried, in the case of those at ICP) to conduct a comparable investigation? Why has ICP adamantly refused to subject Capa's D-Day negatives to non-invasive forensic examination?
If you consider my description of a "Capa Consortium" protecting his reputation to be the product of an overactive imagination, read this January 14, 2003 letter from Cornell Capa's lawyer to Luc Martin-Gousset of Point du Jour Productions in Paris. Written on behalf of Capa, Richard Whelan, Magnum Photos, and ICP, it clearly intends to intimidate the producer of Patrick Jeudy's 2004 film Robert Capa, l'homme qui voulait croire à sa légende into censoring its content.
Surely, from a journalistic standpoint, these constitute more important issues than the tone and "strong language" that Mme. Youssi finds so objectionable in our articles. (She used that phrase repeatedly during our phone conversation.)

As for the assertion by Morris's business partner Robert Pledge that this world-famous "intellectual" picture editor — who spent much of his working life talking daily with professional photographers and custom printers and darkroom staffers, handling prints and negatives, his offices just a few steps away from professional darkrooms — has never had any curiosity about how those materials get produced, has never walked down the hall to hang out and watch on a slow day, and has absolutely no idea what goes on in those oh-so-mysterious places … risible, no?
I do require of you several corrections. First, I have never described Capa as a "deserter." In my July 8 phone interview with Mme. Youssi (she called me at 10:30 p.m Paris time), I summarized for her the account I had just uncovered by yet another crew member of LCI(L)-94, on which Capa left the battlefield. That eyewitness, Victor Haboush, recalled that the pilot of this landing craft, seeing Capa approach, had pointed a Thompson submachine gun at him, assuming him to be a deserting soldier, before learning that he was a fleeing correspondent. Perhaps Mme. Youssi misunderstood me, or was not at her best; she rang off shortly thereafter, first telling me that she was tired, preoccupied with preparations for her summer vacation, and not thinking clearly.
Second, while it is true that I "ha[ve] not yet seen fit to call John Morris and everyone [I] accuse to gather their testimony," we already have the "testimony" of most of them on the record, including that of Morris. (It's also true that most of the principals — Robert and Cornell Capa, Richard Whelan, the original members of Magnum who knew and worked with the Capa brothers — have died.) David Kogan at Magnum has refused to answer my questions. Furthermore, in July and August 2014, once our investigation got underway, I conducted and published at my blog a three-part email interview with Morris — roughly 5300 words total, plus several other emails from him — in which he had ample opportunity to explain himself at whatever length he chose. I gather that Mme. Youssi did not come across these posts during her extensive research for this article.

Third, I have never suggested that I find anything suspicious about the fact that it took 12 hours or more for Capa's films to travel by courier from Weymouth to London, merely that the delay remains unexplained. However, this highlights the fact that, at the moment Capa landed back in England on the morning of June 7, his primary professional obligation was to put his film in John Morris's hands as quickly as possible. Yet he wrote in his memoir that he turned down the offer of a plane ride to London, less than an hour away by air, in order to return to Normandy — leaving his urgently needed materials in the hands of a stranger. I do find that odd, and significant: with this decision, Capa himself caused any subsequent deadline anxiety and crisis in LIFE's darkroom.
Finally, the question I have asked regarding "darkroom lad" Denis Banks isn't why LIFE would hire a teenager to work for them in some menial capacity in 1944 but why, at a moment of terrible deadline pressure, they would entrust the development of Capa's most precious films to the youngest and least experienced member of their darkroom staff and leave him unsupervised. According to Morris, they had available four other adult members of the staff on hand for that job, including darkroom chief "Braddy" Bradshaw, plus LIFE contract photographer Hans Wild, all of whom Morris has always described as standing around idly until Capa's shipment arrived. Hard to imagine handing these films to a kid for processing; do children handle the important tasks chez Télérama?
Regards,
A. D. Coleman
•
Youssi concludes her attack with a quote from Capa that presumably justifies any elisions and exaggerations in his narrative:
"Writing the truth being obviously so difficult, I have in the interests of it allowed myself to go sometimes slightly beyond and slightly this side of it. All events and persons in this book are accidental and have something to do with the truth." — Robert Capa, front jacket flap, Slightly Out of Focus, first edition (1947)
Having worked at it for over half a century, I can say from personal experience that writing the truth has proved difficult only when I've had something to hide.
•
Patrick Peccatte has created a thread at his Facebook page for discussion of what he terms Youssi's "deplorable" article. A thoughtful dialogue has ensued, in French, primarily. On August 2 I posted the following comment there:
In response to concern about the voice and tone of our investigation, let me point out that 70 years of respect and politesse from critics, historians, and cultural journalists resulted in the further entrenching of the Capa D-Day myth. It only enhanced the credibility of the myth itself and of those who promulgated it for their own benefit and that of their institutions. Youssi's exquisitely well-mannered sucking up to Morris in her June 2014 interview with him exemplifies this mode of obsequious celebrity profiles for entertainment magazines.
By contrast, for this investigation I deliberately chose a rude, abrasive, indeed prosecutorial tone. I have treated all those involved as what, in a courtroom, one would identify as "hostile witnesses" — cooperating, if at all, reluctantly, against their wills, demonstrably intent on obfuscating the truth instead of bringing it to light.
However irksome you find it to read, if you appreciate the outcome of our brusque, impolite probing — including Morris's own belated recanting of his original story, and his pathetic haste to substitute a "new theory" consisting of incoherent and ridiculous alternatives — you might ask yourself this: Is it possible that the sudden crumbling of this myth has occurred as a direct consequence of our strategic decision to adopt a confrontational, accusatory approach to Morris and others rather than the usual fawning reverence?
After all, that's hardly new to investigative journalism. We have ample precedent for such a method, from [Émile] Zola to Oriana Fallaci. The fact that few writers on photography have ever employed it does not make it inappropriate.
I don't consider myself in the same league as those two role models — except insofar as I try to bring some of their spirit to the field of photography. It's a dirty job, but somebody's got to do it.
Fortunately, other French commentators have responded in a much different manner to our Capa D-Day project, as you'll see in my next post.
 •
(For an index of links to all posts in this series, click here.)