In the photo accompanying this December 22, 2014 New York Times report, "Rep. Michael Grimm Is Said to Agree to Tax Fraud Guilty Plea," the then-incumbent, recently re-elected Republican congressman representing my district stands on the steps of Staten Island's Borough Hall, facing the ferry terminal, the harbor, and Manhattan across the water.
Almost exactly a year ago, this now-disgraced Italian-American thug threatened to "break" NY1/Time Warner Cable News reporter Michael Scotto "in half like a boy" and throw him off a balcony. This took place in the Rotunda of the Cannon House Office Building, directly across the street from the Capitol in Washington, DC, immediately following Pres. Obama's January 2014 State of the Union  address. Grimm bullied Scotto that way for having the temerity to ask him about the very same allegations to one of which he has now pled guilty, and to all of which felonious conduct — outlined in the indictment handed up in April — he has now admitted.
Those crimes include perjury in a 2013 deposition (while he was a serving member of Congress) and employing undocumented immigrants. Grimm remains under investigation for questionable fundraising practices during the 2010 congressional campaign which first put him in office, and a Congressional inquiry into his threat to Scotto, shelved during the federal tax inquiry, will likely resume now that the federal case has concluded.
To explain his belligerence toward Scotto Grimm would later claim, jocularly, that as a native Staten Islander he "got his Italian up" on that occasion. Apparently that sits fine with the majority of his constituency, though just imagine the outrage if anyone of any other ethnicity proposed that issuing death threats came naturally to Italians. No doubt they also approve of his implicit claiming Staten Island as Italian territory — an attitude to which I'll return shortly.
•
Grimm failed to report $1 million in revenue from a restaurant he owns in Manhattan, among other crimes; he has submitted to a "statement of facts" that admits to all the conduct alleged in the 20-count federal indictment. It says much about Staten Island that this Tea Party dirtbag beat his opponent handily this past November despite having those charges hanging over his head.
Though he pulled out all the stops, claiming that the investigation of his scams constituted a political "witch hunt" and that he wouldn't abandon his post now any more than he did when in the military and the F.B.I., Grimm's resignation, as predicted by most pundits, came shortly after his guilty plea; that's par for the course in plea-bargaining deals for corrupt politicians. (Sentencing will take place in June.)
I wouldn't mention this bit of local political trivia save for the fact that, as a resident of this section of Staten Island since 1967, I can fill in a few blanks. For example, I can tell you that if you were to walk right in front of Grimm, from right to left in the photograph, then bear right just past the steps and walk along Bay Street for four longish blocks, you'd find yourself at Tompkinsville Park, where another local Italian-American fellow — one Daniel Pantaleo — and his posse killed a man on July 17, 2014. Walk two blocks to Grimm's left along Richmond Terrace, in the other direction, and you'll find yourself at the station house for the 120th Precinct of the New York Police Department, to which those officers report.
•
Pantaleo, as the world now knows due solely to citizen journalism, wrapped his left arm around the neck of local African-American street vendor Eric Garner in order to arrest him for the alleged misdemeanor of selling untaxed loose cigarettes — an accusation the NYPD has so far failed to substantiate with any evidence whatsoever. Between dragging him to the ground that way and assorted additional, beefy and in some cases clearly obese white fellow officers variously sitting, kneeling, or lying on Garner and pressing his head forcefully to the pavement, and then doing nothing whatsoever to revive him after he lost consciousness, Pantaleo and his accomplices committed what the coroner would subsequently rule a homicide.
We'd know nothing of this if bystander Ramsey Orta hadn't made and immediately posted a video. That evidence of the Staten Island police beatdown on Garner, and still images derived therefrom, plus other documentation by other concerned witnesses, has all gone globally viral. So this is about images. They resonate with images of Michael Brown of Ferguson, Missouri; Trayvon Martin of Miami Gardens, Florida; and numerous other unarmed black men killed in recent years by police or vigilantes.
But they also resonate with the image of Grimm — or should. Many of New York's finest call Staten Island home. Most of them are white. Many of them are Italian-American, like Grimm — and Pantaleo, who most likely got his own Italian up during that fateful, fatal, and lethal encounter.
Moreover, Garner's death and Grimm's resignation share another connection: Daniel M. Donovan, the Staten Island district attorney who conspicuously and (according to some analysts) deliberately failed to secure an indictment from the grand jury in the Garner case, has become the Republican nominee to fill Grimm's seat for the special election that Gov. Cuomo will call.
His assurances of impartiality and thoroughness notwithstanding, I consider it fair to say (as a Staten Island resident for almost half a century) that, had this district attorney energetically pursued an indictment of Pantaleo and/or had that jury returned one, Donovan's political career would have effectively ended. This is Michael Grimm's constituency, after all, convinced that one primary function of the police is to keep the underclass in line, by any means necessary.
•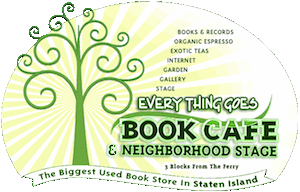 I didn't know Eric Garner personally, just by sight. That neighborhood's a ten-minute stroll from our house. My wife Anna and I frequent the Every Thing Goes Book Café, just a few doors down from where Garner met his fate, and we often attend the public events the Book Café sponsors in Tompkinsville Park, on the other side of the street. Hard to miss, due to his size, Garner was a local fixture.
Our house, the ETG Book Café, and Tompkinsville Park all lie within what locals call the North Shore. It's the only truly multi-ethnic section of what Wu Tang Clan calls "The Rock." (Wu Tang Clan came out of a housing project two blocks away; we can see it from our home's rear windows.) We have a long-established poor to working-class African-American component, many of them trapped in two of the island's low-income housing projects, the Stapleton Houses (the ones we see) and the Park Hill Apartments, just half a mile further on.
We also have the largest Liberian population outside of Liberia itself, plus other Africans; the fastest growing Mexican community in the city, plus other South Americans and Caribbeans; a smattering of Asians and Southeast Asians; and assorted native-born mongrels like me. Plus part of the island's large Italian-American cohort (including a number of mafioso), whose elders still refer to all of us newcomers as "the Brooklyn element," and like to call people of color the "melanzane" (English: eggplant).
In 2003, the New York Times reported that "There are residents of Staten Island who, with a kind of sincere sarcasm, still call the expressway that divides the northern, urban third of the borough from its more suburban southern end 'the Mason-Dixon line,' a symbolic border between, in this case, the white south and the more racially mixed north." Hasn't changed much since then.
These dolts, who vote overwhelmingly for wingnut Republic Party candidates, loudly proclaim their belief in self-reliance, and reject anything that smacks of Big Government. Yet they could be found all over the media in the days and weeks and months after Hurricane Sandy hit this island in the fall of 2012, whining about the government's failure to bail them out. Their hypocrisy knows no bounds.
They're the ones who elected Michael Grimm, the Italian Scallion, one of their own, while he was under indictment for the crimes that will shortly send him to jail. And they're the ones who, by the only majority in any borough of those recently polled by Quinnipiac in each of the city's five boroughs, believe that police treat blacks and whites the same, consider the death of Eric Garner understandable, and in no way view that as the fault of police policies and procedures and biases.
(Part 1 I 2)
•
For an index of links to all posts related to this issue, click here.
•
This post supported by a donation from the 20×24 Studio.