(On March 17, 2013, the Museum of Modern Art's Department of Photography held a Scholars' Day devoted to the work of Robert Heinecken (1931-2006), in advance of a retrospective that they'll mount in March 2014. This intramural event was organized by Eva Respini, Associate Curator, and Drew Sawyer, Beaumont and Nancy Newhall Curatorial Fellow, Department of Photography. It involved a handful of presenters and a small, invited audience comprised of people with substantial personal and professional connections to the late photographer and educator. Presenters included Luke Batten, Director, The Robert Heinecken Trust, and Matthew Biro, Professor, Art History, University of Michigan. I gave the concluding talk, which I titled "Inside the Tent, Pissing In: Robert Heinecken as Black Sheep." Part 2 appears below; click here for Part 1. ― A. D. C.)
•
Unlike Stieglitz, Weston, Paul Strand, Ansel Adams, and others who had pledged fealty to particularly strict approaches to photography, Robert Heinecken and other members of his cohort felt no obligatory loyalty to the medium and did not hold its tools, materials, and processes sacrosanct. I suspect they'd all agree with Man Ray's dictum, "A certain amount of contempt for the material employed to express an idea is indispensable to the purest realization of this idea."
Heinecken's rejection in his own practice of anything resembling the then-dominant approaches of "purism" and "straight" photography guaranteed his status as an outlier, even an outlaw, within the field. Unless afflicted with a perverse fondness for frustration, under those circumstances to what end would a teaching artist who hung out regularly with Wallace Berman and certainly knew the work of fellow Angeleno John Baldessari insist on calling himself a photographer?
It's true that Heinecken did describe himself for a time as a "para-photographer," and that, late in his life, he became fond of art critic Arthur Danto's 1993 neologism, photographist. Danto proposed a distinction between photographers, who produce "photography as art," and those he named "photographists," concerned with "photography in art." There are numerous major flaws in this idea; to define photographers simplistically as picture-makers concerned with generating, in Danto's words, "aestheticized work of the kind urged, for example, by Alfred Stieglitz," is to ignore ― or be ignorant of ― not only the complexity of Stieglitz's own thought but some five decades of subsequent photographic activity by people who called themselves photographers (Heinecken prominent among them), including serious hermeneutic and exegetic inquiry.
Danto's essay serves as evidence that the pernicious art-world bias against photographers endures. The noted critic minted that term precisely to separate soi-disant "artists using photography" from picture-makers aware of photography's history and working, however transgressively, within that medium's rich field of ideas, which is where Heinecken had always positioned himself. Notably, Danto does not discuss or even name Heinecken in that essay; I'd wager he was then and still remains entirely unfamiliar with his work. Hence my disagreement with Heinecken's acceptance of his coinage.
Heinecken's effect on the field of photography, as both a picture-maker and an educator, depended to a considerable extent on his acute awareness of the medium's history, morphology, and dominant tendencies. As he said in 1978, "I have taken advantage very much of the photographic medium, and photographers supply the ideas in my work. My ideas are photographic ideas, they are not drawing ideas, and most printmaking ideas are drawing ideas." (Emphasis mine.)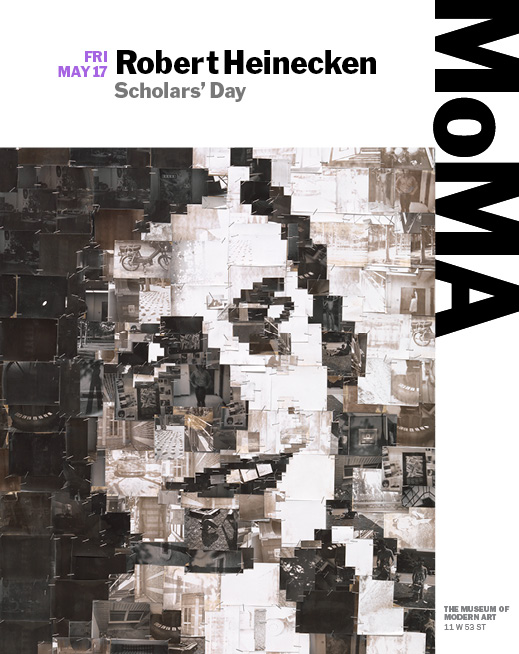 For example, both his lecture-cum-performance critique of John Szarkowski's reductivist formalism and his acidulous commentary on Susan Sontag's uninformed diatribe sprang from an insider's knowledge of photography's field of ideas; both those projects of his, in turn, required for a full appreciation of their complexities and nuances an understanding of what Szarkowski's problematic stewardship at MoMA and Sontag's brief but high-profile foray into writing about photography meant to the medium in their time.
•
In the 1960s, considering the option of firing FBI Director J. Edgar Hoover, Lyndon Johnson famously decided that he'd "rather have him inside the tent pissing out, than outside pissing in." I propose that Heinecken adopted an alternative position, based on the premise that photography's already fertile field of ideas, little-known to any save the medium's adherents, would expand more rapidly if challenged and diversified by its own committed practitioners. Faced with the options of separating himself from what, for convenience's sake, I'll call the photography community, in order to pressure it from beyond its perimeter, or else to stay within the stockade to defend the tribe from marauders, Heinecken characteristically chose a third strategy, that of the self-appointed troublemaker ― standing inside the tent, pissing in. Electing to stay in the fold, he thereby made himself into one of its most visible black sheep.
Heinecken sometimes called himself a "guerrilla photographer," gravitating as he did toward the tactics of remaining inconspicuous and unidentifiable; as he once said, "I like to go into something, shake it up and disappear." Think of him as a kindred spirit to Terry Southern's Guy Grand, the "Magic Christian," who delighted in anonymously "making things hot for people" — as well as for himself. He combined that inclination with aspects of the tradition among Japanese woodblock artists of the classic period, who periodically changed both style and name in order to avoid the traps inherent in both. This project-specific diversity of materials and methods, which vitiated the very possibility of anything resembling a signature style, placed Heinecken even further outside the mainstream of photography, closer in spirit to Marcel Duchamp than to even such photographic experimenters as Frederick Sommer, Jerry Uelsmann, and Ralph Eugene Meatyard, also marginalized by the medium's gatekeepers in the early '70s.
Thus, while pioneering many forms of what some now call "photo-based art," Heinecken served photography as a kind of mirror-image or doppelgänger for artists like Robert Rauschenberg, Andy Warhol, and John Baldessari. All were insistent that the mass-media photographic image was an integral aspect of contemporary visual consciousness, and hence a logical, even necessary component of contemporary (visual) artworks; all proposed, in their different ways, that reworking and/or recontextualizing that imagery imaginatively and critically was a sufficient creative act in and of itself to qualify as a serious contribution to the current field of ideas.
The most important difference between Heinecken and his art-world counterparts ― because, I think, it's the least understood, especially by today's audiences ― is how wide the gulf then was between those identified as artists and those labelled photographers, even when what the photographers were up to closely parallelled or even anticipated the artists' inquiries. The photographic image as a communicative vehicle and a cultural function may have become hot and trendy by the middle '60s, but, to return to my starting point, identifying oneself as a photographer then had definite consequences within the art world (certainly including the art market), virtually all of them negative.
One challenge any curator engaging with Heinecken's work confronts today is that of bringing today's audience to an awareness of that dichotomy, and what it signified when Heinecken began his project. As a corollary, one obligation facing any curator who does so for the institution hosting this conference is to explain to that audience the pervasive influence on the medium of this department as gatekeeper during the period 1965-85, because much of Heinecken's activity can best be understood as an oppositional response thereto.
It seems to me unquestionable that had Heinecken simply opted to switch labels and then produced the very same work he generated subsequently, he'd be far better known than he is today; playing with photographic images did no post-1960 experimental artist any harm, and made the careers of more than a few. But his challenges to photographic practice and theory would thereby have become significantly weakened in the eyes of most of the medium's practitioners and commentators, as coming from outside the medium rather than from within it.
By staying inside the tent, pissing in, Robert Heinecken as volunteer black sheep went far beyond the creation of his own durable, provocative body of work. He expanded the working definition of photographic practice, had a profound effect on photo education, and forced photo critics, historians, theorists, and curators to reconsider their assumptions concerning the medium's parameters.
Though it's taken a good bit longer, he's gradually forced those who privilege art over photography, and artists over photographers, to confront their prejudices. The best way for both sides to thank this unlikely bodhisattva for his service would be to erase the arbitrary line that divides them.
(Part 1 I 2)
•
This post supported by a donation from the Estate of Lyle Bongé.