Liu Xia: Secret Strength
You can attribute the paucity of posts here over the past two months to my concentration on initiating a new traveling exhibition project: "The Secret Strength of Liu Xia: Photographs 1996-1999." Currently ending its 3-month run at the Italian Academy at Columbia University in New York City, it goes next to Hong Kong, thence to Taipei, after that to Madrid, and returns to the U.S. toward the end of this year. Its tour will continue (if I have my way) until Liu Xia and her husband are free.
Liu Xia, a noted Chinese artist and poet, is the wife of the imprisoned Chinese dissident Liu Xiaobo, awarded the Nobel Peace Prize in 2010. (At left you'll see the cover of No Enemies, No Hatred: Selected Essays and Poems by Liu Xiaobo, edited by Perry Link, Tienchi Martin-Liao, and Liu Xia, with a foreword by Vaclav Havel, published by Belknap Press in 2012). An organizer of the 1989 Tiananmen protests and survivor of the massacre that ensued, Liu Xiaobo was formally arrested by the Beijing Public Security Bureau on June 23, 2009, charged with "inciting subversion of state power" for co-authoring Charter 08, a call for democracy modeled on Czechoslovakia's Charter 77, which set off the "Velvet revolution" there.
Tried by the Beijing No. 1 Intermediate People's Court on December 23, 2009, Liu Xiaobo pleaded not guilty to the charge of "inciting subversion of state power." His trial lasted under three hours; the defense was not allowed to present any evidence. Two days later, on December 25, Liu Xiaobo was sentenced to 11 years in prison and two years' deprivation of political rights. On February 11, 2010 the Beijing High Court rejected his appeal.
As his wife, Liu Xia has been isolated under house arrest in Beijing since January 2011, without any charge or trial. (A Washington Post story by Andrew Higgins, datelined May 6, 2012, erroneously describes her as "missing.") The photographs in this show, generated with an old Russian twin-lens reflex camera, she made mostly within the confines of their Beijing apartment during Liu Xiaobo's previous incarceration in a forced-labor camp. Their nominal subjects are still-life arrangements of an assortment of what she calls "ugly kids" dolls that a friend brought her years ago from Brazil.
These remarkable images have never been shown or published in China, though some of them circulate privately. Produced secretly in Beijing, the dramatically oversized prints in this exhibition were extracted from the PRC one at a time in a process supervised by the intrepid journalist and social commentator Guy Sorman, author of the scathing critique Empire of Lies and numerous other texts about China. Also brought out covertly were digital files of additional images.
I came to this project serendipitously, introduced to Sorman by my oldest friend, Douglas Sheer. Sorman had set the project in motion, but sought someone to take it over. Given my grounding in contemporary photography, and my particular interest in matters Chinese generally and Chinese photography in particular, I couldn't think of anyone better suited to the task.
My involvement will include creating and maintaining a website devoted to the project; contributing an essay to the catalogue; re-curating the exhibition by adding new images and other pertinent materials; finding a publisher for a monograph of Liu Xia's photographic work; managing the exhibition's tour henceforth; and otherwise serving this project as chief cook and bottle-washer.
I'll post notes on further developments here from time to time, but if the project interests you I recommend that you visit the website I've inaugurated, "The Silent Strength of Liu Xia," a new feature of The Nearby Café, which also hosts Photocritic International. This site will house the regularly updated itinerary of the touring exhibition, press responses thereto, thoughtful commentaries on Liu Xia by various authors, PDF files of the exhibition catalogue, and much more. I've designed it using blogware, so you can subscribe for periodic posts or else visit now and then.
Clowns to the Left of Me . . .
It has no doubt come as a surprise to Bruce Davidson that his 1958 black & white photograph "The Dwarf (smoking with flowers in hand)," a portrait of circus performer Jimmy Armstrong in costume and makeup, somehow became the symbolic face of an embarrassed Chinese media in the wake of its disgraceful handling of the story of the blind Chinese dissident Chen Guangcheng.
Unless you've just come out of hibernation, you've encountered some of the headline coverage of Chen's daring, improbable escape from illegal house arrest in his village, Dongshigu, his sheltering in the U.S. Embassy in Beijing, and subsequent ongoing negotiations to ensure his safety and freedom and that of his family. Mortified by its international loss of face over this scandal, the Chinese press — all of which is government-controlled — has issued furious denunciations of Chen and the U.S. government, resulting in equally vehement rebuttals by vast numbers of outraged Chinese citizens expressing their support of Chen (who has become a national hero) and their disgust with the official media's viciousness and mendacity.

The Beijing News was founded in 2003 as a venture between the Beijing-based Guangming Daily and the Southern Daily Press Group. Originally liberal and reformist in its editorial policies, with a closer adherence to traditional western journalistic standards than most of its mainland counterparts, this paper was commandeered by the municipal propaganda department of Beijing in September 2011, effectively curtailing such independence as it has manifested for the previous eight years. Still, apparently, enough sense of journalistic conscience persists among its management and staff that someone felt the need to express public remorse for its mindless pit-bull attacks on Chen and the U.S.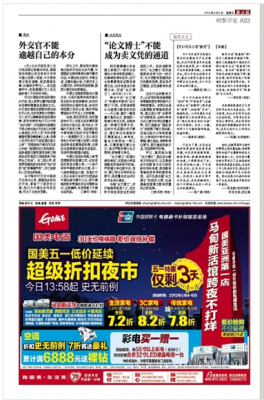 Here's the story on this unprecedented apology, as posted by Michael Ardaiolo at Shanghaiist. com on May 6, 2012:
"On Friday morning [May 4], four of China's prominent state-backed newspapers released scathing editorials of the United State's involvement in the Chen Guangcheng case. As the clock struck midnight that very same day, one of those papers, The Beijing News, succumbed to online criticism and offered a brief apology on its Sina Weibo account. [Sina Weibo is by far the most popular of the China-based microblogging services.] . . .
"The apology by The Beijing News was posted on their Sina Weibo account in the form of a one-line statement accompanied with a large black-and-white picture of a withered, old-fashioned clown taking a lonely drag of his cigarette. [Italics added.] The China Media Project (CMP) translated the text as followed [sic]:
In the still of the deep night, removing that mask of insincerity, we say to our true selves, 'I am sorry.' Goodnight."
Here's how the apology appeared at the paper's Sina Weibo website: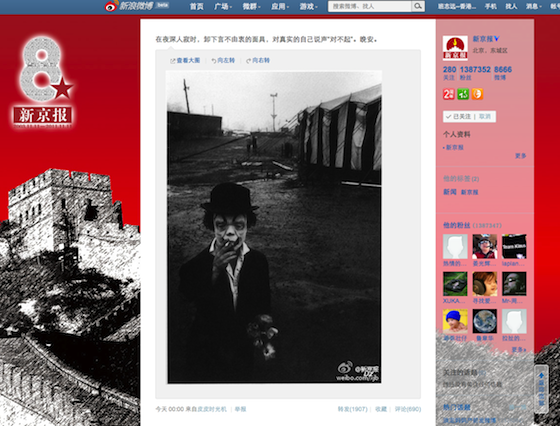 That "large black-and-white picture of a withered, old-fashioned clown taking a lonely drag of his cigarette" is Davidson's 1958 photograph. Uncredited, of course, as befits China's deep respect for intellectual property rights, and undated to boot. I assume Magnum, which represents Davidson, will bill them forthwith. But whether or not The Beijing News ponies up belatedly for this unauthorized usage, and issues a correction with a picture credit, I suspect Davidson — and Jimmy Armstrong, may he rest in peace, wherever he is — must scratch their heads in bemusement at the revelation that this vintage instance of transactional portraiture from mid-20th century U.S. popular culture has suddenly become emblematic of the condition of Chinese media culture in 2012.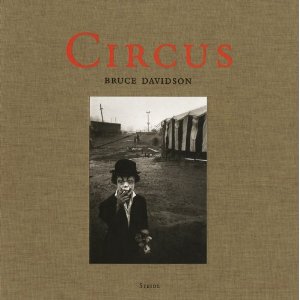 Of course, exactly what the Beijing News intends to denote and connote with its appropriation of Davidson's image I hesitate to say. That they, the paper's editors and staff, are clowns of significantly less than average stature? That the bosses whose party lines they parrot can be so described? That this is true of the whole lot of them? Reading between the lines has yet to attain the status of exact science, given the problems of disambiguation inherent in any message where deliberate ambiguity guides the communication process.
However one interprets it, however, this usage of Davidson's image doesn't flatter the Chinese media and those who control it. Coupled with the brief, melancholy accompanying text, it signifies that somewhere in that system there exist people with a capacity for shame, always a cause for hope. That Sina Weibo post took courage, which merits our acknowledgement. (For more detail on this story, see "Chinese newspaper apologizes for anti-Chen, anti-U.S. editorial," by Keith B. Richburg, in the May 5, 2012 Washington Post.)