This marks the end of the second full calendar year for Photocritic International. During that period I've published 45 posts here (counting this one), slightly less than one per week. As of midnight on December 31, 2011, this blog had served at least 200,000 pageviews and perhaps as many as 2 million since its premiere in spring 2009. (This unclarity results from divergent reports from several different site analysis programs.) Even at the low end of that estimate, it remains the most widely read blog by any critic/historian of photography.
Through the spring of 2011, I continued herein my coverage of the demise and dismemberment of the Polaroid Collection, and the saga of "the lost negatives of Ansel Adams," until those stories took protracted breathers en route to their probably anticlimactic denouements. From mid-2009 through 2011, Photocritic International provided more extensive and detailed coverage of both these significant stories than any other print or online source.
Neither story has come to a complete conclusion yet; one segment of the former Polaroid Collection remains unsold, and the authorship of the Norsigian negatives remains undetermined. So, leaving them till new developments emerge, I moved on to extended consideration of several other matters that intrigued me.
Trying the patience of my readers even further, I spent an undue amount of time considering the issue of painters who work from photographs, an exploration prompted by the revelation that Bob Dylan has derived the imagery for many of his paintings from photographs. I also pondered the imminent advent of a "3D-everywhere" environment, and provided detailed analysis of the citizen-journalism and citizen-op-ed implications of the "Pepper-Spray Cop" meme that sprang from a November confrontation with Occupy protesters at UC-Davis. I expect to return to all those subjects again.
I do realize that some readers won't find some topics as compelling as I do, or worth pursuing at such length (though for every reader who sends an "enough already" email, I get another that says "stick with this"). So I try to leaven such prolonged discussion with posts on other subjects and contributions by other voices. Sprinkled in among those, consequently, there were divagations on the fascinating cultural history of the Russian city of Tver, some thoughts on self-portraiture by macaque monkeys and the IP implications thereof, a critique of World Press Photo's annual traveling show . . . in short, the usual following-my-nose commentary, one of the privileges that comes with self-publishing and the freelance life.
(N.B.: The Spanish didn't invent the term freelance, but Miguel de Cervantes's Don Quixote de la Mancha gave us the unforgettable image of a romantically besotted man committed to the extravagance of gesture, tilting at windmills in his as-if thought experiment. I suppose my own professional trajectory falls somewhere between Don Quixote, the earnest Sir Lancelot-type freelances of the Arthurian cycle, and Stephen Leacock's ardent young nobleman who "rides madly off in all directions.")
There'd be more of that variety of content if this blog had substantial financial support from its readers, or from more sponsors or advertisers, but that's still not the case. So I allocate my limited resources as I see fit. If you want me to write on a topic other than the current main story, make a donation of $50 via the PayPal widget at the top of the right-hand column of any page of this blog. I'll choose another subject for the next post, and — if you so indicate in a note accompanying your donation — will credit you as that post's sponsor. (Total revenue from subscriber/reader donations via Paypal in 2011: $412, or $9 per post. I'd like to see that donation total rise to $1K in 2012.)
Back to the year-end wrap-up: Engaging at length with the "Pepper-Spray Cop" meme led to exploration of multimedia possibilities for presenting materials here at the blog, approaches I'd considered for awhile but hadn't put into practice. Prompted by options I'd posited, half-jokingly, in a November talk I gave in London, I first produced a short, satiric YouTube video advertising "Megyn Kelly's MK-9 Pepper Spray for Kids!" In it my alter ego, The Derrière Garde, narrates an advertisement for Fox News legal bimbo Kelly's own branded version of what she declared is "a food product, essentially" in a November 22nd appearance on "The O'Reilly Factor."
I evolved this via Photoshop, Keynote, iMovie '09, and an online app called Blabberize. Admittedly crude in its production values (though, I hope, effective); but its creation jump-started my multimedia engine. Having proposed in that November lecture that I might consider comic-book format as a vehicle, I decided to accept my own provocation. So I dusted off and upgraded the inexpensive app Comic Life, with which I'd fooled around briefly several years ago, then upgraded to its excellent latest release and produced a 42-page comic book as a PDF.
Deciding to convert that into a video with voiceover led me to upgrade to the latest release of Audacity, a free open-source audio recording and editing app. With the combination of Photoshop, Keynote, iMovie, Comic Life, and Audacity (plus Adobe Acrobat Pro), I wound up generating an assortment of "Pepper-Spray Cop" media:
Once I figure out how to generate podcasts and get things going in the iTunes store, I'll start posting projects at iTunes U. I begin to see possibilities for multipurposing much of what I produce for this blog and for other outlets; in addition to supplementary materials such as the "Pepper-Spray Cop" variations, I'll test out podcast versions of the blog posts themselves.
Thus I fulfilled several of the goals I indicated in my 2010 year-end wrap-up. Subscribers to Photocritic International and visitors to this blog can expect further multimedia offerings here, on a regular basis henceforth. I have several lectures scheduled for conversion to videos and podcasts in the coming months. I've already downloaded iMovie HD 6, the freeware legacy version of this app (it dates from 2006), preferred by many for its inclusion of features inexplicably eliminated by Apple from subsequent  iterations, to the consternation of its fans. (If I find I need something more sophisticated, I'll likely move to FinalCut Pro.)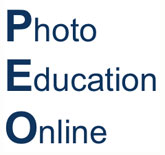 As if I didn't already have enough on my plate with all of that, in late 2010 I took over publication of Teaching Photography, adding it to the cluster of websites I publish under the rubric Photo Education Online. Founded by educator, author, and photographer Henry Horenstein, Teaching Photography serves as a resource for post-secondary teachers of photography and art. Thus it makes a logical companion to The New Eyes Project, a resource for those who teach K-12; the Photography Criticism CyberArchive, an online repository of writings by many people on photography; and this blog. With the help of webmaster John Alley, we converted both Teaching Photography and The New Eyes Project to blog structure in 2011. We're in the process of adding some new infrastructural elements to both sites; new content, and new features, will appear in early 2012.
On New Year's Eve 2010 I indicated my goals for this blog as follows:
Increase frequency of book and exhibition reviews, event reports, polemics, commentary, etc.
Add substantially to the selection of "legacy" texts from my own archive, to give the content historical depth.
Continue and expand the invitational Guest Posts, to diversify further the mix of voices presented here.
Add to the existing audio and video files with QuickTime movies, podcasts, slideshows, etc., created specifically for this site.
Enhance the blog with such new features as online portfolios, online books, PDF downloads, and more.
I've managed some of those, but not all. Sponsored, reader-supported, or self-subsidized, these remain my goals for 2012. Indeed, I'll add to them my intention to develop a line of ebooks, and to further energize all the sites that comprise Photo Education Online, the consortium to which Photocritic International belongs. Next New Year's Eve we can look back together and see how much of that ambition I realized over the coming 12 months. Meanwhile, some special thanks:
to the Guest Posters who have accepted my invitation to create new texts for publication here;
to those who've appended thoughtful public Comments, pro and con, that have enhanced my own probings and developed a genuine dialogue in this space;
to those who, privately and behind the scenes, have fed me leads and tips, pointed me toward valuable documentation, and otherwise facilitated my work and enriched these accounts (you know who you are, and your secrets are safe with me);
to my fellow bloggers, my journalist colleagues, and others who have quoted my posts and/or linked to them, thereby bringing new readers to this blog;
to Marlaine Noel of Sprint Systems of Photography, who made her company this blog's first sponsor;
and to the small but important handful of people who have put their money where my mouth is, so to speak, by making cash contributions in support of this project.
I send my best wishes for 2012 to these people in particular, and to all the readers of Photocritic International. May the new year bring us something better than a smack in the face with a wet fish.