While the necessary support never materialized for "Heart of the Matter: Harold Feinstein, Photographs 1946-2011," the touring show I curated of Feinstein's classic New York School b&w photography, interest in Feinstein's vintage work has suddenly surged, due to a combination of factors:
Harold's 80th birthday, celebrated this year;
his selection for honoring as this year's "Living Legend" award from the Griffin Museum of Photography in Massachusetts;
the raising by his fans and supporters of almost $28K toward a goal of $35K for a monograph on his b&w work, via Kickstarter.
The Kickstarter effort so far has achieved 80 percent of the funding needed, and I urge my readers to take it over the top in the 9 days remaining. A $60 donation will get you a signed copy of the monograph; a $500 donation will get you a copy of the book plus a signed gelatin-silver print from one of Feinstein's "Legacy" limited editions.
Recent press attention to Harold and his work includes:
Putting the book into the pipeline may spark new interest in the touring show, especially in conjunction with the burst of news coverage; even if that doesn't eventuate, it'll create a permanent document of Feinstein's accomplishment. I'll have an editorial involvement in that publishing project. Meanwhile, I'm giving thought to alternative ways to actualize the exhibition; you'll find the proposal, the curatorial edit, and and assortment of support materials here.
Feinstein's work has found a new audience and collector base in mainland China, which started with a mini-retrospective of his work that I curated for See+ Art Space/Gallery in Beijing's 798 Art District. Here's a link to a QuickTime slideshow of the installation and March 20, 2010 opening for that show (which he shared with the late Wynn Bullock). And here are links to his pages at the gallery's website in English and in Chinese.
•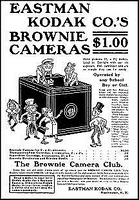 "Buffeted by foreign competition, then blindsided by a digital revolution, photography icon Eastman Kodak Co. is fighting for survival after a quarter-century of failed efforts to find its focus." So begins Ben Dobbins's October 5, 2011 story for the Huffington Post, "Kodak Bankruptcy Rumors Plague Photography Icon." Dobbins has it wrong, so let's get this straight: Eastman Kodak didn't get blindsided by the digital evolution. Its middle and upper management of the 1980s and '90s — top-heavy with overfed, overpaid, overaged, complacent suits — actively turned a blind eye to it.
On April 16, 2000 I delivered the keynote address to the World Press Photo Awards Days gathering in Amsterdam, the Netherlands. Organized by the World Press Photo Foundation, this is an annual celebration of documentary, photojournalism, and press photography held in the Dutch capital, where World Press Photo (henceforth WPP) was founded in 1955. WPP's Awards Days program, which includes the premiere of that year's annual exhibition, brings together professionals in the field of information-based imagery: photographers, of course, but also picture editors, periodical and book publishers, directors of picture agencies, representatives of various photo-industry companies (Kodak, Nikon, etc.), and others.

The premise of my talk was that the field of photography in general, and information-based imagery in particular, had turned inexorably digital. Since Eastman Kodak serves as WPP's main sponsor, the hall was full of Kodak executives. I heard from colleagues seated among them that they grumped, grumbled, and snickered throughout my talk, whose projections they found ridiculous. A year later, at Photokina 2011 in Cologne, Germany, Kodak would declare that the company was finally taking the plunge into the digital realm, with kiosks for generating chemical prints from digital files and a cluster of ho-hum consumer-end digital cameras which they debuted at Photokina that fall. They were already 20 years too late, and have played a futile game of catch-up ever since.
I'll have more to say about that WPP event at a future date, but the company's clearly in desperate straits as a result of its failure to move rapidly and aggressively into the field of digital imaging with a product line that could have capitalized on the brand-name recognition Kodak still enjoyed when the digital era began. That name, and any cachet connected to it, has largely faded by now. The company's produced nothing digital that's ever caught the public's imagination. Even its kiosks — we have one in our neighborhood Rite-Aid drugstore, which we've used from time to time — are functional but in no way exciting.
Now they're paying the price. Kodak shares dropped on the New York Stock Exchange by a terrifying 54 percent on September 30, 2011, hitting a 40-year low. (See the Reuters account of that date, "Kodak denies bankruptcy plan but shares plummet," by Sinead Carew.) It's not clear that the company will survive; if it does, it may have to sell off its digital patents, without which it's basically out of the running altogether.
The collapse and eventual double bankruptcies of the Polaroid Corporation, covered here in considerable detail, were avoidable. So, too, the current crisis at Kodak. I say this not to gloat, surely, though perhaps with an I-told-you-so look on my face (I'm only human). But, like the demise of Polaroid, the passing of Kodak, or its devolution into some minor brand, will spell the end of an era, even more so than the Rochester Institute of Technology declaring gelatin silver an "alternative process" for curriculum purposes a few years back.
Dobbins does have this right: "The collapse of such a legendary brand would not only reverberate through American business, but would also have a profound cultural effect on generations worldwide who took their first snapshots with film cameras bearing the unmistakable yellow-and-red K logo." Kodak made not only the first cameras on which generations of photographers cut their eyeteeth, but the films and papers and chemicals that many (Harold Feinstein among them) used throughout their professional lives. The company failed to make itself relevant to a transformed lens culture, but it will be missed by those who remember it in its prime — a graying and dwindling cohort, alas.
•
I'm recuperating from another attack of lower back pain (comparatively mild this time), so I haven't yet made my way to the exhibition of Bob Dylan's photo-based paintings for a first-hand, eyes-on encounter. I'll do that later this week, with commentary on the paintings and their sources to follow. Meanwhile, I'm working on some considerations of the broader issue of painting from photographs, which may precede or come after a discussion of the show itself.