In December of 2011 I participated in a total of four photo-specific forums, all by invitation of the forum hosts. Two of them I joined because they promised extended, substantive discussion of the text of my November 2011 London lecture, "Dinosaur Bones: The End (and Ends) of Photo Criticism," the other two out of collegial courtesy. Three of these were small-group situations, fewer than a dozen voices in each; the fourth was massive, more than 3000 registered members. I considered participation in them a sort of holiday-season fling.
I got out of these fairly quickly; three of them restricted themselves to a concurrent 2-week schedule, and I stayed in the fourth for only five days. The experience, brief as it was, confirmed what I'd learned the last time I'd joined in such a collective environment, back in 1999-2000: (a) forums inevitably descend to the level of the lowest common denominator of their participants, and (b) forums can suck up energies more fruitfully expended elsewhere, easily turning into rabbit holes down which you disappear.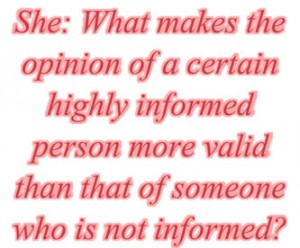 Without identifying the several forums, or naming their participants, I wrote about the style and substance of what went on in those environments in a series of posts. I also invited in a guest, the photographer and writer Ken Schles, whose posting of a link to the text of my "Dinosaur Bones" lecture led to my involvement in one of the forums. You'll find my commentaries, and his, at the links below, the most recent first.
● Forumization and Its Malcontent, 6 (11/19/13). In which I discuss sock puppets, webweasels, and the abusive uses of of photography enabled by digital imaging, social media, and the internet.
● Forumization and Its Malcontent, 5 (11/14/13). In which I discuss the movement to eliminate anonymous commenting at assorted online publications, thus closing the doors on nameless trolls and threadjackers.
● Guest Post 9(b): Ken Schles on "Infinite Stupidity" (1/29/12). In which Schles argues for the ongoing value of informed critical response, over and above crowdsourced insight, concluding that "critical commentary and critical thinking is required now, more than ever."
● Guest Post 9(a): Ken Schles on "Infinite Stupidity" (1/25/12). In which Schles considers what he terms "the dwindling public space for a serious critical conversation about photography" from his perspective as a photographer and maker of artist's books.
● Forumization and Its Malcontent, 4 (1/12/12). In which I discuss my exeunt from that particular forum, pursued by bear, and offer some tentative structural and managerial guidelines that might tempt me to join another forum in the future.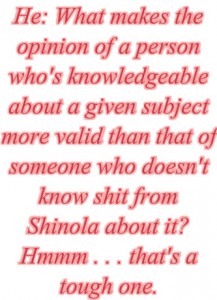 ● Forumization and Its Malcontent, 3 (1/9/12). In which I address several issues raised by the threadjacker in question, one Natalie Arriola, who insists on identifying herself while asserting that "All opinions hold equal weight" and asking "What makes the opinion of a certain highly informed person more valid than that of someone who is not informed?"
● Forumization and Its Malcontent, 2 (1/6/12).  In which I concentrate on the quality or lack thereof of the content of the forums in questions, and discuss the inherent risk of "threadjacking" by participants with other agendas. Includes a sidebar on media manipulation of women's body images and the importance of developing one's own inner photo critic.
● Forumization and Its Malcontent, 1 (1/3/12). In which I sketch my earlier forum experience at the turn of the century, synopsize the fresh encounter, and point to what I see as fundamental problems in quality control for such platforms.