This marks the end of the eighth full calendar year for Photocritic International, which made its debut in June 2009. During the past 12-month period I've published 54 posts here (counting this one), averaging 4.5 per month. According to Google Analytics, as of midnight on December 31, 2017 this blog had served up almost 54,000 pageviews for the year, to almost 21,000 unique visitors — 14,023 new readers and 6,845 recidivist gluttons for punishment. Plus almost 35,000 posts delivered via email to PI's 631 subscribers.
That represents a significant decrease compared to 2016 — a 5 percent drop in subscriptions, 29 percent fewer visits, 49 percent fewer visitors, and 42 percent fewer pageviews. Since I don't think the quality of my writing has deteriorated, I attribute this to the fact that the year's posts did not engage with any topic nearly as hot as the 2016 election, combined with an understandable degree of Capa D-Day fatigue among subscribers and visitors alike. Still, I find this disappointing.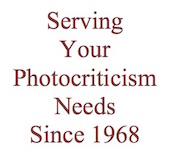 Nevertheless, I persist. Perseverance furthers, as the I Ching says; I've published 515 posts since this blog's inception, and Photocritic International remains the most widely read blog by any critic/historian of photography. So please recommend it to your friends and colleagues, urge your students to subscribe, forward your favorite posts to those who trust your judgment, and otherwise help me build its circulation.
Two noteworthy facts about this readership: It remains roughly evenly divided by gender (46 percent female, 54 percent male), slightly over half of whom fall between the ages of 18 and 34. These demographics surprise and gratify me, indicating as they do that the issues I address here, and my approaches to them, prove of interest to many people not of the male geezer persuasion.
This Blog's Year in Review

The dismantling of the myth of Robert Capa's adventures on Omaha Beach on D-Day, June 6, 1944, and the revision of the legend of the subsequent fate of his negatives, served again as one of the main projects for the first half of the year. Beginning modestly enough in June 2014 with a pair of skeptical Guest Posts by renowned photojournalist and author J. Ross Baughman, it has grown into a prize-winning series of 74 posts (to date), including further contributions from Baughman, joined by photographer/photo historian Rob McElroy and military historian Charles Herrick, with invaluable behind-the-scenes input from several others.
The series concluded, fittingly enough, on June 6, 2017, though a few posts about subsequent discoveries and developments followed, no doubt with more to come. I plan to revisit the International Center of Photography's Capa Archive this winter and spring, and also have in production a touring installation, with website and catalog, and a book version of this research project. So my involvement with this subject, and the related material, continues.
•
In between the Capa posts, I wrapped up my coverage of Election 2016 with commentary on images of the inauguration of soon-to-be-impeached Pres. Donald J. Trump in January '17. Subsequent topics included farewells to Clarence John Laughlin and Paul Diamond; John Berger's misguided thoughts on dogs in photographs; AIPAD's "Photography Show" 2017; postmodernism and its discontents; practical issues relating to the archives of individual photographers; the reemergence of Japanese photographer Ken Ohara; the state of photography in 1972 and 2007 (from the archives); John Szarkowski's germinal "New Documents" show, revisited; the death of Chinese dissident Liu Xiaobo; Cindy Sherman's "Untitled Film Stills"; photorealism, 50 years on; images of the radical right in the wake of the Trump victory; citizens' rights vs. photographers' rights on the 20th anniversary of the death of Princess Diana; my experience teaching in the post-secondary photo education system; Susan Sontag's On Photography; the phenomenon of the "wall accessory" in photography; the dangers of the wondrous new "internet of things" technology that engulfs us; and the responses of sheep to photographs. Among other things.
In 2017 I did not add any posts to the series "Film the Police," addressing the mounting visual evidence of systemic police misbehavior nationwide. In tandem with Trump ascendancy, the subject plunged me into a funk every time I approached it. I think I have finally found my footing with this issue, and am ready to continue. Look for further installments, starting early next year. You'll find an index page to that series here.
Coming in 2018
My goals for this blog for 2018:
Initiate my coverage of the visual component of Kremlingate, as the Trump gang's treasonous collusion with Vladimir Putin and Russia has come to be known. More indictments coming soon; make some popcorn and grab your remote.
Resume the already commenced series "Film the Police," as just discussed.
Resume Robert Dannin's engrossing account of the backstage doings at Magnum Photos in the mid- to late '80s.
Add substantially to the selection of "legacy" texts from my own archive, to give the content historical depth. (Twenty-two of 2017's posts came from the archives.)
Continue and expand the invitational Guest Posts (only one this past year), to diversify further the mix of voices presented here.
Add to the existing audio and video files with QuickTime movies, podcasts, slideshows, etc., created specifically for this site.
Enhance the blog with such new features as online ebooks, PDF downloads, and more.
Meanwhile, some special thanks:
to the Guest Posters who have accepted my invitation to create new texts for publication here;
to those who have appended thoughtful public Comments, pro and con, that have enhanced my own probings and developed a genuine dialogue in this space;
to those who, privately and behind the scenes, have fed me leads and tips, pointed me toward valuable documentation, and otherwise facilitated my work and enriched these accounts (you know who you are, and your secrets are safe with me);
to my fellow bloggers, my journalist colleagues, and others who have quoted my posts and/or linked to them, thereby bringing new readers to this blog;
and to the people who have put their money where my mouth is, so to speak, by making cash contributions in support of this project.
I send my best wishes for 2018 to these people in particular, and to all the readers of Photocritic International. May the new year bring us something better than a smack in the face with a wet fish.
Support Encouraged
The drop-off in readership notwithstanding, total revenue from subscriber/reader donations via Paypal (and, in a few cases, checks sent by snail-mail) rose substantially in 2017: $1775, or $33 per post, an almost 35 percent increase over the previous year. My thanks to the more than two dozen readers who made those contributions to the cause. I'd like to see that donation total pass the $2K mark in 2018 (the more the merrier, of course). You can make donations in any amount you choose.
There would be more variety of content here (and more extras) if this blog had substantial financial support from its readers, or from more sponsors or advertisers, but that's still not the case. So I allocate my limited resources as I see fit. I welcome donations of any size. (If this blog's visitors contributed only $1 each, and its subscribers a mere $10 per year, that would make a major difference in my life.)
I do accept appropriate advertisements; email me for rates.
Help Wanted
I also welcome support in the form of in-kind services from volunteers and interns. Specifically, I could use assistance from someone with experience with any of the following applications:
DreamWeaver (for general website management, html, CSS);
WordPress blogware (troubleshooting this and other WP blogs);
InDesign (assistance with several POD/ebook projects);
FileMaker Pro (database projects, including organization of my archive and expansion of my bibliography)
OCR/scanning software (book projects)
iMovie/Final Cut Pro, Audacity (multimedia projects)
If you have none of these skills, I can still put your time to good use doing picture research, bibliographic queries, and other tasks. Email me if working with me on this blog or other projects interests you.
Most of these projects can be furthered and completed over the internet. Some require physical presence here on Staten Island. In either case I can't afford to pay such collaborators, but I can provide room and board for an assistant or intern who wants to work intensively with me for a period of time — anywhere from two weeks to a semester or more — on one or more specific projects. Happy to write any documents necessary for you to receive independent-study credit for your participation, and/or add them to your resumé. Of course I'll credit such assistance in any public presentation of the outcome. Pass the word.
•
I wish you all a happy, healthy, and productive 2018. May someone watch over you as my familiar, Billie the Bengal, watches over me (and I over her).
•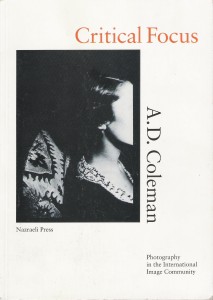 Special offer: If you want me to either continue pursuing a particular subject or give you a break and (for one post) write on a topic — my choice — other than the current main story, make a donation of $50 via the PayPal widget below, indicating your preference in a note accompanying your donation. I'll credit you as that new post's sponsor, and link to a website of your choosing. Include  a note with your snail-mail address (or email it to me separately) for a free signed copy of my 1995 book Critical Focus!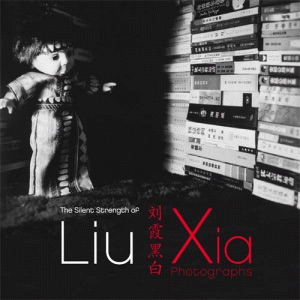 But wait! There's more! Donate now and I'll include a copy of The Silent Strength of Liu Xia, the catalog of the 2012-13 touring exhibition of photos by the dissident Chinese photographer, artist, and poet, currently in her sixth year of extralegal house arrest in Beijing. The only publication of her photographic work, it includes all 26 images in the exhibition, plus another 14 from the same series, along with essays by Guy Sorman, Andrew Nathan, and Cui Weiping, professor at the Beijing Film Academy.