[In 2015 I posted here an article I'd first published in early 2007 in the Shenzhen Economic Daily, a mainland Chinese counterpart to the Wall Street Journal. This article concerned the auction record then recently set by an Edward Steichen print. (See "What Makes One Photo Worth $2.9 Million?")
To accompany that article, the SED conducted an interview with me, providing their readers with some necessary background. Coming across it recently, I thought it might interest this blog's readers. Part 2 appears below; for Part 1, click here. Anyone wishing to read these articles as published in Chinese on January 29, 2007 can download a PDF file of them here. — A. D. C.]
•
A. D. Coleman: Shenzhen Economic Daily Interview 2007 (cont'd)
Q: Chinese photographers have long pursued landscape photography. They began to explore documentary photography in the 1990s. Recently, more and more people have become excited about contemporary "photo-based art" and creative photography. That's the leading trend of photography in China at present. Could you simply describe the condition of the development of creative photography and documentary photography in the U.S.?
A: In the States, documentary photography and creative photography have become so intertwined that it's difficult to think of them as separate forms today. (Photojournalism and press photography per se — work done on assignment for newspapers and magazines by staff or freelance photographers — is a different case.)
The main homogenizing factor for creative and documentary photography has been the tertiary photo-education system in the U.S., and in the west generally — programs for the formal study of photography at the college, university, and art-institute level. In most such programs, creative photography and documentary photography are taught side by side. So the photo students of the past 35-40 years have been equally exposed to both

As a result, we have seen a great deal of cross-fertilization between the two. This results in creative photographers sometimes using documentary methods and/or addressing issues that we associated formerly with classic documentary work. It also results in documentary photographers adopting ideas about the formal organization of their imagery from creative photography, and accepting forms of presentation — installation structures, for example — that originated in the area of creative photography.
And we see the increasing acceptance of these kinds of hybrid or crossover works in all parts of the western photo world: In the serious magazines that report on the medium, in the range of books getting published, in the museums, in the photo festivals, in the commercial galleries, and in the auction houses. Many more photographers than ever before whom we'd label "documentary" now make their living from subsidies from arts councils and foundations, from the sale of their prints, and from teaching in the kinds of programs I described above: Richard Misrach, Luc Delahaye, Susan Meiselas, Mark Klett.
So I would say that in the west generally — not just the U.S. — documentary and creative photography have become synergistic in the healthiest possible ways. If that's not happening in China right now, I predict that eventually it will.
Q: I have now met you twice. The first time was last summer, in a meeting with some Shenzhen photographers; the second time was last month at the LIPF [Lianzhou International Photography Festival]. I can see that you are really interested in Chinese photography. What is your impression of photography in China? Anything that you feel is different from American photography?
A: My acquaintance with photography in and from China has just begun. So I hesitate to formulate any opinions until I have seen a lot more, read a lot more, and talked at much greater length with photographers, critics, and others who know the scene from within and have an informed overview of it.
A few things seem obvious, though, even to my beginner's eye. In the west, largely as a result of the photo-education system I mentioned earlier [see Part 1], the entire historical toolkit of the medium has been recovered and is currently in use. We have working daguerreotypists, tintypists, platinum printers, albumen printers, etc., utilizing many of the archaic processes from the 19th and early 20th centuries. I don't see this happening in China, at least not yet.
I assume this is because the tools and materials involved, and the technical manuals and hands-on instruction necessary, aren't yet widely available here, if at all. So certain kinds of process experimentation and print production that we take for granted now in the west aren't happening in China. (The museum and gallery and collecting market in the west, by the way, accepts all of these different physical forms of photographs as objects with no resistance.)
At the same time, other forms of that experimentation can be found here in China. I've seen excellent pinhole photography from a Chinese group, for example. And I've come across some combinations of photography with ink painting that I consider uniquely Chinese as a hybrid.
For various historical and political reasons familiar to all, state-sponsored photojournalism and certain kinds of approved documentary usages of photography (along with propagandistic usages) dominated Chinese photography for many decades. The freedom to work "autonomously," as the Europeans say, to express personal opinions in one's photographic work in any of the medium's modes, and to explore all of the different ways in which one can make and present photographs and photographic images, is relatively recent in China.
So China has really just entered into a condition that western photographers have taken for granted for more than a century and a half. And Chinese photographers and artists here making "photo-based art" are in the situation of catching up with those possibilities.
At the same time, the information flow — especially via the internet —  is so extensive and rapid nowadays that this can happen much more quickly than it would have a few decades ago. I would also say that the best Chinese work I have seen in all forms stands equally with the best work I know from the west, and deserves to be circulated internationally.
From a more structural or theoretical standpoint, I think that China does not at present have a clear sense of what constitutes the actual history of photography in China. On the one hand, this has a certain liberating effect, leaving photographers and artists seemingly beholden to no particular traditions. On the other hand, it leaves them rootless and disconnected from the past and their own culture's photographic history.
The situation in the west was not all that much different prior to 1970. Photography had been largely neglected and disdained as a subject of serious study and historianship and criticism. Its history was nowhere near thoroughly annotated and investigated. Much important material had been lost through neglect and oversight.
We have caught up considerably in the past 40 years. I believe that China could learn from that example and — with adequate institutional support and the application of "Shenzhen speed" — create a new depth of awareness of this medium and its history in a much shorter period of time.
Q: If you could make a constructive suggestion for the development of Chinese photography, what is the first thing you would want to say?
A: No medium, and no creative individual, evolves in a healthy way by chasing market trends or letting gallery owners, dealers, collectors, or anyone else dictate content or style or approach. Doing that distorts the individual, distorts his or her work, and distorts the medium itself.
Finding ways of making a living and supporting your work are realities, of course. Every photographer, every artist — and every curator, and critic, and historian — has to find some way to do that. But producing work simply to satisfy a market demand for this or that current fashion leads inevitably to the condition made famous in Dafen, the town near Shenzhen that they call the "village of the painters." [In Dafen they churn out careful copies of classic examples of Western painting.] I certainly don't begrudge the people who live and work there the income they derive from pleasing their customers by giving them what they want. But we can't afford to allow that to become the model for the arts — not in China, not anywhere.
I would also suggest that China begin to safeguard its photographic history. Even within cultural institutions such as archives, photographs are often treated too casually — cared for improperly, if at all, not carefully preserved, damaged or discarded thoughtlessly. And of course, when in private hands photographs get sold, sometimes without realizing their true value in the market and their importance as historical artifacts with rich meaning.
After the collapse of the former Soviet Union, hordes of what a skeptical colleague of mine called "western vacuum cleaners" swept through eastern Europe, grabbing up all kinds of significant material at ridiculously low prices. Many unique and priceless items that cannot be replaced left their homelands, never to return. Many entered private collections and may get seen again only rarely. I would strongly advise that a public discussion on the subject of preserving and protecting China's photographic patrimony in particular, and its artistic and cultural patrimony in general, should take place — the sooner the better, if it hasn't begun already.
Q: I hear that you plan to organize an exhibition of Chinese photography to travel in the U.S. and Europe. Is this underway yet? You will be back in Shenzhen in a few months; do you have other projects planned in Shenzhen?
A: Yes, I'm co-curating (with a Chinese curator) a survey of contemporary documentary work from the mainland that will tour in the west. That project is still in development; we're at the fund-raising stage. So I can't go into detail about it at right now, as I hope you'll understand. But I can say that the proposal has aroused considerable interest in the west already. We expect to hold its debut sometime around the middle of 2008. [Note: This show, "China: Insights," co-curated with Gu Zheng of Fudan University, premiered at the Fred Jones Jr. Museum of Art at the University of Oklahoma in April 2008. For a slideshow of the event and the exhibition, click here.]
And I've begun discussing with a Chinese curator the creation of another show of Chinese work to tour in the west, this one presenting a very different type of imagery, what I call "process experimentation."
I do have other projects planned in Shenzhen specifically, and in China generally. I'm now a columnist and feature writer for Photography, the new Shenzhen-based magazine, and I serve on its Academic Committee. [Alas, this publication died after just a few issues.] In December 2006 an exhibition that I co-curated, "SAGA," a retrospective of the Finnish-American photographer Arno Rafael Minkkinen, made its debut in China at the Lianzhou International Photo Festival, where it won a Special Jury Award. I serve on the LIPF's Academic Committee also; I hope to have a role in future editions of that event.
So one aspect of my overall plan involves serving as a conduit in both directions: helping to bring significant work from the west into the PRC, and helping to facilitate the export of important Chinese work to the west.
Another aspect of my activity here that's already underway involves the presentation of my writing to the Chinese audience. Articles of mine have now appeared in the China Daily and the Shenzhen Daily (in English), and in Photography magazine (in English and Chinese). Two books of my essays will come out in translation, from Guangxi Normal University Press. There are other publication plans in the works. I look forward to having a regular presence as a writer here in China. By the same token, I hope I can facilitate the presentation of writing by my Chinese colleagues in the west, because very little commentary from the mainland appears there now, and I'd like to see China enter that dialogue.
I also teach part-time on the college/university level, offer short workshops, and lecture for the public on various topics. To date I've only had the opportunity to offer one lecture — at the 2006 LIPF — but I hope that more such situations will develop that engage those aspects of my work.
And I do consultancy with photography and arts and cultural organizations. So far that hasn't commenced in the PRC.
At the moment, my involvement with the mainland has been restricted by several factors:
• As a freelance, which is how I have worked all my life, I must consider and prioritize my main sources of revenue. At present that revenue comes mainly from the U.S. and Europe. As I develop a financial support base for myself in the PRC, I'll concentrate more of my time and energy here.
• Also, until now I have had to come in and out of China on short-term visas, because I do not have institutional sponsorship within the PRC. Obtaining these visas is time-consuming and expensive. I hope to establish a basis for obtaining a long-term or permanent visa in the near future.
[Note: Things didn't work out as I had hoped, professionally speaking. While I found opportunities in China to publish articles, curate exhibitions, offer lectures, and consult on several projects, nothing durable or ongoing resulted from those efforts. So, starting in summer 2012, I decided to wrap up my efforts there and put my energies elsewhere. — A. D. C.]
(Part 1 I 2)
•
This post support by a donation from photographer and photo-historian Martin Magid.
•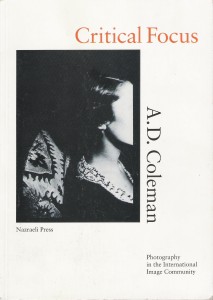 Special offer: If you want me to either continue pursuing a particular subject or give you a break and (for one post) write on a topic — my choice — other than the current main story, make a donation of $50 via the PayPal widget below, indicating your preference in a note accompanying your donation. I'll credit you as that new post's sponsor, and link to a website of your choosing. Include  a note with your snail-mail address (or email it to me separately) for a free signed copy of my 1995 book Critical Focus!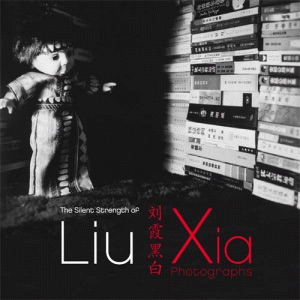 But wait! There's more! Donate now and I'll include a copy of The Silent Strength of Liu Xia, the catalog of the 2012-13 touring exhibition of photos by the dissident Chinese photographer, artist, and poet, currently in her sixth year of extralegal house arrest in Beijing. The only publication of her photographic work, it includes all 26 images in the exhibition, plus another 14 from the same series, along with essays by Guy Sorman, Andrew Nathan, and Cui Weiping, professor at the Beijing Film Academy.