Playing "Whatever became of … ?" with the protagonists of the "Pepper-Spray Cop" uproar at UC Davis that began on November 18, 2011 (a story covered in depth by this blog, for reasons explained in my previous post), we learned that earlier this month nemesis finally caught up with that university's hubristic chancellor, Linda P. B. Katehi, unceremoniously bounced out on her ass for an assortment of malfeasances.
Uh-Oh, Annette
Now to one of the drama's lesser characters. To refresh your memory, Annette Spicuzza served as UC Davis Police Department Chief at the time of the 2011 pepper-spray incident, making her Lt. John Pike's commanding officer on the day of his public meltdown. Almost certainly, she authorized the department's acquisition of the military-grade pepper spray that Pike and other officers illegally carried and used without proper training that day. Clearly ineffective as a leader, demonstrably mendacious in her accounts of the day's events (her account of the event flatly contradicted by multiple videos thereof), Spicuzza took early retirement on April 18, 2012.
After her hurried departure from UC Davis, Spicuzza somehow got selected to serve as the interim Public Safety Director of the City of Pacific (located between Seattle and Tacoma, WA), but resigned that position after only two days, for reasons unclear.
Apparently unemployable thereafter in the public sector, Spicuzza turned to the private sector, landing a position as a consultant with The Riseling Group, "a consulting firm that provides a wide range of management services to law enforcement; colleges and universities; non-governmental organizations (NGO); and businesses." Curiously, while her bio at TRG's website mentions her time at UC Davis, it fails to note the clouded circumstances of her departure therefrom.

Said bio indicates that "Annette is with Stanford University's Department of Public Safety as a civilian manager overseeing their Support Services Division." With that appointment Spicuzza became Stanford Clery compliance coordinator within the Stanford University Department of Public Safety (SUDPS), to whom a range of on-campus crimes must be reported. The 1990 Jeanne Clery Act is named after a Lehigh University student who was murdered in her dorm room in 1986. The crimes that, under this law, must be reported to the U.S. Department of Education are: homicide, robbery, aggravated assault, rape, forced sodomy, forced oral copulation, rape by a foreign object, sexual battery, or the threat of any of these crimes and any hate crime, according to the university. (See this story at Palo Alto Online for details.)
That's particularly noteworthy, for the following reasons:
• According to a staff-written article in the October 1, 2009 issue of the magazine Campus Safety,
"On the day universities needed to submit their annual security reports to the U.S. Department of Education, University of California, Davis officials said they had substantially over-reported the number of forcible sexual crimes on and around campus for three consecutive years. On average from 2005 to 2007, the university over-reported forced sexual offenses by 140 percent. The number of actual forced sexual offenses was 77, which was 108 less than the 185 incidents claimed in those three years." (See "UC Davis Over-Reports Sexual Offenses by 140%.")
This happened during Spicuzza's employment there (she took office on May 16, 2005), but she was not the culprit. To the contrary, she appears to have blown the whistle on it: "At a West Coast Oct. 1 [2009] morning press conference, UC Davis Police Chief Annette Spicuzza and others said the data submitted for 2005, 2006 and 2007 has now been revised. The school had notified the DOE and Department of Justice, and underwent a review overseen by Dolores Stafford, past president of IACLEA." (That's the International Association of Campus Law Enforcement Administrators.) This report identified the former director of the UC Davis Campus Violence Prevention Program (CVPP), Jennifer Beeman, as the source of the inflated numbers.
• Spicuzza doesn't hold the Clery Act in high regard; to the contrary, she thinks it should be repealed. According to Spicuzza,
"Clery is – the spirit of it is wonderful. It's just become very confusing and very difficult for individuals to define and navigate through. … It's become so bureaucratic and so confusing in terms of property, location, geography, crime classifications and now the addition of dating, domestic and stalking. It almost makes you feel as if we're being set up to fail." (See the August 13, 2015 Scripps Howard Foundation Wire story by Nadia Dreid, "Campus crime reporting law called confusing, abused, necessary.")
• But her displeasure with the Clery act didn't stop Spicuzza from endorsing a 2014 California law that built on and updated it statewide. This amendment to California Education Code 67380 "goes beyond what is required by federal law under the Clery Act," according to Elena Kadvany of the Palo Alto Weekly. In July 2015, right after the new California law went into effect and just a month before voicing her wish to have Clery repealed, Spicuzza waxed enthusiastic about the amendment, which mandates that all Campus Security Authorities (CSAs) will report crime to the police immediately:
"'I think the [new crime reporting system] is great,' Spicuzza said. 'People on this campus are very savvy and CSAs and the Public Safety Department have always worked well together.'" (See Kalpana Gopalkrishnan, "New California law prompts change in campus crime reporting," The Stanford Daily, July 12, 2015.)

Be that as it may, at the federal level only the Clery Act mandates the reporting to any federal authority of crimes at post-secondary institutions. That makes it the only way for the federal government to monitor crimes committed on campus, and to report those national statistics to the public. Nevertheless, Sen. Claire McCaskill, D-Mo., has called for its repeal, proposing as substitute a "campus climate survey [that] is really what parents want. The campus climate survey is going to ask kids, 'Do you think your school is trying to do a good job? Have you been told where you can go if you were assaulted? Do you feel safe?'" But, as McCaskill surely knows, such a vague questionnaire neither generates hard data nor provides any system for holding schools accountable for crime on campus — unlike the Clery Act.
• Presumably Spicuzza feels comfortable with McCaskill's push to repeal Clery; the Campus Safety story points out that Spicuzza applauded the senator's call for its end. Perhaps this explains why Stanford University — where Spicuzza presently holds the position of Clery compliance officer — now drastically underreports those offenses. See Karen de Sá's October 3, 2015 report in The Mercury News, "Stanford University touts numbers of student sexual assault that appear far lower than other schools — activists balk."
Stanford has achieved this remarkable reduction in campus sexual violence through several questionable expedients. For example, at Spicuzza's direction they "averaged men and women together to produce a figure of fewer than 2 percent of students reporting they'd been assaulted," and "used a narrow definition of sexual assault based on state criminal statutes — a definition that excluded many serious sexual offenses that could get a student expelled or arrested," according to de Sá. This despite the fact that "43 percent [of female] respondents … reported either sexual 'misconduct' or sexual 'assault' during their four years at Stanford. Sexual misconduct incidents include being 'roofied, stripped naked, and sexually groped, and photographed but not penetrated.'"
• Stanford University is, of course, notorious as the school where swim-team star Brock Turner raped an unconscious woman in January 2015. For the astonishing statement read by his unidentified victim to the court before sentencing, click here. It has since gone viral, but its power did not prevent Santa Clara County judge Aaron Persky from going easy on the tall, handsome jock. The judge spoke through his cloak, most deep and distinguished, and handed out strongly, for penalty and repentance, Brock Turner with a six-month sentence. (Facing a massive recall petition as a result of this lenient sentence, Persky has recused himself from all criminal cases.)
[Postscript, August 29, 2016: "California lawmakers passed new legislation sealing a legal loophole exposed by the lenient prison sentence approved for former Stanford student Brock Turner after he sexually assaulted an unconscious woman," according to Jim Carlton's report in the Wall Street Journal. It will likely become known as the "Brock Turner law."]
Do you suppose one might reasonably infer some connection between a school that, under Spicuzza's guidance, dramatically underreports sexual assault, a local judiciary that dramatically underpunishes it when a privileged white frat boy is concerned, and the campus atmosphere that nurtured this rapist? And would you consider it unreasonable to hold Spicuzza accountable for that in some degree?
After all, Spicuzza believes that sexual assault on campus gets overreported to the federal government, and — in her role as the designated campus figure responsible for compliance with the law — makes sure that her office at Stanford underreports it. As I see it, professionally there is no place Spicuzza goes where she does not do harm to her host institution and to the students there.
[Postscript, December 19, 2016: "Stanford Has Most Sexual Violence Cases Under Review, U.S. Agency Says." Yes, according to NPR Stanford University, where Spicuzza serves as the Clery Act watchdog, leads the nation as the post-secondary institution whose students have filed the largest number of complaints to the Department of Education's Office of Civil Rights (which enforces the Title IX gender equity law) over its handling of such cases.]
Long John, He's Long Gone …

As for former Lt. John Pike, he's in the wind. Gone to ground. Maybe living in another country, under another name. Presumably pursuing his new career as an EMT and registered nurse. His role in all this now stands enshrined here in this blog, at the Davis Wiki, and elsewhere.
… like a turkey through the corn, with his long clothes on …
Pepper-Spray Leftover
Barring the resurfacing of any of the players in this melodrama, or some unexpected revival of the meme itself, I don't expect to return to this story. So I leave you with a link to one story that might reward your attention but didn't fit in anywhere: "Occupy Davis, as Covered by High School Journalists" by Holly Epstein Ojalvo, from the December 5, 2011 New York Times. She writes that, as the crisis erupted on the UC Davis campus, "the student journalists at Davis Senior High School, less than a mile from the university campus, were going into action, too." She continues:
"After the pepper-spray incident, staff members of the award-winning Blue Devil HUB heard about it on Facebook. The next day, they saw status updates about the U.C.-Davis chancellor's planned press conference, then used the social networking site to get organized, sending the editor in chief, a reporter, a photographer and a videographer to cover it. And they stayed for hours, capturing on video the ensuing 'silent protest' by students as she left the building.
"The student staff members then used Facebook and YouTube to share their photographs and video with their school community – and the world. The Blue Devil HUB video of Ms. Katehi walking through a group of silent student protesters was played on the 'Today Show' and 'Good Morning America,' and has gotten more than 127,000 hits on YouTube to date.
"Ultimately, they covered the events with articles and multimedia, both in print and online. Their coverage includes articles, video, photos, audio and an interactive timeline."
Here's another sample of their work, a video of this past spring's protests calling for Katehi's resignation. That's where citizen journalism and journalism proper find fertile common ground, and give reason for hope for the future.
(Part 1 I 2)
•
For an index of links to all posts related to this story, click here.
•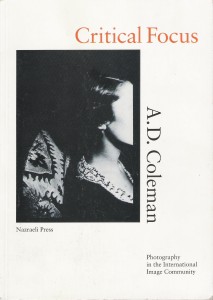 Special offer: If you want me to either continue pursuing a particular subject or give you a break and (for one post) write on a topic — my choice — other than the current main story, make a donation of $50 via the PayPal widget below, indicating your preference in a note accompanying your donation. I'll credit you as that new post's sponsor, and link to a website of your choosing. Include a note with your snail-mail address (or email it to me separately) for a free signed copy of my 1995 book Critical Focus!