Here's a breaking story that, when it resolves in the way I believe it must, I'd love to develop as a feature for AARP The Magazine: "70-Year-Old Photographer Takes On Billion-Dollar Corporation."
From Carey Dunne's July 27, 2016 report at Hyperallergic, "Photographer Files $1 Billion Suit Against Getty for Licensing Her Public Domain Images":
"In December, documentary photographer Carol Highsmith received a letter from Getty Images accusing her of copyright infringement for featuring one of her own photographs on her own website. It demanded payment of $120. This was how Highsmith came to learn that stock photo agencies Getty and Alamy had been sending similar threat letters and charging fees to users of her images, which she had donated to the Library of Congress for use by the general public at no charge. 
Now, Highsmith has filed a $1 billion copyright infringement suit against both Alamy and Getty for "gross misuse" of 18,755 of her photographs. "The defendants [Getty Images] have apparently misappropriated Ms. Highsmith's generous gift to the American people," the complaint reads. "[They] are not only unlawfully charging licensing fees … but are falsely and fraudulently holding themselves out as the exclusive copyright owner." According to the lawsuit, Getty and Alamy, on their websites, have been selling licenses for thousands of Highsmith's photographs, many without her name attached to them and stamped with "false watermarks."
From Sarah Cascone's July 28, 2016 Artnet story, "Photographer Suing Getty Images for $1 Billion in Copyright Complaint":
"In 1988, Highsmith, who has documented the architecture of landmark buildings in all 50 states through her nonprofit, This Is America! Foundation, donated her life's work to the Library of Congress as the Carol M. Highsmith Archive. The gift, which is ongoing, is 'one of the greatest acts of generosity in the history of the Library,' according to a statement by C. Ford Peatross, director of the Library's Center for Architecture, Design and Engineering in the Prints and Photographs Division. Highsmith says she retains the copyright to her images despite the donation."
Sensing a missed business opportunity there, according to the lawsuit filed on July 25 in the Federal Court of New York, Getty Images and its affiliates (including Alamy) downloaded no fewer than 18,755 files of Highsmith's images from the LOC website and began illegally licensing usage rights thereto. They did none of that with permission from Highsmith or the LOC. Their thievery only came to light when the enforcement arm of Getty Images, License Compliance Services, aggressively pursued Highsmith for that $120 fee for the use of her own image at her own website.
According to a July 27 report by Cyrus Farivar for Ars Technica, when the 70-year-old Highsmith spoke with LCS — a wholly-owned subsidiary of Getty — about this matter, they retracted their demand for payment and declared the matter closed. However, her images remained online and available for fraudulent "licensing" by Getty for some time thereafter. They have since come down from both the Getty and Alamy sites. [Note, August 9, 2016: The original version of this post, published on August 7, indicated incorrectly that as of that date they remained available for licensing from Alamy. — A. D. C.]
Farivar adds,
Highsmith's filing also points out that Getty's misappropriation of her work could negatively impact her reputation, because "anyone who sees the Highsmith Photos and knows or learns of her gift to the Library could easily believe her to be a hypocrite."
Cascone's report concludes,
"If Highsmith's billion-dollar demand seems high, it's because she's asking for three times the normal damages, which would be $25,000 for each violation, or $46,887,500. She can do that because Getty was found to have violated the same copyright law before. In 2013, photographer Daniel Morel, who found that the agency had begun charging for images he had posted on Twitter, won $1.2 million in his lawsuit.
From a copyright law standpoint, this case looks like a slam-dunk; you can hardly violate the copyright law more blatantly than stealing work from the Library of Congress, which institution registers copyright in this country. Beyond penalizing Getty Images to the full extent demanded by Highsmith's suit, the federal court should force the corporation to disclose all licenses they have sold for usages of the Highsmith images, and require them to refund (with interest, and apologies) all those payments.
Given the evident penchant at Getty Images for ripping off photographers, I'd say it behooves all photographers to search the Getty site for their images, and to follow Highsmith's example if they find any unauthorized material there. And it would certainly behoove public-domain image archives, such as the Library of Congress, to demand collectively a forensic inquiry into the inventory of Getty Images and other such aggregators. The Highsmith and Morel cases, I'll wager, represent only the tip of Getty Images' deceptive and illegal traffic in copyright-free images.
This is especially important given the August 1 update that appears at the end of Dunne's report:
"Getty Images has issued a statement that says the company is reviewing Highsmith's complaint. It also states:
'The content in question has been part of the public domain for many years. It is standard practice for image libraries to distribute and provide access to public domain content, and it is important to note that distributing and providing access to public domain content is different to asserting copyright ownership of it.'" (Emphasis mine.)
If that is indeed "standard practice for image libraries," it means that no digitized institutional archive of public-domain imagery online is safe from comparable looting by for-profit corporations, and no individual or organization seeking to license imagery for legitimate usage can trust for-profit "image libraries" to disclose the public-domain status of portions of their inventories and refrain from pursuing fraudulent "infringement" collection practices. Farivar, in his Ars Technica report, quotes from one of Highsmith's attorneys, Joseph Gioconda, who wrote in the lawsuit as follows:
The Defendants are not only unlawfully charging licensing fees to people and organizations who were already authorized to reproduce and display the donated photographs for free, but are falsely and fraudulently holding themselves out as the exclusive copyright owner (or agents thereof), and threatening individuals and companies with copyright infringement lawsuits that the Defendants could not actually lawfully pursue.
To protect the public from such predators, the court should make mandatory the full disclosure in any for-profit image library of all royalty-free and public-domain images freely available elsewhere.
Support Your Local Library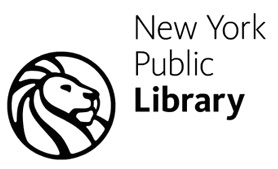 For just one example of an institutional archive threatened by that "standard practice for image libraries to distribute and provide access to public domain content," consider its ramifications in the case of the New York Public Library, which at the beginning of this year "released digital versions of more than 180,000 photographs, postcards, maps and other public domain items from its special collections." (See Tatiana Schlossberg's January 7, 2016 report, "New York Today: Treasures, Unlocked.") This bounty includes some of Lewis W. Hine's photographs of immigrants arriving at Ellis Island, among other gems.
You can feel confident that Getty Images took note of this cornucopia. How much of that public-domain content do you suppose they've already added to their inventory, and how much would you guess they charge for "distributing and providing access" to it?
The Bill for the Floss
On Monday, August 1, I sat in the chair of my new dentist, on Central Park West in Manhattan. Regina, the hygienist, started by taking a comprehensive set of x-rays. (As you probably know, this now happens digitally, with the images immediately popping up on a computer monitor. Quite amazing, at least for someone old enough to remember the analog days of x-ray photography.)
After the x-rays Regina gave me a standard cleaning. When she had finished, she told me that, basically, I had no notable oral problems. Then she asked me if I flossed. …
•
My first memories of dentistry date to 1953, a small office on east 14th Street, across from Union Square. Not exactly the wooden-teeth period of this branch of medicine, but primitive by today's standards. My family had lived in Europe for several years, I hadn't had much if any dental care there, still had some of my baby teeth (I was 9 years old), and had a bunch of cavities. Those got filled during the course of a string of visits — without anaesthesia (I was too young for that, the dentist, Clifford Stern, told my mother). This taught me something about enduring pain, as well as the importance of brushing my teeth. From then on I did so twice a day, morning and night, vigorously both side to side and up and down, with a hard-bristled brush, as Dr. Stern instructed.
Some years later, the dentist who inherited that office and my dental care when Cliff retired asked me how I brushed my teeth. When I described the method recommended by his predecessor (alongside whom he had worked for years), he told me that was all wrong; I should do it gently, with a soft-bristled brush. Otherwise I could damage my gums.
Thus began my experience with the vagaries of dental care. Over the subsequent decades, different dentists have variously recommended brushing up and down but not side to side; brushing in small circular motions, one tooth at a time; not so much brushing as pushing the brush slowly up and down along the tooth surfaces and just under the gums and wiggling it; and other variants.
Further options got introduced along the way: electric toothbrushes, Waterpiks, tongue scrapers. And, somewhere in there (I'd guess the 1970s), flossing. I don't remember the dental office in which I first heard the flossing lecture, nor which dentist or hygienist delivered it, only that it quickly became a ritual. By now I've heard it dozens of times.
I hate flossing, and doubt that I need to explain that reaction. So I don't floss in the recommended manner. I use floss picks instead. They don't fulfill the dentistry ideal, but they clear the spaces between my teeth of particles. This seems to suffice. Still, like so many, I have for years carried around this lurking guilt, the assumption that I'm not really doing everything I should to take care of myself.
•
… I told Regina, truthfully, that I only used floss picks. So she took me through the full-tilt-boogie flossing protocol, likely familiar to you: an 18-inch length of floss, ends wrapped around the tips of both middle fingers, controlled by your thumbs and index fingers, worked gently up and down not just between your teeth but wrapped around the inside and outside of each tooth and worked up and down along those surfaces, pushing down against the gums (but carefully, so as not to cut them) … you know the drill. And if you've somehow forgotten it, YouTube has an ample supply of how-to videos.
I listened dutifully as Regina gave me that mandatory talk, accepted the goodie bag she handed me (which included a floss sample, of course), and went home. That night I didn't follow her instructions, using a floss pick instead.
The very next day, the Associated Press announced that, in its advocacy of flossing as an integral component of "the most effective way to reduce dental caries," the federal government had since 1979 flouted its own rules for setting "Dietary Guidelines for Americans." U.S. law stipulates that the government must base those guidelines on scientific evidence. Forced by the AP filing of a Freedom of Information Act request for the scientific evidence on flossing, "In a letter to the AP, the government acknowledged the effectiveness of flossing had never been researched, as required."
The AP's own review of the 25 most rigorous studies on the subject from the past decade showed that it was weak and inconclusive at best, making exaggerated claims based on flimsy evidence. Much of said research got sponsored by the floss industry, which rakes in $2 billion annually, half of that in the U.S. In many cases those corporations not only subsidized the research on flossing but designed the studies and evaluated the results. And "The floss-making companies partner with the ADA [American Dental Association] through its Seal of Acceptance program," a for-pay endorsement system. Not surprising, then, that two of those companies, Procter & Gamble and Johnson & Johnson, provide my current dentists with the free floss samples they give me each time I visit.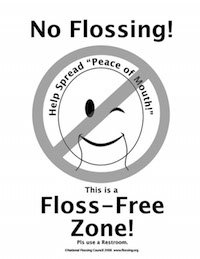 Did I mention that we actually have a National Flossing Council (NFC), which has declared and celebrated a National Flossing Day since 2000? "It's always the day after Thanksgiving," they say, making it November 25, 2016 coming up.
The upshot? I can now choose not to floss without feeling that I'm failing my teeth. You too, perhaps.
I realize that, excepting my initial comment about x-ray photography, this qualifies as completely off-topic. Still, I thought I'd join you in celebrating this moment of liberation from yet another myth about what's good for us, when we can kiss faith-based dental care goodbye.
•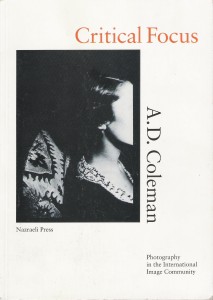 Special offer: If you want me to either continue pursuing a particular subject or give you a break and (for one post) write on a topic — my choice — other than the current main story, make a donation of $50 via the PayPal widget below, indicating your preference in a note accompanying your donation. I'll credit you as that new post's sponsor, and link to a website of your choosing. Include a note with your snail-mail address (or email it to me separately) for a free signed copy of my 1995 book Critical Focus!