Here I sit, looking the start of my 72nd year square in the eye.
I'm working on the same equipment I used at this time last year —the same Mac Mini (still running Apple's Yosemite OS), the same monitors and speakers. The system works; as a creature of habit, I find that gladdening. I operate according to the old adage: "Use it up, wear it out, make it do or do without." (Or, at least, only replace when necessary and financially feasible.)
Speaking of which, my mid-2007 MacBook Pro appears to have given up the ghost. After numerous repairs by Apple, replacement of the hard drive by myself, reinstalls of the OS, and a wide array of tests and software fixes, it continues to crash. I managed to get through my trip to Athens with it, by rebooting regularly, but I don't feel confident taking it on the road anymore — not even just across the water to Manhattan and the New York Public Library, where it has also frozen on me.
I doubt that I'll replace it. For simple tasks, like taking notes at the library, I can borrow my wife Anna's iPad. For a short out-of-town trip I can borrow her 2014 MacBook Pro. And if I need to spend a stretch of time away and we're not traveling together, I'd consider the new iPad Pro, which enables multitasking; but I'd probably buy either a refurbished MBP or a new Windows hybrid laptop tablet for $500 or so (the latter would run all the programs in my workflow, yet come in way under the cheapest Apple alternative).
By today's standards, this MBP's age — 8.5 years — makes it close to Jurassic … certainly not worth any further substantial investment. So I'll give the MBP one more chance, by taking it in to the Apple Store and seeing if some Genius there can sort its problems out. Otherwise, it's heading to the great orchard in the sky. Maybe I'll sell it for parts.
Road Warrior No Mo?
That machine traveled with me to China numerous times, to eastern and western Europe and the U.K., and to various points around the U.S. as well. But I don't travel as much as I did when I bought it, so my need for a portable yet full-featured device has shrunk.
As mentioned above, and detailed in a post last August, I left the country just once this year, for the Athens Photo Festival in early June. Aside from that, I left New York City only twice, both times to receive awards — the first at the Society of Professional Journalists dinner at the National Press Club in Washington, DC, on the evening of June 26, for our team's Capa D-Day project, the second to Philadelphia on November 7 for The Photo Review Award 2015. Those awards, both of them representing peer recognition — the first from our team's colleagues in the world of investigative journalism, the second from my peers in photography — made this a very special year indeed.
I anticipate more frequent travel over the next several years, as several projects in the works — including an installation based on the Capa D-Day project — come to fruition.
The Year in Print and Pixels
Insofar as my writing goes, over the past 12 months I've published "Auras: There's an App for That," a rumination on apps that enable the artificial aging of digital images and Walter Benjamin's concept of the "aura," in the January-February 2015 issue of MIT Technology Review; "POTUS at the Bully Pulpit," in the print and online editions of the September-October 2015 issue (vol. 75, no. 5) of The Humanist, journal of the American Humanist Association in Washington, DC; "For a New World to Come: Japanese Photography," a review of this exhibition, at Camera Chronicle, a new website sponsored by the New York camera store Photo Village; "You Press the Button, You Do the Rest: The True Democratization of Photography," in Photography Inc, the comprehensive catalogue of the FotoMuseum Antwerp's fall 2015 exhibition with the same name; and "'A Broad and Luminous Picture': The Photographic Works of Edward S. Curtis," in the monograph Edward S. Curtis: One Hundred Masterworks by Christopher Cardozo, from Prestel. (This volume tops The Daily Beast's list of "The Best Photography Books of 2015.") Along with another four in my series of columns for the U.K. magazine Hotshoe.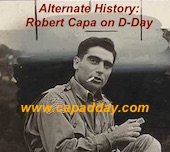 That's in addition to the roughly 58 essays posted here at Photocritic International over this same stretch. Those included the ongoing inquiry into and dismantling of the myth of Robert Capa's actions on Omaha Beach on D-Day, June 6, 1944, and the subsequent fate of his images.
This investigation will wrap up in early 2016. In the works as follow-up: several feature articles for online periodicals specializing in media ethics; a touring multimedia installation exploring the project (which will have its own website and catalog); and a book as well.
Technology Matters
As noted above, I continue to work primarily on my Mac Mini, a desktop model. I'm still using the same basic apps: Word, Excel, Filemaker Pro, Keynote, Photoshop, Dreamweaver, and now InDesign. I added that last to my toolkit in 2014 for several series of books I planned to start self-publishing in 2014. Those didn't progress as quickly as I'd hoped, so they're still in production, but I hope to get the first ones out in early 2016.
I did make one notable addition to the toolkit. I still rely on my less-than-smart Dubyaphone for most of my mobile needs. So no iPhone for me; I don't want to carry around $500 or more worth of electronics so small that I could drop it out of my pocket or forget and leave it somewhere, with all of my personal info on it.
But I want to enjoy and explore most of the features that Apple has built in to its portable devices — the great little cameras, the video- and audio-recording options, the apps, and so on. So, as a birthday present to myself, I compromised with the latest iPod, the  Touch 6 (64GB model). Plus a Ztylus protective case with a Revolver 4-in-1 Lens Attachment, and a Selfie Stick. Big fun.
Holding the Fort
From the standpoint of wetware, my eyes continue to work fine, reassuring to me and, I hope, my readers. This year's glaucoma tests revealed that nothing had changed significantly over the past two years, when all was well. According to my new opthalmologist I show faint traces of incipient cataracts, common at my age and nothing to worry about. So the equipment remains in good working order. Below you'll find images of the backs of my two eyeballs, made via state-of-the-art digital tech.
I have never exercised regularly. In the early '80s I did a half-hour stretching and calisthenics routine at home in the mornings. For a few years, while teaching at New York University during that same decade, I swam weekly in the NYU gym (low-cost membership was one of the few perks for adjunct faculty).
But lately I have felt stiffish and generally out of sorts. So in October I researched the local options, joined the YMCA (closest facility with the options I wanted), and started going to the gym. In the fitness center I do a 60-minute cardio routine involving two miles on the treadmill (.8 miles running), 16 flights on the stair-climb machine, and 4 miles of exercycling. Also a full muscle-strength sequence on a set of calibrated machines (I lift about 5000 pounds each time). Ending with half an hour of sauna and steam.
All these devices are digitalized, mostly synched to a central program that tracks my activities and saves the results. They have video screens and a selection of "courses" from which to choose. So I can take an imaginary walk and run through the Grand Canyon, or cycle through Paris, while listening to Benny Carter, Hal McKusick, and other favorites on the vintage iPod I've repurposed as an exercise companion.
That takes about three hours all told. Then, my body craving nourishment, and given the limited food options in that neighborhood, I stop at the McDonald's by the bus stop for a burger and fries.
Right now I'm doing this once weekly, and already I feel the difference. The staff tell me that for best results I should come in at least twice a week, but I'm not yet ready for that. First I want to settle into this routine; then I'll consider expanding it.
In any case, physically and mentally I'm ready for the next year, so bring it on.
Happy Birthday to Me
My thanks to those readers who've emailed or called or posted on my Facebook timeline to offer birthday salutations.