This marks the end of the third full calendar year for Photocritic International, which made its debut in June 2009. During the past 12-month period I've published 64 posts here (counting this one), slightly more than one per week. According to Google Analytics, as of midnight on December 31, 2012 this blog had served up just under 70,000 pageviews for the year, to over 32,000 unique visitors — 31,000 new readers plus more than 10,000 recidivist gluttons for punishment. It remains the most widely read blog by any critic/historian of photography.
This year began much as 2011 had ended, with my getting yapped at by a ravening pack of feral Corgis, Yorkies, pugs, and Chihuahuas. Once my ankles healed, I launched into several experiments, initiating new series of "collaboreviews" with such partners as Lorne Knoblauch of DLK Collection, kicking off a second new series of "Letters to an Emerging Critic," and publishing Guest Posts by such invitees as Ken Schles.
Early in the year I continued herein my coverage of the demise and dismemberment of the Polaroid Collection, which story then took a protracted breather en route to its anticlimactic denouement. From mid-2009 through 2012, Photocritic International has provided more extensive and detailed coverage of this significant story than any other print or online source.
Leaving that trail while awaiting new developments, I moved on to extended consideration of several other matters that intrigued me. These included my continued response to the imagery emergent from the November 18, 2011 attack on UC Davis student protesters by the campus police force, "Pepper-Spray Cop: Birth of a Meme," another story not yet fully concluded; meditations on the theme of "Trope: The Well-Made Photograph," concerning the unbearable sameness of seeing in much contemporary work; and, preoccupying much of my attention from September through the present, "Election 2012: Image World," in which I've approached the visual imagery of the 2012 election cycle from my perspective as a critic of photography and digital media, a consideration that will terminate with a discussion of the pictures of Barack Obama's second inauguration in a few weeks.
Shorter clusters of posts in 2012 included the series "Forumization and Its Malcontent," about my experiences with several photo-specific online forums in late 2011; a multi-part discursion on the concept of "Self-Plagiarism: Oxymoron Invasion"; another, "Jack Kerouac: Tech Pioneer," about the Beat writer's inventive relationship to the typewriter; a trio of reports from China during my June visit thereto; and, most recently, "The Photographer as Citizen," concerning the "subway death photo" and the ethics of photojournalism.
Sprinkled in among those you'll find posts on such diverse subjects as George Will's position on street photography; a kiddie-porn case in California; the stagnation of World Press Photo; photography, art, and politics in China; accounts of our experiences here on Staten Island during and after Hurricane Sandy; and a "collaboreview" with Loring Knoblauch of the blog DLK Collection of a Jeff Wall show in Manhattan.
Overall, then, my usual smorgasbord of varied and sometimes odd obsessions and concerns prevailed.
Blog as Book
George Slade, who published a Guest Post here on the Polaroid case several years ago, has just issued a year-end wrap-up titled "Good Reads – 2012" at his own blog, re:photographica. Amidst a dozen books he includes Photographs Not Taken, edited by Will Steacy, pairing it with Photocritic International — the first time this blog's been compared to a book.
Slade writes: "The absence of realized images in the former and the dominance of considered ethics/politics in the latter characterize these good reads. Although most photographers do better writing with light than with words, there must be something about the 'ones that got away' or were decided against that prompt eloquence. Coleman, for anyone who doesn't know, is one of photography's great agonistes. For over forty years he has served as a critic, in the truest sense of that word, on behalf of photography's better angels. His observations will always stir feelings in me, whether my head is nodding in agreement or shaking in opposition."
Thanks for the encouraging words, George. A good note on which to wring out the old year and bring in the new.
Coming in 2013
Preoccupation with curation and management of "The Silent Strength of Liu Xia," the touring exhibition of 26 photos by the dissident Chinese photographer, artist, and poet, also included design, publication, and content development of a substantial website for that project. That led to my putting various plans for this blog on hold.
I have nothing else of that magnitude on the runway, so I'm returning to those ideas with renewed energy. The goals I announced for 2012, most of which I did not fulfill, remain active and prioritized for 2013:
Add substantially to the selection of "legacy" texts from my own archive, to give the content historical depth.
Continue and expand the invitational Guest Posts, to diversify further the mix of voices presented here.
Add to the existing audio and video files with QuickTime movies, podcasts, slideshows, etc., created specifically for this site. (Various posts did result in two internet radio appearances on Melinda Pillsbury-Foster's show on Rumor Mill Radio/Radio RMN, one on the Pepper-Spray Cop story and one on Liu Xia, both archived online and downloadable as podcasts.)
Enhance the blog with such new features as online portfolios, online ebooks, PDF downloads, and more.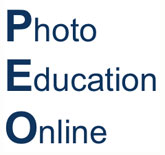 Sponsored, reader-supported, or self-subsidized, these remain my goals for 2013. Indeed, I'll add to them my intention to develop a line of ebooks (one now in the editing phase), and to further energize all the sites that comprise Photo Education Online, the consortium to which Photocritic International belongs. Next New Year's Eve we can look back together and see how much of that ambition I realized over the coming 12 months. Meanwhile, some special thanks:
to the Guest Posters who have accepted my invitation to create new texts for publication here;
to those who've appended thoughtful public Comments, pro and con, that have enhanced my own probings and developed a genuine dialogue in this space;
to those who, privately and behind the scenes, have fed me leads and tips, pointed me toward valuable documentation, and otherwise facilitated my work and enriched these accounts (you know who you are, and your secrets are safe with me);
to my fellow bloggers, my journalist colleagues, and others who have quoted my posts and/or linked to them, thereby bringing new readers to this blog;
to Marlaine Noel of Sprint Systems of Photography, who made her company this blog's first sponsor;
and to the small but important handful of people who have put their money where my mouth is, so to speak, by making cash contributions in support of this project.
I send my best wishes for 2013 to these people in particular, and to all the readers of Photocritic International. May the new year bring us something better than a smack in the face with a wet fish.
Support Encouraged

There'd be more variety of content here (and more extras) if this blog had substantial financial support from its readers, or from more sponsors or advertisers, but that's still not the case. So I allocate my limited resources as I see fit. If you want me to write on a topic other than the current main story, make a donation of $50 via the PayPal widget at the top of the right-hand column of any page of this blog. I'll choose another subject for the next post, and — if you so indicate in a note accompanying your donation — will credit you as that post's sponsor and link to a website of your choosing.
Total revenue from subscriber/reader donations via Paypal in 2012: $441.20, or $6.89 per post. My thanks to the dozen readers who made those contributions to the cause. I'd like to see that donation total rise to $1K in 2013 (the more the merrier, of course). You can make donations in any amount you choose. I also welcome appropriate advertisements; email me for rates.
I did receive unexpected support from two people who didn't read the blog, but whose generosity I'm allocating to it. Yoshio Kishi, publisher in the early '70s of the short-lived photo journal Fox, gave me some out-of-print books from his library that I sold online; and Lyle Bongé left me a small but welcome bequest in his will. You'll find them indicated as sponsors of posts in 2012 and 2013.
•
I wish you all a fantastic 2013.
•
This post supported by a donation from the Estate of Lyle Bongé.