"I think there is a world market for maybe five computers." — attributed to Thomas J. Watson Sr. (1874-1956), Chairman of IBM, 1943
Here I sit in front of my MacBook Pro on this, my 67th birthday, writing on a computer that would have fit easily into Watson's briefcase and has magnitudes more power than the ones IBM built under his leadership. I do so for the purpose of transmitting my thoughts via various computers run by internet service providers, in order to communicate with thousands of others who will access it via yet more computers. That readership represents only a minuscule fraction of the potential number of people who could find this essay via even more computers — of which we now have an estimated one billion, a number due to double by 2015.
"Everything you know is about to be wrong, and much of it already is," I recall hearing John Perry Barlow of the Electronic Freedom Foundation announce in Rochester in July 1993. That puts Thomas Watson's apocryphal prophecy in perspective, but serves as humbling, cautionary advice to all of us, especially those who prognosticate — myself certainly included.
As it happens, Watson turned 69 in 1943, the year of my birth and his perhaps fictitious prediction, making him just two years older than I am now if he in fact then uttered this now-famous dictum. Apparently, no one can source him making that statement, so perhaps it's just a myth. It would have held true for another decade, in any case. Nor was Watson anybody's fool, having successfully steered IBM through World War I and the Great Depression and into the middle of WWII. IBM went into computing early and heavily, on Watson's watch, remaining there to this day. So he got that right.
At worst, if Watson did indeed look into this particular crystal ball that year, he just called this one wrong. It wouldn't have been a hard mistake for anyone in the emerging field of computers to make. If I had to summarize the underlying flaw in that thinking (whoever might have done it), I'd propose that he or she hadn't absorbed the principle that every technology tends to democratize over time — and that, as its usage trickles down to the general populace, it changes the cultures in which it's active. That might not have seemed as self-evident in the early '40s as it does to us today. Given the then-current physical model of room-sized mechanisms doing analog computations, it would have proved easy to become too fixed in one's thinking to imagine computers getting smaller, faster, cheaper, and more versatile, so that the average citizen could put them to good use.
More simply, anyone who issued that pronouncement might have stopped saying to himself or herself, "Suppose I'm wrong?" I see this as the challenge for all of us, possibly more crucial as we get older, if, no matter how independent we may have proved ourselves as thinkers, we start to lock in our assumptions and turn them into quasi-eternal verities. Fact is, the ground rules change from time to time — more and more often, faster and faster, in the technological age and the hypermedia environment. One can only afford so much nostalgia for the old days and the old ways. Adapt or die, in the last analysis.
Having worked freelance all my life, I understood from the outset the necessity of reinventing oneself periodically. Roughly every decade of my professional life has required radical redefinition of my work, my activities, and my skill sets. This past decade, the Oughts (or Aughts), has followed that pattern. Digital technologies and the collapsed economy have transformed the networks through which I distributed my writings and disseminated my ideas formerly via lectures, seminars, and workshops. These changes don't necessarily benefit me (at least not financially). At the same time, they're not passing fads. So I've had to reconsider, from the ground up, how I allocate my resources in order to put my abilities and knowledge base to good use.
As a birthday project, a way of taking inventory, I made a list of the most notable of these transitions and transformations from the Oughts: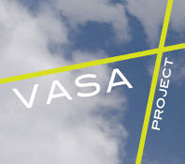 • I still teach workshops and seminars f2f (face to face) whenever the opportunity arises. But the market for such f2f encounters, whether hosted by the post-secondary art-education system or the alternative art-photo institutional network, has shrunk drastically. Nobody I know, among my own cohort or the next generation, gets the invitations to teach short-term that once came regularly. As a substitute, thanks to my long-time colleague and friend Roberto Muffoletto, I've become reasonably adept at distance learning, comfortable with cloud applications such as Skype, Ning, and Elluminate. I use these to offer seminars and internships through the VASA Project that Roberto originated and supervises. We've just wrapped up the third seminar; the next ones will commence in March 2011.
• I continue to offer public lectures, and to participate in panel discussions and symposia. I've already booked several such events for the first part of 2011. This aspect of my work hasn't yet gone digital/internet, but I'm preparing myself for that pre-recorded/streaming eventuality with the online teaching efforts just described. Seems likely that I'll also start to create and publish some audio and video lectures for posting online and podcast download in 2011.
• Many of the print publications through which I self-syndicated my writings through Y2K have bitten the dust: Art on Paper, Photo Metro, for example. Others have reconfigured themselves in ways that make my writing incompatible with their new editorial directions. Still others have adopted publication policies that I find unacceptable — demanding transfer of copyright and subsidiary rights, etc. (the New York Observer). Meanwhile, having undertaken two intensive phases of exhibition and book reviewing and event reportage (1968-77, 1988-97), I've lost enthusiasm for the combination of local legwork, frequent travel, and constant deadlines that form of critical writing requires — especially with no network of publications to subsidize it. So I've moved toward longer, more meditated essays, and other kinds of pieces written under less time pressure. This has involved reconfiguring the cluster of vehicles through which my work reaches its readers. Current regular print outlets for my writing include Border Crossings (Canada), The Photo Review (U.S.), Photo Technique (U.S.), and Ag: The International Quarterly Journal of Photographic Art & Practice (U.K.). Coming soon: Hotshoe International (U.K.). Always looking for more; recommendations welcome.
• Some of my writing during this period has taken the form (as it did previously) of introductions to monographs by individual photographers and other book-length projects. To name a few: Kenneth Josephson, Barbara Nitke, Edward Steichen, Arno Rafael Minkkinen, Yang Yankang, George Tice, Irina Ionesco, Helmut Gernsheim. More of these appreciations wait in the pipeline, written for books not yet published. Since 2005, a number of them have emerged from my curatorial efforts, a new area of activity, as essays for the catalogues accompanying those shows. (See below.)
• And of course there's this blog, Photocritic International, a reconfiguration of the online newsletter I published from 1995-2009, C: the Speed of Light. In both incarnations, I've intended it as a platform in which I can say whatever I want, whenever I want, at whatever length I choose, answerable to no editor other than myself, pursuing any issue as far as my interest takes me. Blogware has proven perfectly suited for this purpose (a shout-out here to WordPress and its developers, exemplars of open-source freeware at its very best). With it I've produced and put online almost 100 posts to date — not just squibs and casual comments, but resolved essays, as carefully worked as anything I've ever published in print. More to come.
• Two decades-plus of working on computers, and 15 years of web publishing, have made me into something of a computer/web geek. Because writing functions as one of my primary methods for making sense of things, involvement with these new tools took me, perhaps inevitably but still somewhat surprisingly, in the direction of tech writing — specifically, detailed, highly personal reviews of hardware and software that I use on a regular basis. To date, my main outlet for these commentaries is Mac Edition Radio; you'll find links to my tech reviews here.
• As mentioned above, exhibition curating has become a significant component of my professional activities. Those projects since 2005 now include two museum-scale shows — Saga: The Journey of Arno Rafael Minkkinen, Photographs 1970-2005, curated with Todd Brandow, which toured Europe and the Nordic countries 2005-08, with stops in the U.S. and Canada; and China: Insights, curated with Gu Zheng, including work by 7 contemporary mainland documentary photographers, which opened in 2008 and remains on tour. There's also a Harold Feinstein retrospective in the making. Along with these, since 2006 I've mounted shows at several Chinese photo festivals. And, since spring 2008, I've done a string of smaller shows at See+ Art Space/Gallery in Beijing; so far, western photographers shown there in those exhibitions include Kate Breakey, Wynn Bullock, Harold Feinstein, Connie Imboden, Arno Rafael Minkkinen, Jerry Spagnoli, Robert Stivers, Maggie Taylor, Jerry Uelsmann. Ralph Gibson and Arthur Tress will open there shortly. This has given me an insider's perspective on the process of curation, while also enabling me to apply some ideas and definitions I evolved as a critic and historian — about the body of work in photography, for example — to projects of my own devising, in a different arena.
• With the invaluable assistance of my wife Anna, I've opened up a new geographic territory for my work in all the above forms — mainland China. Hard to overstate the energizing effect of having the opportunity to test my work, my working methods, and my knowledge base in such a new and dramatically different context, putting them before readerships and audiences who share almost none of my assumptions, reference points, and cultural history. Our marriage has become perhaps the greatest adventure of my personal life. And what we've achieved in China and elsewhere with our partnership, the seeds just beginning to sprout, has already proven itself one of the most fruitful passages of my professional life.
• At the moment we're apart, alas, Anna having returned to China for a few months of work on a project she supervises there in her professional life as a financial manager. She'll return in mid-January, meanwhile leaving my stepson Jacky and I to do some father-son male bonding while taking care of things here on Staten Island. In her absence, I've reconfigured my worklife by developing a new workspace for myself, not just outside the home office Anna and I share but several blocks away.
Our local coffee house, moribund these past three years, has reopened under new management, with new attitude and a new name, Full Cup. Proposing myself to them as their official Writer In Residence, starting in early December I've set up shop in their front window, to which I repair for 3-4 hours each weekday and Saturdays (schedule permitting) with my MacBook Pro and iPod. Full Cup's owners provide me with free coffee and snacks. In return, I'm a visible presence during their light-traffic hours, and upon request I offer free advice on writing issues to their clients. (In one case so far, these short sessions have turned into a serious consultancy relationship; I'm working with Puerto Rican ex-con Manuel Padilla to help him break into the street-lit genre with his first novel, No Make-Believe.) The rest of the time, I'm at work on something of my own — such as this post.
Some of these developments will surely surprise a number of my readers. Some of them startle me, on one level. On another, I take them in stride. I've tried always to move toward the sources of the greatest demand for my abilities, accepting the fact that doors do close while keeping an eye out for the ones that open. These constitute fundamental survival skills for the independent maker of intellectual property, the non-institutionalized historian and curator, the freelance writer and critic. They've stood me in good stead for forty-some years of professional life.
I see none of these projects and activities as anomalous. They grow organically out of previous commitments and explorations. They all involve building on or reconfiguring and updating existing interests and skill sets. They're all grounded in writing, talking, and teaching, the concerns that have defined my working life since 1960, when I stepped into the office of my college newspaper. Those concerns have brought me to where I am today. I like it here.
•