The Polaroid Auction: A Not So Instant History (Part 1 of 5)
by Stephen Perloff
(Note: Stephen Perloff has reported in depth on photo auctions longer than just about anyone. Photocritic International is pleased to offer online his detailed account of the June 21-22 auction at Sotheby's of selections from the Polaroid Collection. This commentary will appear simultaneously in print in the Summer 2010/July-August double issue edition of The Photograph Collector, which Perloff edits. To make this comprehensive account manageable as online reading, I've divided it into 5 sections.)
The Sale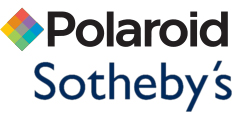 The sale of the Polaroid Collection was an unmitigated triumph for Sotheby's — and therefore also for the creditors of Polaroid — totaling $12,467,638, comfortably exceeding the pre-sale estimate of $6.9–$10.7 million. The sale was 88.8% sold by lot. Fourteen new artist records were set, including ones for a single photograph by Ansel Adams, Andy Warhol, Lucas Samaras, and Harry Callahan, and for photographic works by Chuck Close, Robert Rauschenberg, and David Hockney. The months of work without weekends off that Sotheby's experts put into the sale and its catalogue were clearly rewarded.
The auction itself was brilliantly staged as it opened with works by contemporary artists who could command a crossover audience with even more money than traditional photography collectors, thus assuring that the sale got off to a rousing start and increasing the sense of urgency among bidders who were vying for many rare and unique images.
Sotheby's saleroom for the evening session on June 21 was packed — literally standing-room only. There was a buzz in the audience akin to that of the opening midnight showing of the latest Harry Potter movie. Indeed, throughout the evening most lots had multiple bidders in the audience and/or on the phones.
The very first lot — William Wegman's Avalanche, a 20×24-inch Polaroid depicting the great Man Ray (the dog, not the artist) being covered with flour — was a predictor of the entire evening. Estimated at $7,000–$10,000 it was hammered down to a phone bidder, L0153 for $30,000.
It should be noted that many of the estimates were relatively reasonable, not reaching and not too enticingly low, but for some others the estimates seemed to be placed in the lowest possible range and no lot seemed to be estimated notably too high. Also the reserve, which seemed to be consistently 50% of the low estimate, was kept low to ensure the greatest number of sales possible.
The artist record for Lucas Samaras was surpassed twice in the session — first with the cover lot — Untitled (Self-Portrait with Hands), a unique large-format Polaroid Polacolor print, which sold for $56,250 (lot 2, $10,000–$15,000) to phone bidder L0112. That same bidder took the next lot, Chuck Close's 9-Part Self Portrait, a unique collage of large-format Polapan prints, which sold for $250,500, more than four times the high estimate and a record for a photograph by the artist at auction (lot 3, $40,000–$60,000). It took seventh on the top ten list in the sale. But besides one other small lot, L0112 was finished for the night.
Another auction record was set for a photographic work by Robert Rauschenberg, whose Japanese Sky I (from The Bleacher Series) brought $242,500 (lot 5, $40,000–$60,000) from the phones. There were at least 10 bidders for this work. Given Rauschenberg's importance, one could argue that his work — and Warhol's and Hockney's — would have been estimated much higher had they been in a Contemporary Art sale. Still, the tenth-place price was impressive.
The next lot, David Hockney's Imogen + Hermiane. Pembroke Studios, London, 30th July 1982, a unique SX-70 collage ($30,000–$50,000), also set a photographic auction record at $194,500. L0153 took this one. It was just a hint of this bidder's impressive buying spree to come.
Consultant Kevin Moore swept Robert Mapplethorpe's Patti Smith off her feet. At $43,750 it was more than double the high estimate. (Moore later got a bargain on a Lorna Simpson, one of the few lots to sell below estimate in this session.) Seven of the first ten lots sold over high estimate, and it had taken a full half-hour to hammer them down. It was going to be a loooong night.
Robert Frank's New York, a silver print from a Polaroid negative, commanded two-and-a-half times the high estimate at $46,875. L0153 let us know he or she was still around by outlasting the field for Lucas Samaras's Ultra-Large (Hands) ($20,000–$30,000) for an astonishing $194,500, setting by far a new record for Samaras. Peter MacGill outbid Howard Greenberg for the next Samaras, Ultra-Large (Self-portrait) ($25,000–$35,000), paying a modest $122,500. That lot, number 25, was hammered down at the one-hour mark, so things had speeded up — a bit. Sixty lots an hour is not uncommon in most auctions, 50 lots an hour when there is heavy bidding. Clearly this was not a normal night.
Collector Jeffrey Fort corralled Samaras's Panorama, a unique collection comprised of 40 thin strips of Polaroid Type 808 prints, for $62,500, more than four times the high estimate.
It was good to see some important but underappreciated photographers get their due here. Robert Heinecken's brilliant Lessons in Posing Subjects ($15,000–$25,000), 212 Polaroid SX-70 prints mounted on 28 sheets, also went to Jeffrey Fort at $98,500 over the underbid of Kevin Moore. And Heinecken's Upper Middle Class Nuclear Family ($15,000–$25,000), a series of 4 unique mural-sized Polaroid Polacolor prints, went to another bidder in the room at $56,250.
A phone bidder topped Peter MacGill for another large Chuck Close Self Portrait at $134,500, just slightly more than doubling the low estimate. A new bidder in the room claimed Andy Warhol's Farah Fawcett at $43,500, five times the high estimate. But that was only a prelude.
The auction record for a photograph by Andy Warhol was broken twice: Self-Portrait (Grimace), a unique large-format Polaroid Polacolor print, sold for $146,500 (lot 52, $10,000–$15,000) and then, with more than seven bidders competing, his Self-Portrait (Eyes Closed) soared past a high estimate of $15,000 to sell for $254,500, good for eighth place. L0153 took both.
And we were just getting to the Ansel Adams prints. And L0153 was just getting started!
Adams's Half Dome, Merced River, Winter, Yosemite Valley hit its high estimate at $62,500. L0153. Sierra Nevada from Lone Pine achieved the same price, but L0119 took this one. Dealer Charles Isaacs made a play for the first mural-sized Adams print, Merced River, Cliffs of Cathedral Rock, Autumn, but L0153 got it at $218,500, as well as Rail Fence — Teton, just over estimate at $40,625.
Other bidders took Mt. McKinley and Wonder Lake, Alaska ($30,000–$50,000) and Grand Tetons and the Snake River, Grand Teton National Park, Wyoming ($50,000–$70,000), both at $53,125. But L0153 came back for the mural-sized Tenaya Lake, Mount Conness, Yosemite National Park at $80,500, actually just over the reserve, and for another mural, Cedar Trees in Snow, Winter, Yosemite National Park, at the mid-point of the estimate, $50,000.
Peter MacGill made a play for a great Harry Callahan, Trees in Mist (Chicago, Trees in Snow) ($70,000–$100,000), that had been part of the Library Collection, but L0153 prevailed at $254,500, making this the ninth highest lot of the sale and a record for the artist at auction. It was the same story with the same bidders on the next Callahan, Woman and Child (Cityscape) (Eleanor and Barbara) ($30,000–$50,000). L0153 took this at $98,500.
Collectors Sondra Gilman and Celso Gonzalez-Falla straightened up Imogen Cunningham's Unmade Bed ($15,000–$25,000) at $146,500. But L0153 was back for the next three lots: Minor White, Barns (Two Barns, Dansville, New York) ($10,000–$15,000) at $53,125; Dorothea Lange, End of an Era ($20,000–$30,000) at $74,500; and Dorothea Lange, Peapickers Family (Migrant Mother, Nipomo) ($60,000–$80,000) at $218,500 ($180,000 hammer). Migrant Mother had numerous bidders, including James Alinder, Michael Mattis, Charles Isaacs, and Linda Benedict-Jones, formerly a curator of the Polaroid Collection and now Curator of Photography at the Carnegie Museum of Art. Benedict-Jones came with pre-approved bids for nine pieces, including a very reasonable one of $120,000 for Migrant Mother. But the bidding was so aggressive throughout the sale that she went home empty-handed. Still, Benedict-Jones and the Carnegie deserve congratulations for a valiant attempt. It's rare that a museum comes to an auction so well prepared.
Milton Halberstadt's San Francisco (1), a Kodalith print ($5,000–$7,000), was perhaps the most problematic item on offer. It almost became the first pass of the night, but after a very pregnant pause a room bidder rescued it at the reserve. One could read the near-disappointment in auctioneer Denise Bethel's face while she waited for a bid, and then the wave of relief when it sold.
(To be continued.)
Part 1 of 5 : 1 I 2 I 3 I 4 I 5
•
Stephen Perloff is the founder and editor of The Photo Review, a critical journal of international scope publishing since 1976, and editor of The Photograph Collector, the leading source of information on the photography art market. He has taught photography and the history of photography at numerous Philadelphia-area colleges and universities and has been the recipient of two grants from the Pennsylvania Council on the Arts for arts criticism. He was the recipient of the Sol Mednick Award for 2000 from the Mid-Atlantic region of the Society for Photographic Education and the first annual Vanguard Award from the Philadelphia Center for the Photographic Image in 2007.
Text copyright © 2010 by Stephen Perloff. All rights reserved. Published by permission of the author. To contact Stephen Perloff, email him at info [AT] photoreview [DOT] org.